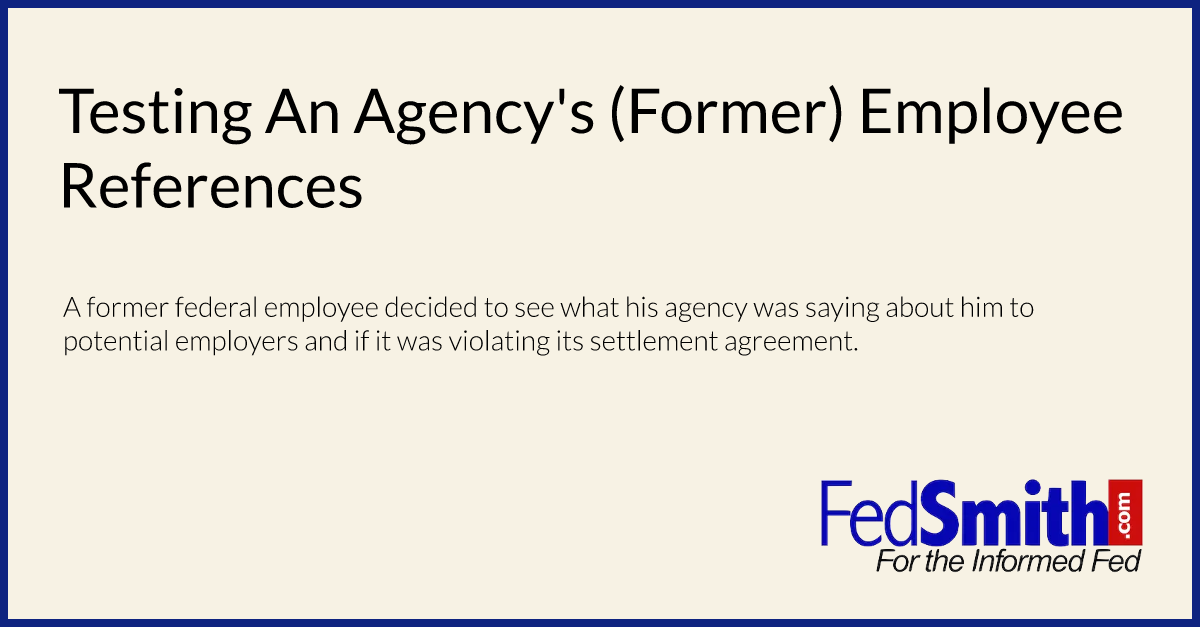 An interesting recent court decision refused the set aside a settlement agreement in an adverse action situation where the former employee argued that the agency failed to follow the agreement in providing employment references on him. (Zeh v. Department of the Treasury, No. 05-3060, August 26, 2005)
Zeh was employed by the Federal Law Enforcement Training Center (which at the time was part of the Treasury Department). The agency removed Zeh. He appealed to the MSPB, and while the case was pending a settlement was reached. As part of the agreement, Zeh resigned and the agency agreed that "[a]ny inquiries made to the [a]gency for employment will be forwarded to a neutral party in the Human Resources Division, who will state that [Mr. Zeh] resigned and that his performance was fully successful." (Opinion, p. 2)
Several months later, Zeh appealed to the MSPB seeking rescission of the settlement and reinstatement of his appeal, arguing that the agency had violated the employment inquiries portion of the agreement. To support his claim, Zeh submitted evidence from a company called Documented Reference Check, which he hired to contact individuals at his former agency to see how they would respond to inquiries for references. Company transcripts detailed discussions with three agency employees. Yet, the agency submitted telephone log records and affidavits by the three employees denying ever having conversations with the company's representative. The AJ found the agency evidence to be more credible in that he decided Zeh had failed to prove his claim. The appeal was denied.
This initial decision became the final MSPB decision when the Board denied a petition for review. (Opinion, p. 3)
Pointing out that it is "not for this court to reweigh the evidence before the Board," the Federal Circuit Court of Appeals held that the Board was correct. Interestingly, the court went on to point out that even if the conversations had occurred exactly as the transcripts described them, this was still not enough to find a breach of the agreement had occurred: "The information all three agency employees are alleged to have provided about Mr. Zeh was only neutral, such as the title of his position and the fact that he had indeed been employed at the agency. All three declined to respond to Ms. Oparnica's request for more negative information, and referred Ms. Oparnica to the Human Resources Office. The fact that any astute potential employer would become suspicious by such evasive answers is a shortcoming of settlement agreements such as these, not the result of non-compliance by the agency. (Opinion, pp. 4-5; emphasis added)
This case underscores some of the pitfalls in drafting settlement agreements. It also serves as a warning to agencies that they may well be tested on the references they are providing on a former employee—be sure all employees who might be contacted know exactly what they are expected to say and do!