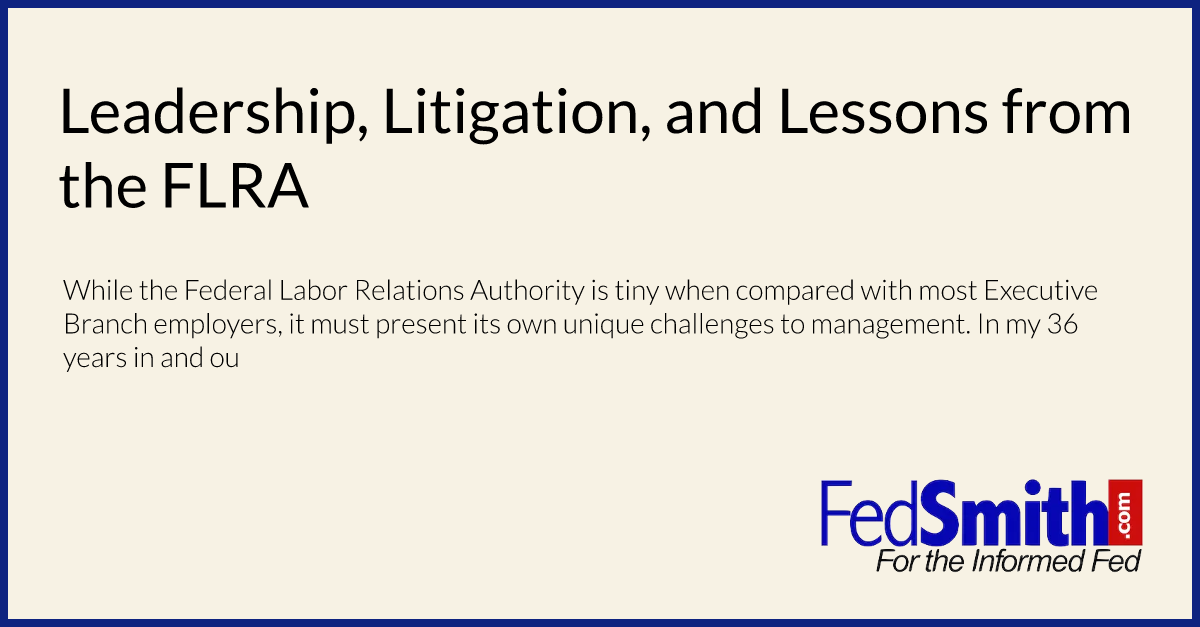 Much is read on this website regarding the Federal Labor
Relations Authority (FLRA) and its current Chair, Carol Waller Pope. While I don't take as much interest in
technical labor law as most of those who write about the FLRA on FedSmith, I do
note a great deal of unhappiness regarding Ms. Pope among those who take
"management's side" in the arena overseen by her agency. No doubt much of their consternation is
justified in their eyes from analyzing her opinions.
The Comeback Kid
What hasn't been as well covered is Ms. Pope's leadership. While FLRA is tiny when compared with most Executive
Branch employers, it must present its own unique challenges to management. In my 36 years in and outside government,
I've encountered many managers who supervise attorneys. They liken their leadership role to herding
cats. There are several members of that
profession at the FLRA. Moreover, having
worked as a Labor Relations Specialist ("lawyer wannabes" is an expression I've
often used) myself, managing that side of her staff may prove just as
formidable for Ms Pope and her team. 
Add to that, the fact that Ms. Pope has been employed by the
Authority for more than 29 years and served as an Authority member before ascending
to the role of Chair. As such, she sat near
the helm of an agency deemed to be far off course. Every year the FLRA was considered one of the
worst Federal employers as rated in the "Best Places to Work" survey conducted by
the Partnership for Public Service and American University's School of Public
Affairs. She took over leadership under
those circumstances in March 2009.
I noticed that the most recent list of "Best Places to Work"
was released in the fall.  As could have
been predicted by anyone with common sense, the FLRA didn't top the list. By the
same token, its metrics improved an astonishing 250% in just one year. (If
only that had been the case with my retirement account!) Regardless of one's opinion of Ms. Pope's
legal opinions regarding cases brought to Authority members for adjudication,
the changes in her staff's view of their workplace are noteworthy. 
I want to be among those congratulating the Chair and her
management team for such a dramatic improvement over such a short time
frame. I don't know of any Federal
agency that has experienced such a dramatic turnaround in such a short span of
time. I regret that, for all the
negative postings to FedSmith regarding her leadership, these remarkable
internal metrics have not been cited by those to follow labor relations on this
site. 
What Does Management
Want?
All of this leads me to wonder what it means to represent
management or labor in a Federal agency. As the recent pay freeze illustrates, each "side" may have more in common
than they project. No doubt, there are
managers and executives more focused on their own career than the agency's
mission. Similarly, I've encountered
local union presidents who take a greater interest in the number of
grievances/ULPs filed than in resolving issues. Generally, however, I've found most union representatives and managers
to be sincere in their dedication to a contented workforce and, accordingly a
more productive work environment.
We Have Met the Enemy
and "Them" is "Us"
Too often, partisanship and an obsession with "case law"
obscure the vision required to serve either side. Workers generally want good bosses and
coworkers. Supervisors and managers
usually want the same. It seems as if
the labor relations community would well served to focus on this common ground
and the challenges of finding and exploiting it.
When our positions
are righteous and realistic, while their
demands are obstacles to progress and insults to human dignity, the result is an
even more adversarial relationship. That
may enhance the employment security of gladiators but I for one, don't believe
it is what workers and supervisors want. Advice like "Give them nothing… and make it retroactive" are amusing as
one begins working in the labor relations arena. Over time, however, such maxims actually take
root. 
We argue and litigate because we think that's what we're
supposed to do. Our job is to ask for more and/or thwart their efforts to do the same. Such competition to win, inevitably results in the thrill of victory and
the agony of defeat. Inevitably, such an
environment leads to the next competition in hopes of regaining or reaffirming
the advantage. 
As with competitive sports, it becomes necessary to appeal
to referees and umpires (labor arbitrators, the Federal Services Impasses
Panel, and Ms. Pope's FLRA) to enforce the rules and make disputed calls. When they find for the other side, we
question their motives and/or competence. When they find for us, we bask in our prowess.
Perhaps Ms. Pope (who I have never met) grasps the destructive
effect of such partisanship within agencies that serve the American people. Hers is one of those agencies. Her focus as a manager (or CEO) is similar to
your agency head – accomplish the mission with the (ever shrinking) resources
Congress has appropriated.
The Upside of
Cooperative Relations
As many FedSmith readers know, much of the FLRA's staff is
unionized. Shouldn't Ms. Pope be
allocating resources to stem the tide of union aggression and bargaining
contrivances? Instead, it appears as if
she is modeling a different tack by opening lines of communication, listening
to employees and their representatives, and working to improve morale.
…and aren't we left wondering if the Union of Authority
Employees is caving to her management whims and becoming co-opted in the
bargain? Would larger government unions
have allowed this to happen or would they have thwarted her efforts by
insisting employees should communicate their needs only through their exclusive
representatives?
As one who has worked with labor-management "partnerships"
(a concept many labor relations specialists find threatening and unions view as
a foot in the door), I have often interceded with the question, "Isn't the objective of both sides" It may be that the FLRA
and the Union of Authority Employees are looking at those common interests and
trying to build pathways toward addressing them. I don't know, but I am moved to consider
what's going on over there.
Waking up to 21st
Century Labor Relations
It's my hope (futile perhaps) the those civil servants who
advocate for unions or agency management will come out of their bunkers and set
aside their counter-proposals for a moment in order to ask Ms Pope and the UAE,
"How did you do it?" The answer may
prove far more important than whether a union local has a "particularized need"
for information or if a bargaining proposal "substantially interferes" with a
management right.
After 30 years of litigating the intent of 5 USC Chapter 71,
it's time for a new generation of union and management leadership. Long ago it ceased to be "us" vs.
"them." We're all us – and there's a hostile gang of the press, public and politicians
out there. As the old bumper sticker
used to read, It's as bad as you think
and they really are out to get us. Authoritarian
management and grievance-happy unions are relics in this environment. Advocates for each side, however, are often too
busy fighting one another to recognize the enemies at the gate.
Perhaps Carol Waller Pope appears to be cutting through the push
and pull of an adversarial environment. Maybe
the folks at FLRA have set aside issues regarding who has what workplace rights
and are exploring much more challenging issues – like job satisfaction, open
communication, and improved service. That is the province of leaders, not litigators.
I, for one, am pausing to take note of FLRA's dramatic
turnaround and the implied message it may be sending us all. The Authority may be moving toward a position
where its views of leadership and agency success carry more weight than those
concerning arbitrator awards, unfair labor practices, and negotiability
appeals. If so, may others in government
follow suit.