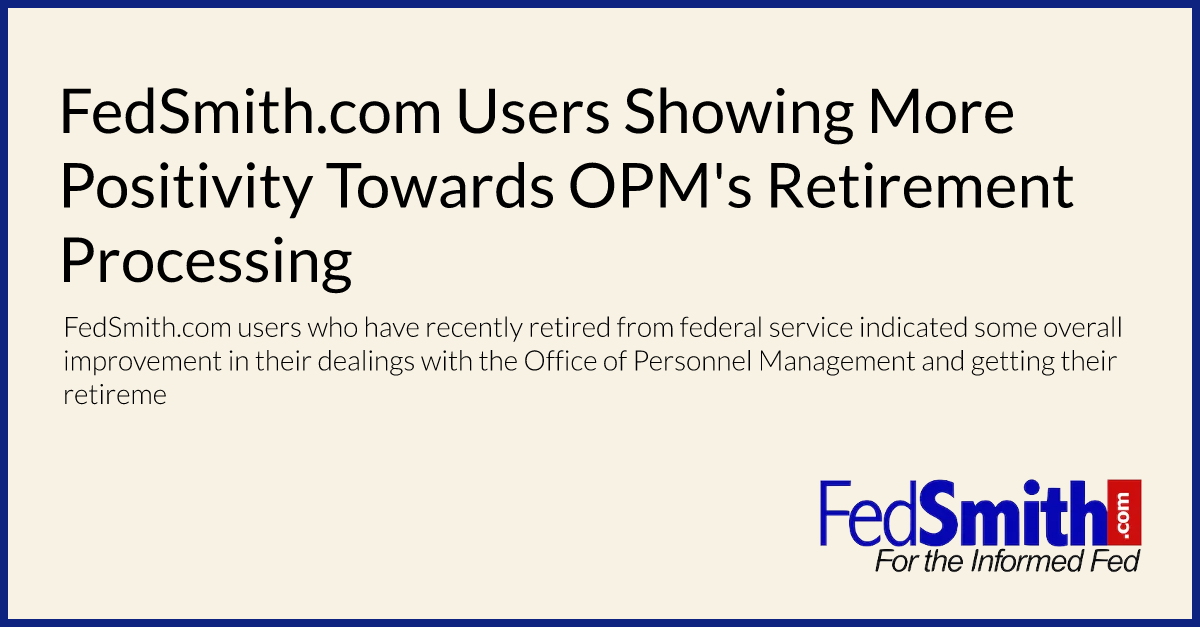 The Office of Personnel Management has had a backlog of retirement applications for some time now, and we have been reporting on the status of OPM's processing each month when new data are released by the agency.
Since many of our users are at or past retirement from their federal careers, we have been curious what their experiences have been like in dealing with OPM to get their applications processed. We first surveyed our users in 2012, and the responses showed that FedSmith.com users were generally not very happy with the process (see FedSmith.com Users Unimpressed with OPM's Retirement Processing). A year later, we queried our readers again, and the results showed more of the same.
As OPM continues to whittle away at the backlog of applications, we again were curious what our users' experiences were like. According to our most recent survey on the topic, FedSmith.com users are indicating that they are feeling a bit more optimistic about the status of getting their retirement applications processed by OPM.
According to our latest survey, 56% of respondents retired under CSRS and 44% under FERS. 71% of CSRS retirees said they have received their full annuity payment while only 63% of the FERS retirees had received theirs. This is an improvement from our last survey results in which 70% of CSRS retirees said they have received their full annuity payment while only 52% of the FERS retirees had received theirs.
The respondents who have not yet received their full annuity payments have been waiting as much as two years to as little as only a month or two. Not surprisingly, these individuals were more likely to report that they haven't noticed an improvement in how OPM is handling the applications (54% of those still waiting on the full payments said they have seen no improvement).
The overall responses paint a different picture, however. Most respondents to the survey received their full payment in 1-3 months. Also, 24% of respondents said that they have noticed an improvement in OPM's handling of retirement claims, but 46% still are not sure if there has been an improvement.
When we last surveyed our users, 38% of all respondents said they had not seen an improvement in how OPM is handling the applications versus 22% who had (another 40% weren't sure if there has been an improvement).
Comments we received on the survey varied from those who were very happy with the retirement application process to others who were clearly very unhappy. Some of the comments are included below:
Tried to call with a question but got no answer.
For 12 mo., OPM ignored repeated requests for info re: calculation of my annuity and deductions; requests were made by me, by my Congressional rep and by NARFE;OPM finally responded after I called the Director's office
It's now 10 Dec 14 and I have yet to even receive a partial payment…going on 3 months now without any pay other than my final settlement.
My wife's retirement 3 1/2 years ago took slightly longer to process but nothing like the processing times I've been reading about. I think mine was so quick because I didn't retire at the end of the year like so many people do and because we (both of us) submitted the paperwork well in advance
I researched what would be needed, I sent copies of everything including copies of pay stubs showing extra hours worked when I was a part time employee. The thing is to plan plan plan and keep track of everything during your career. I had a detailed letter with everything and I have to say my application went very quickly. I was very happy with the process.
Process went more quickly & smoothly than I anticipated. Good work!
My retirement was painless. Credit to opm for doing a great job. I had an interim check within 30 days and final within 3 months to include back pay from the interim check. Very happy!!
I retired on 10/3/2014 and received an interim payment in a little over a month. However, 2 days before I received the payment OPM was still saying that they had not received my retirment application and I would most likely not receive an annuity payment until December. So, the call center does not necessarily have the most updated information. Also, now that I am in interim pay status, I am OK becasue it's only $700 less than what my Agency predicted my full salary would be. However, a concern is that the OPM website shows that my claim has not yet been assigned to a specialist. Accordingly, I probably won't get a final/full payment until February.
At the time I retired I was told that the backlog was 6 months. The only reason that my retirement was processed in a shorter time was that I was in the process of purchasing a new home and I was unable to qualify for a home loan until my retirement was finalized. I convinced the OPM to expedite my retirement and after several calls to them they did indeed expedite my retirement. They were very helpful.
My retirement was processed within 5 to 6 weeks and got my full annuity. This was great surprise to me since I was expected to wait for 6 to 7 months.
Six months since I retired, annuity not determined yet. Had over 41 years plus sick leave. This is unacceptable.
Thanks to our retired users who took the time to share their feedback with us in this latest survey.