View this article online at https://www.fedsmith.com/2015/11/19/legislation-introduced-to-allow-using-gun-permits-as-acceptable-id-at-tsa-checkpoints/ and visit FedSmith.com to sign up for free news updates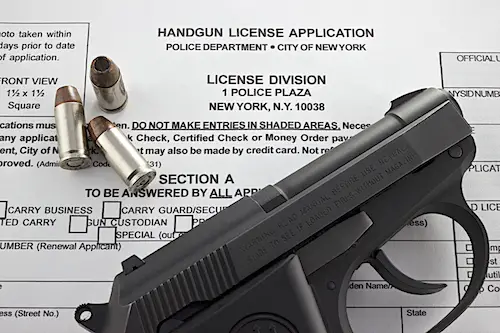 Legislation was introduced in the House this week to allow Americans to use gun license permits as permissible identification for Transportation Security Administration (TSA) purposes.
Known as the the Nondiscriminatory Transportation Screening Act (H.R. 4026), the authors of the bill also claim it would include strong protections for gun owners' privacy rights and prohibiting government tracking of individuals who choose to present this identification at airport screenings.
The bill was introduced by Reps. Diane Black (R-TN) and Bill Flores (R-TX). The lawmakers said that they are fed up with hearing reports of people using Costco membership cards as identification at TSA checkpoints, yet the agency will not allow gun permits to be used.
Currently, the TSA explicitly bans the use of handgun licenses at airport checkpoints, despite the fact that these licenses meet all criteria for "verifying identity documents" under current law.
Congresswoman Black said in a statement, "We all understand the need for stringent security standards at our nation's airports, but there must also be a place for commonsense. It is mind-boggling that the TSA has reportedly accepted Costco membership cards at airport screenings, yet its website expressly prohibits the use of handgun carry permits. Why the double standard? Handgun licenses are a government-issued form of identification and no one has given me a valid reason why they cannot be accepted at TSA checkpoints."
Flores added, "As travel continues to be a vital piece of our nation's economy, TSA should accept approved government issued concealed handgun licenses as a valid form of identification. The requirements to obtain a concealed license are similar and often times stricter than that of obtaining a standard ID card. Earlier this year, the Texas House of Representatives overwhelmingly passed a bipartisan resolution petitioning Congress to allow the TSA to accept concealed handgun licenses. Concealed handgun licenses contain all of the identifying information required by the TSA. It is time they recognize these licenses as acceptable forms of identification."
Want to see more articles like this one? Sign up for FedSmith's free email lists!