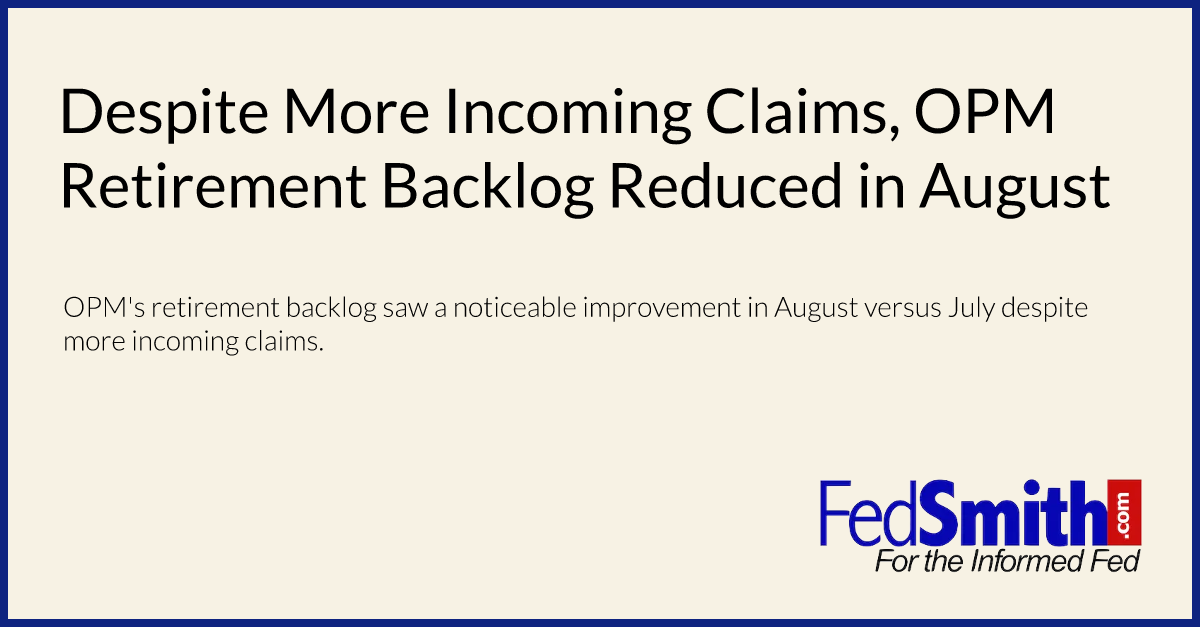 Even though the Office of Personnel Management received more retirement applications in August than it did in July, it still managed to make a slight reduction in the backlog last month.
The total backlog went from 18,334 to 17,513, a reduction of 4.5%. In July, the backlog had actually increased slightly despite far fewer new applications arriving in July than in August. OPM's stated goal for the backlog is 13,000, a level it has not seen since 2015.
OPM was able to process 9,647 claims in August but received only 8,826. It took 56 days on average for OPM to process each one.
The usual trend is for the backlog to gradually reduce in size during the autumn months with fewer new claims coming in only to then see a sharp increase in January and February due to many federal employees retiring at the end of the calendar year. We shall soon see if this year follows past trends.
OPM Retirement Backlog Processing Status – August 2018
The latest data from OPM are included below.
| Month | Claims Received | Claims Processed | Inventory (Steady state goal is 13,000) | Monthly Average Processing Time in Days | FYTD Average Processing Time in Days |
| --- | --- | --- | --- | --- | --- |
| Oct-16 | 7,326 | 5,795 | 16,677 | 67 | 67 |
| Nov-16 | 5,065 | 5,723 | 16,019 | 66 | 66 |
| Dec-16 | 5,483 | 6,405 | 15,097 | 74 | 69 |
| Jan-17 | 15,317 | 7,327 | 23,087 | 75 | 71 |
| Feb-17 | 9,114 | 8,285 | 23,916 | 56 | 67 |
| Mar-17 | 7,216 | 10,602 | 20,530 | 61 | 66 |
| Apr-17 | 6,581 | 8,179 | 18,932 | 72 | 67 |
| May-17 | 5,548 | 8,340 | 16,140 | 71 | 67 |
| Jun-17 | 6,141 | 7,751 | 14,530 | 68 | 67 |
| Jul-17 | 10,070 | 7,509 | 17,091 | 67 | 67 |
| Aug-17 | 7,136 | 7,102 | 17,125 | 65 | 67 |
| Sep-17 | 8,810 | 9,107 | 16,828 | 62 | 67 |
| Oct-17 | 8,850 | 6,818 | 18,860 | 64 | 64 |
| Nov-17 | 5,572 | 5,138 | 19,294 | 68 | 66 |
| Dec-17 | 5,568 | 10,347 | 14,515 | 60 | 63 |
| Jan-18 | 14,590 | 8,638 | 20,467 | 63 | 63 |
| Feb-18 | 13,290 | 9,532 | 24,225 | 46 | 59 |
| Mar-18 | 7,767 | 13,262 | 18,730 | 49 | 57 |
| Apr-18 | 8,390 | 9,631 | 17,489 | 58 | 57 |
| May-18 | 7,625 | 7,090 | 18,024 | 58 | 58 |
| Jun-18 | 9,397 | 9,223 | 18,198 | 65 | 59 |
| Jul-18 | 8,281 | 8,145 | 18,334 | 57 | 59 |
| Aug-18 | 8,826 | 9,647 | 17,513 | 56 | 58 |