A substantial percentage of American workers continue to not save enough for retirement and are ultimately feeling stressed by their lack of planning, according to an annual survey on retirement confidence.
The Employee Benefit Research Institute (EBRI) recently released its annual Retirement Confidence Survey which reveals trends in American workers' habits and feelings towards preparing for retirement. The survey was conducted over the course of a week in January through online interviews with 1,671 individuals (1,082 workers and 589 retirees) ages 25 and older in the United States.
Savings
This year's survey again shows a disconcerting lack of savings taking place to prepare for future retirement. Levels of saving are low with 47% of workers reporting that their household savings and investments are less than $25,000, and of those, 24% said they have less than $1,000 saved.
On the other end of the savings spectrum, 2 in 10 workers reported having $250,000 or more saved. Also on the positive side, 6 in 10 workers said that they have saved something for retirement, and 56% said that they are currently saving for retirement. Workers who participate in a retirement plan were 10 times more likely to be currently saving money for the future.
Among those not saving enough was an acknowledgment that their actions would have future repercussions.
The chart below shows a summary of responses of what workers surveyed said would likely happen by not saving. More popular answers included needing to retire later, save more later, and have less money available for travel or entertainment.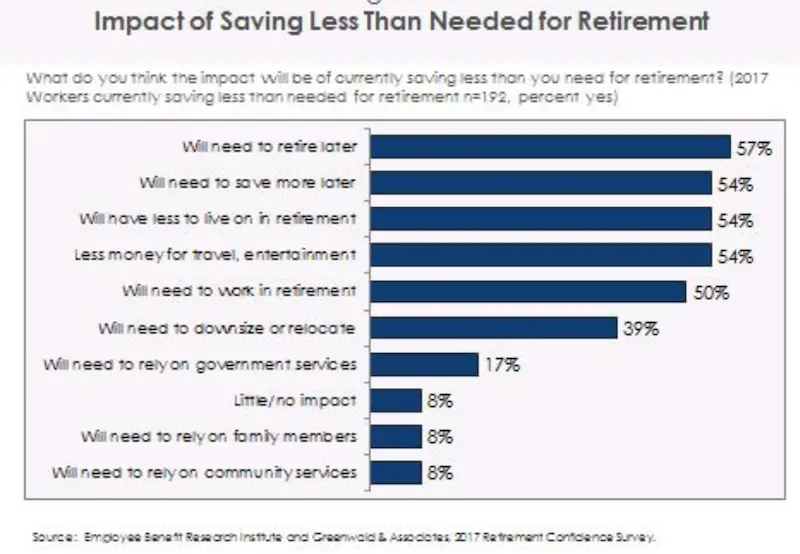 Stress and Confidence
Failing to financially prepare for retirement can lead to stress, something upon which the survey placed a significant focus.
For instance, the survey found that 6 in 10 American workers feel confident in their ability to retire comfortably, however, only 18% were "very confident." This is somewhat lower than in previous years.
3 in 10 workers reported feeling very or somewhat stressed about preparing for retirement, with the stress being felt more among workers who have lower education and income levels. Not surprisingly, workers who reported having higher levels of debt also were more likely to feel stressed about retirement.
The Past Continues
Past surveys have found similar results.
In 2015, for instance, the Retirement Confidence Survey showed that 28% of workers had less than $1,000 saved, often due to preferring to spend money on other things instead. In 2012, only 14% of workers were "very confident" about their ability to retire comfortably with 30% of workers reporting they had less than $1,000 saved.