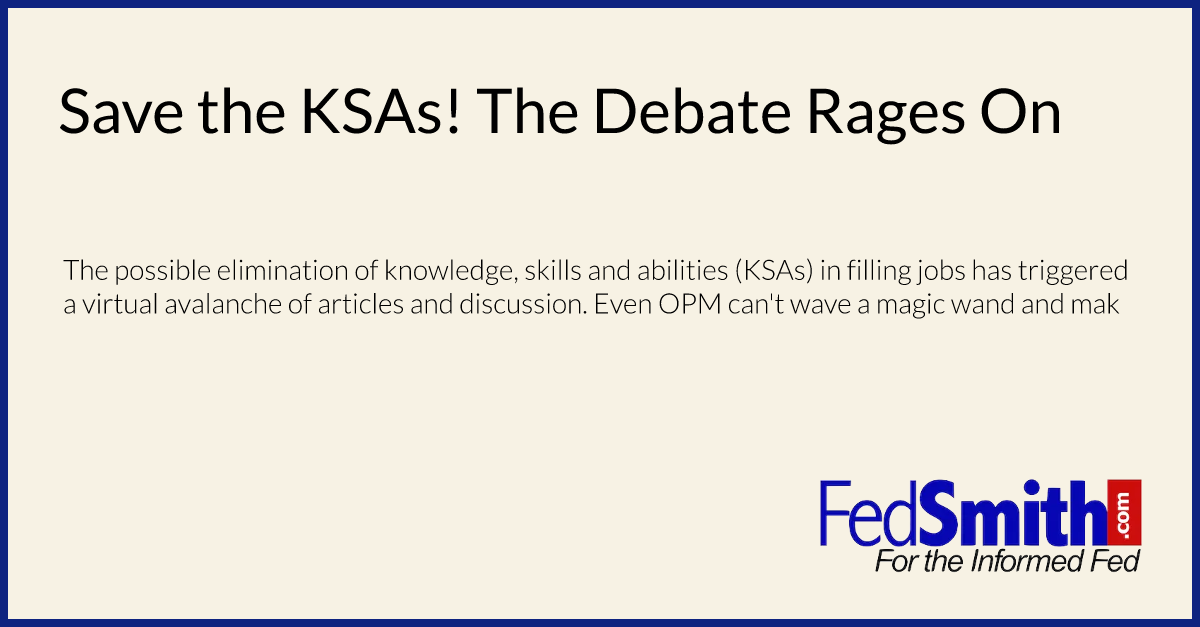 The possible elimination of knowledge, skills and abilities (KSAs) in filling jobs has triggered a virtual avalanche of articles and discussion. Just since my article, "
Save the KSAs…
", was published on July 7, Jason Kay's piece, "
KSA's To be Phased Out,
" appeared in the July 13 edition of the FedSmith.com newsletter, and an article by Emily Long, "Private sector not necessarily a model for hiring reform," was published in govexec.com the same day.
My initial article on KSAs generated a number of well-reasoned comments from FedSmith.com readers, including current and former human resources (HR) specialists, with some agreeing with me that KSAs are valuable to HR and to selecting officials and others feeling that they have outlived their usefulness, if they ever had any.
Several readers touched on an issue that I failed to address, observing that another value of KSAs is that they enhance applicants' understanding of what the job is about. I agree that the requirement to respond to KSAs does, as these folks opined, force applicants to really think about their qualifications for the position. I have had preliminary interest in vacancy announcements, only to be brought back to reality by reviewing the KSAs for the position.
Another reader agreed with me that KSAs are valuable, but noted that "they've got to be followed up with a good interview process." I could not agree more with that observation. I would not select an employee without conducting a job interview – and, based on the findings of the Merit Systems Protection Board (MSPB), would make sure that it was a structured interview – and even then I would do thorough background/ reference checks before making an offer.
More than one commenter also noted that doing away with KSAs could have "ramifications," such as making it more difficult for a selecting official to justify his/her choice if an EEO complaint is filed.
One such reader, an Office of Personnel Management (OPM) HR Specialist, opined that "Using a limited number of KSAs streamlines the hiring process and retains documentation that would support a hiring decision if challenged by a third party.  That documentation contributes to the transparency and accountability that our taxpayers deserve." I agree with every part of that observation.
Having been involved with third-party cases for a good portion of my Federal career, I tend to think of these matters in terms of the "worst-case scenarios" – meaning that a selection may have to be defended before a third-party, up to and including a Federal court judge. Accordingly, I tried, in football vernacular, to play both offense and defense in making selections. In other words, not only did I want to be sure that I was selecting the best-qualified candidate for a given vacancy, but also that I could articulate one or more valid non-discriminatory business reasons for my selection, should it be contested.
I am also in agreement with the Department of Defense (DoD) HR Specialist who commented in response to Jason Kay's July 13 article that "…we have no detailed information in the resume, and we eliminate the last bit of detail that we had in the KSAs. So, when we have 100 qualified applicants for one vacancy, we are going to use a drawing?" (emphasis added)
That question, while undoubtedly asked facetiously, raises an important issue: In the absence of having candidates address KSAs, how will HR, and/or selecting officials, determine which candidates are "best qualified"?
In writing this article, I went back and did some quick "refresher" research in terms of the requirement to use KSAs in the first place.
There is a legal requirement, under 5 Code of Federal Regulations (CFR), Section 300.104, for Federal agencies to conduct "a job analysis to identify:
(1) The basic duties and responsibilities;
(2) The knowledges, skills, and abilities required to perform the duties and responsibilities; and
(3) The factors that are important in evaluating candidates. The job analysis may cover a single position or group of positions, or an occupation or group of occupations."
This legal requirement is also cited in the OPM Delegated Examining Operations Handbook. The Uniform Guidelines on Employment Selection Procedures, under 29 CFR Part 1607, also address the issue of when and how to conduct a job analysis which will meet the standard of the Guidelines.
The "bottom line" here, as I see it, is that even OPM can't wave a magic wand and make KSAs disappear, since the requirement to use them is embedded in law, so the question seems to be how, not if, they will be used.
One FedSmith.com reader expressed concern that her/his agency's delegated examining unit (DEU) used "questionnaires" with "standard answers to evaluate applicants." That person went on to say that "I have found that the use of canned answers (a,b,c,d, etc) is limiting and doesn't really let the applicant show us what they know."
I share that concern. I often see agencies asking candidates to rate themselves from 1-5 (with 5 being the top level) by picking the most appropriate statement, such as "I am an expert in this area," or "I have no previous experience in this area."
I was closely involved with a case in which an agency used that method last year and I am convinced the servicing HR office simply accepted the applicants' self-ratings on every supplemental question, and used them to determine the best-qualified list, without verifying them in any way. The theory behind self-rating mechanisms like this one has been, to the best of my knowledge, that HR would check the claimed level of expertise against the application/resume to make sure the selected statements were reasonably supportable, but I don't see that happening, largely because HR staffs have continued to be reduced in many agencies; I believe that the loss of senior employees from the HR function – in this case meaning folks who actually understand the job analysis process – has also contributed to this situation. In the absence of some form of independent verification of claimed expertise, I consider the self-rating process to be totally unreliable.
As I stated in my earlier article, I am simply arguing in favor of agencies being allowed to ask applicants to address a reasonable number (e.g., 3-5) KSAs if the agencies choose to do so. That means the agency could choose not to have applicants address KSAs. I just don't think it would be a wise choice, because I believe it would essentially shift the burden of demonstrating "fitness" for the job from the applicant to HR and/or the selecting official.
To illustrate this point, let's go back, for the moment, to the FedSmith.com reader's tongue-in-cheek question about the possibility of using a drawing when the agency has 100 qualified applicants and has not asked the candidates to address KSAs. Since the law doesn't allow us the option of drawing best-qualified candidates out of a hat, how would the agency determine the best-qualified candidates? Is the HR specialist, or the selecting official, going to determine from the resume (which in my experience is often a one-page document) the extent to which an employee meets the KSAs? Would a crediting plan be applied? If not, what criteria would be used? Could it be effectively defended?
Suppose for the sake of argument that, in a situation in which an agency did not ask applicants to address KSAs, a selecting official uses resumes to determine the best-qualified candidates, interviews those candidates and makes a selection. Then, a non-selected candidate files an EEO complaint and asks me to serve as her/his representative. I would first ask to see the KSAs. If KSAs were not used, I would argue that the agency violated the law (5 CFR 300). If KSAs were used, I would ask to see the crediting plan. If a crediting plan was used, I would ask how, since the applicants were not asked to address the KSAs, the best-qualified candidates were identified. If a crediting plan was not used, I would ask what criteria were used and how they were applied. And if the screening process that was used just happened to eliminate all minority and/or female candidates, I would pursue that issue.
In the aforementioned Emily Long article in govexec.com, John Palguta, vice president for policy at the nonprofit Partnership for Public Service, was quoted as saying "…résumés are only one step in the process and can be used to determine whether applicants meet basic job requirements, such as education level."
Palguta went on to state that "There are smart ways to use KSA narratives as part of the assessment process. [The Office of Management and Budget] and OPM are looking at it from the applicant's point of view and from a good assessment point of view to develop better assessment approaches."
One strategy, Palguta said in the article, would be to end the government's reliance on lengthy KSAs and instead to develop a shorter alternative with carefully crafted questions about the job to be performed.  A second level of screening would require applicants to complete more specific questions, and that would be followed by a structured interview, creating a funnel effect. This method would save time for candidates, who would not be asked to complete long KSAs for each job application, and for hiring officials, who would not have to waste time reading and evaluating KSAs from candidates lacking basic qualifications.
The suggestion I made in the first article, and will repeat here, is that Federal agencies be allowed to ask candidates to address a reasonable number (e.g., 3-5) of KSAs which are identified in a carefully conducted job analysis and used to construct a crediting plan. I think that methodology fits Palguta's objective of having a "shorter alternative (to lengthy KSAs) with carefully crafted questions about the job to be performed."
Along those lines, I ran across a statement about the importance of KSAs on a Department of Veterans Affairs website. It reads as follows:
"A resume is important to the job application process since it shows your general experience, education, activities, and other accomplishments.  The KSAs listed in the job opening are also important because the KSAs provide you with an opportunity to draw attention to and expand on the specific factors the agency is looking for and provides an opportunity for you to spell out why you are the best qualified candidate for the job.
If you choose to rely on your basic application rather than write separate responses to the KSAs, you should be sure that your basic application covers all the KSAs.  As an applicant, it is your responsibility to show how your education and experience meet the requirements for positions."
I think that is exactly the kind of statement that should be included in an agency's vacancy announcements.
In closing, I see the selection process as being an extremely important one in terms of an agency's/organization's ability to accomplish its mission. The way I would go about it, to briefly summarize, is to:
Identify the essential KSAs and the appropriate crediting plan via a thorough job analysis using a position description (PD) which is certified by the supervisor to be accurate;
Conduct a structured interview of the candidates referred on the best-qualified list; 3) determine the best-qualified candidate, based on a combination of factors, including education, experience, and training, as addressed in their application/resume and their responses to the KSAs, and how they ranked in the interview process;
Conduct a background check on the best-qualified candidate's performance and conduct in previous work settings; and 5) make a tentative offer to the best-qualified candidate, with a final offer dependent on a suitability determination.
I think the subject of KSAs is very much worthy of the significant attention that it is receiving and I greatly appreciate the many thoughtful comments provided by FedSmith.com readers.