Tag: Hatch Act
According to the OSC, the Postal Service took action to assist a union's political activity in violation of the Hatch Act.
Two lawsuits are now pending involving issues surrounding the "Deep State" and EPA employees.
News about federal employees posting their political opinions on social media has been more widespread since the election. What can federal employees legally do (and not do) when it comes to sharing their political opinions?
The Office of Special Counsel has been inundated with queries from federal employees who wonder what they can and can't say under the Hatch Act as they get acclimated to working for a new administration.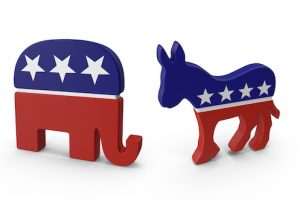 The Office of Special Counsel has received numerous questions from federal employees about a possible candidate Trump in the 2020 election. The agency has provided a memo with Hatch Act guidance in the interim.
Senator Harry Reid (D-NV) sent a letter to FBI Director James Comey in which he told him he may have violated the Hatch Act by revealing his agency's investigation days before the election of additional emails related to Hillary Clinton's private email server.
A sign that said "Make America Great Again"—the slogan for Republican Donald Trump's campaign for president—has been removed from a post office in Colorado after the U.S. Office of Special Counsel contacted the facility's postmaster and said the employee was violating the Hatch Act.
These rules are essential to know in order to avoid the negative consequences of Hatch Act violations.
It's an election year, so agencies and their employees have to make sure not to run afoul of the Hatch Act. A House Committee is seeking information from Executive branch agencies on how they ensure they stay within the law's travel restrictions.
The American Federation of Government Employees has announced that it is endorsing Hillary Clinton for president in 2016.