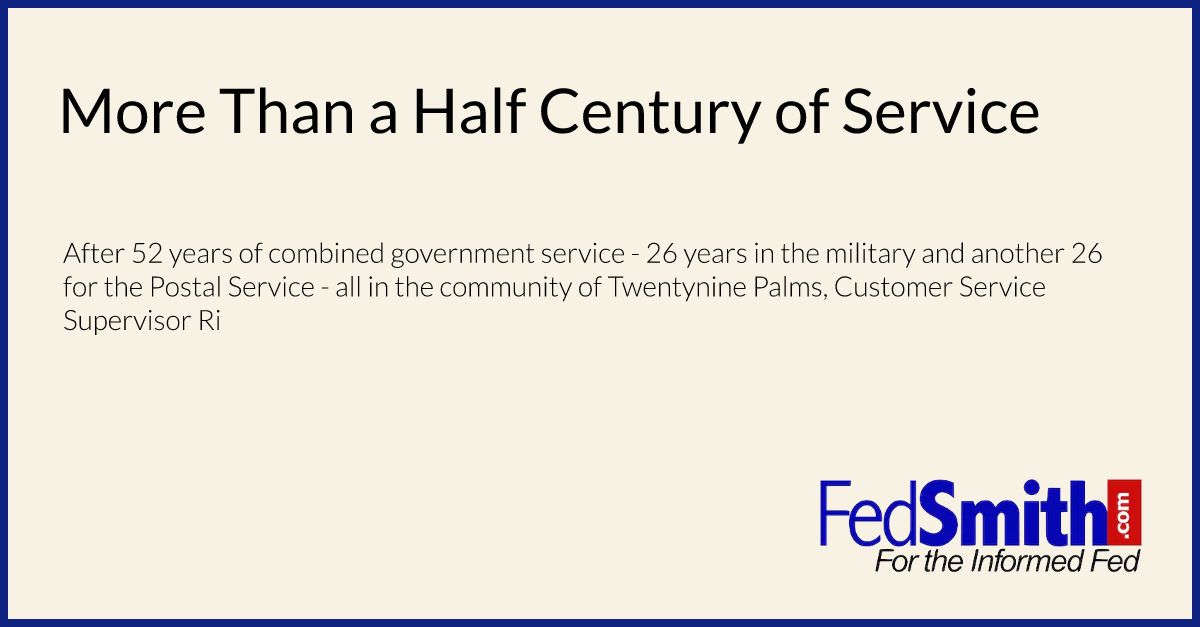 After 52 years of combined government service – 26 years in the military and another 26 for the Postal Service – all in the community of Twentynine Palms, Customer Service Supervisor Richard Manthey retired for the second time.
Manthey enlisted in the Marines after graduation, where he studied electronics and aviation. He thoroughly enjoyed his work, but after advancing fairly quickly through the ranks, he decided he wanted to pursue something new. So he retired for the first time from the Marine Corps as a Mastery Gunnery Sergeant.
Manthey was hired as a PTF Clerk, and once again because of his hard work and determination, he was eventually promoted to Customer Service Supervisor. "I attribute my good work ethic in the Postal Service to the military training I received. In the Marines, I always gave 110 percent and I knew I would do the same for the Postal Service," he said.
On Manthey's last day of service, Twentynine Palms Postmaster Timothy Braggs left no stone unturned to honor Manthey. Braggs coordinated with the city council, Sheriff's Department and U.S. Marine Corps to be on hand for Manthey's final work day. "I appreciated all the fanfare I received. It was very kind of Mr. Braggs to do this for me," Manthey said.
"Mr. Manthey was loyal and dedicated to the Postal Service and Marine Corps serving with distinction, integrity, and attention to detail. He maintained a work ethic in this Post Office that was second to none," said Braggs.