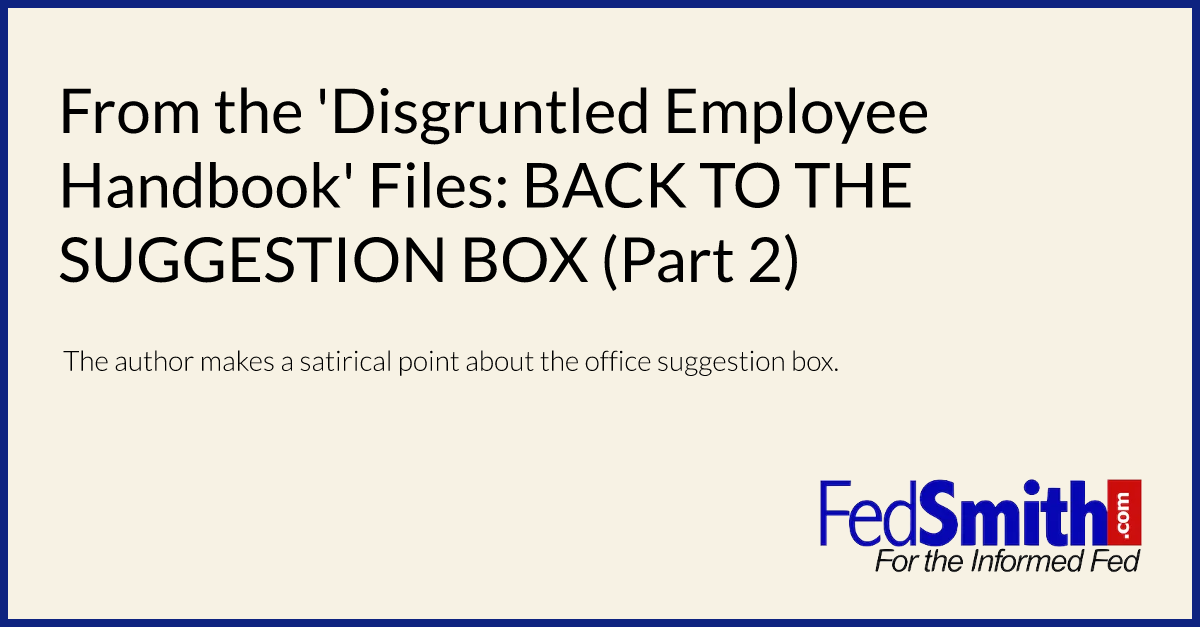 Dear Management:
Well, I'm back here at the Suggestion Box.
To be honest, this time I stumbled onto the box completely by accident. Apparently you guys had it moved since the last time I dropped off my suggestions. And I completely understand. Only a serious ABC Agency team player with real ideas will go to the trouble to bring his suggestions here, to the box's new home under the stairs in the ninth-floor stairwell. Good thinking!
Anyway, as I'm sure you've guessed, I didn't come up here just to commend you again on instituting this Suggestion Box. I actually have a couple of new ideas. Here they are:
– I'd suggest you stop publicly praising employees who put in extra hours. Between you and me, those workers who come in early and stay late aren't more productive than the rest of us. They're just slower.
– Please end the practice of Management taking employees out to lunch. I know you think this is a way to get candid feedback in a non-threatening environment, but the truth is we're all deathly afraid of you. Why not solicit feedback in other ways — for example, moving this Suggestion Box somewhere more convenient, like the reception area — and let us eat lunch in peace?
Well, that's all I have for now. But I've always got my idea hat on and will return with more suggestions just as soon as they come to me.
Do me one favor, though: Let us know if you're planning to move this Suggestion Box again. I'd hate to make the trip back here to the ninth-floor stairwell for nothing.
Thanks!