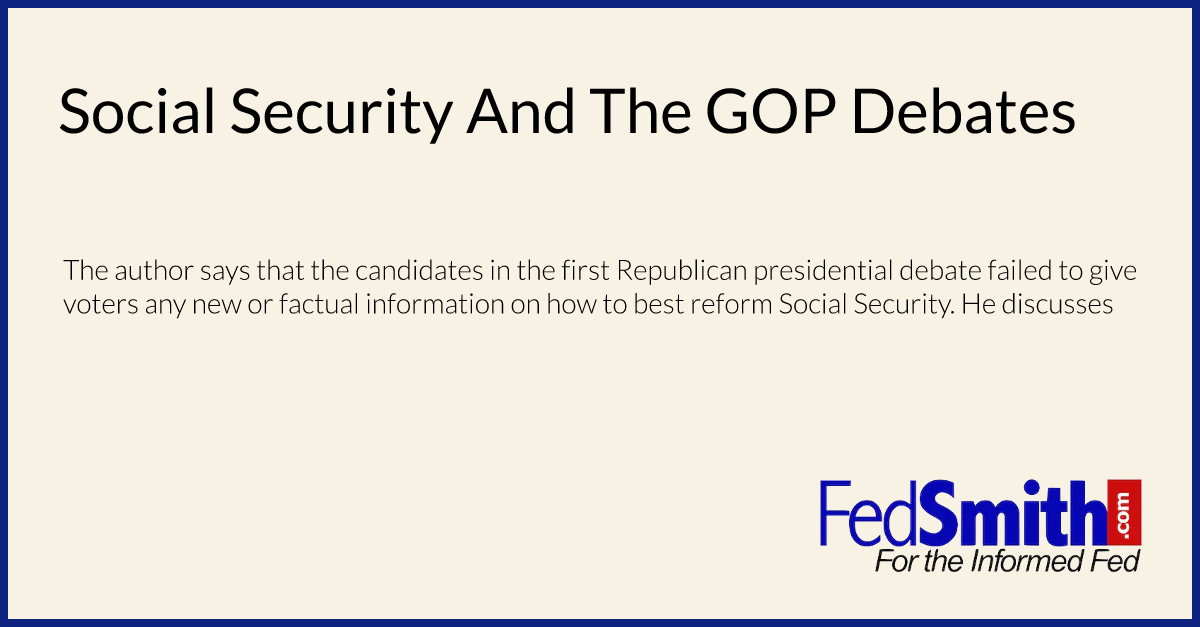 Once again, Social Security has failed to break the trending line on the internet following a debate. Voters are not paying attention.
The reason is pretty simple.  The candidates offered nothing new.  Social Security is the largest expense of the federal government, so you would expect something to be said – something factual.  And you were sadly disappointed, again.
The problem with Social Security is the debate has no fabric of fact on which to build any consensus.  There is nothing in the debate process that stops candidates from framing made-up facts in hyperbolic sound bites to rally the troops. With this process, candidates from both parties have reduced the Social Security debate to little more than entertainment value. It is the intellectual equivalent of professional wrestling.
If I were running for President in 2016, I would promise to get the Oompa Loomas to produce bars of gold instead of chocolate so that Social Security would be funded sufficiently to provide benefits to the Four Horseman of the Apocalypse.  What?! You have a problem with that idea, and no questions about Mike Huckabee's plan to off load the costs of the program on pimps and hookers?
I admire Chris Christie's willingness to talk about entitlements, but I question his honesty. It is true that Chris Christie has put forward a plan, one that doesn't work even on the best day.
His plan is not detailed.  What little detail of his plan that has emerged does little more than translate the indiscriminate benefit cuts forced by solvency into legally defined benefit cuts.  Gee, thanks Chris for telling the shape of my benefit cuts.
Huckabee's statement that a consumption tax would fix Social Security is laughably wrong.  Congressman Woodall, who sponsors the FairTax legislation (H.R. 25) in Congress, has said, "To be clear, the FairTax is not a Social Security reform bill.  It does nothing to change the income or the outgo of the current system."  In other words, Social Security is as broken as ever under the FairTax.
Huckabee's statement that Social Security accounts for 90% of the income of one third of retirees is not true.  It is true, provided that we exclude a wide range of retiree income as Census does in calculating the statistic.  We do not know how many people collect 90% of their actual income from Social Security.  At best, Huckabee is guilty of repeatedly quoting a statistic that he hasn't bothered to fully understand. (see PolitiFact's explanation)
Huckabee continues to think that retirement age is 65. This is a serious problem. We have already raised the retirement age to 67 for the vast majority of working Americans.  That increase explains all of the growth in the life expectancy of a retiree until 2050.  Today's workers do not expect to live appreciably longer in retirement than retirees today.
And no debate about Social Security would be complete without a reference to the IOU non-sense.  The problem of Social Security has nothing to do with what is held in the Trust Fund.  The problem is the amount never put into the Trust Fund.
In the end, voters learned nothing. In the four minute exchange between Huckabee and Christie, there wasn't a single fact that wasn't twisted beyond recognition. At the end of the debate, I am left asking whether I really needed to miss a re-run of the Simpsons for this.