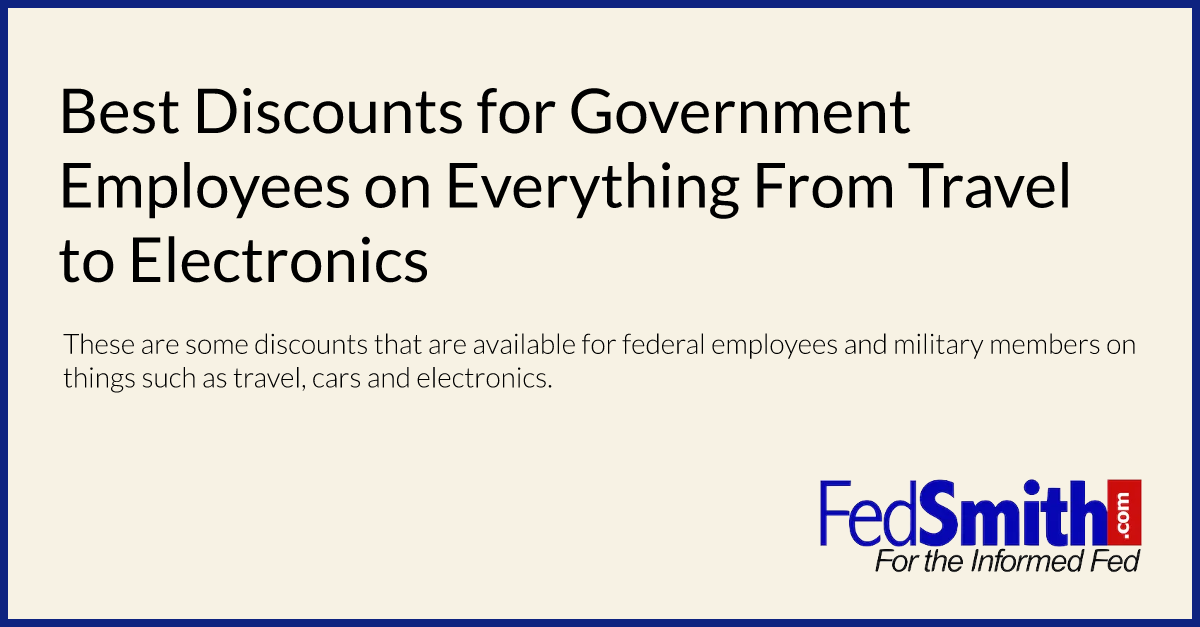 Many government employees are not aware of the multitude of discounts available to them on a variety of products and services that are part of their daily life. These discounts are not tied to official use and can be used by Feds just by showing their government or military ID.
A list of some of the best discounts follows below.
Travel
Hotels
These hotel chains have dedicated government rates which can be used for both business or leisure travel. Rates may not be available on all dates, but can have significant savings compared to regular published rates.
In addition, luxury hotels such as Ritz Carlton, W Hotels, La Meridien and Kimpton Hotels have some dates on which they offer deeply discounted government rates.
Cruises
CruiseDealsforFeds.com offers cruise deals exclusively available to government employees and retirees. Feds can save hundreds of dollars and also take advantage of offers like onboard credit, extra perks and group rates.
All-Inclusive Vacations and Vacation Packages
VacationDealsForFeds.com is service dedicated to government employees and retirees interested in booking a tour or all-inclusive vacation. They negotiate directly with multiple resorts and tour companies to get the best rates, discounts and extra perks for Feds.
Armed Forces Vacation Club – membership only-club for members of the military where they can get rental vacation properties around the world for as low as $349 per week.
Sato Travel is a large travel agency dedicated to getting discounts for government employees on package vacations, all-inclusive resorts and hotels, both for official and leisure travel.
Car Rentals
Many car rental companies offer federal workers from 5% to 20% off their regular rate. Click on these links to be taken directly to the government discount page of each company:
Cell Phones
AT&T – 15% monthly service fee for government employees
Verizon Wireless – variou discounts based on employer
Electronics
Samsung – Government Discount Program offers exclusive discounts on the latest Samsung TVs, phones, appliances, tablets and more all directly from Samsung.com
APPLE – The Federal Employee Purchase Program provides discounts for government employees purchasing Apple products for personal use
DELL – Feds can save up to $500 when purchasing computers and other electronics directly from Dell using the Member Purchasing program
Insurance
Geico – through the Federal Employee Program, Geico is offering discounts based on the employee's GS job grade
Theme Parks
Tickets At Work – get discounts of various theme parks, discounts vary by employer agency
Federal Employees Activities Association – get discounted tickets for Kings Dominion, Hershey Park, Six Flags, Busch Gardens and various museums directly from their website
Sea World – offers one free ticket per year for active military members though their Waves of Honor Program.
Cars
Hyundai – additional $500 off the purchase price of any new Hyundai car distributed in the US. Valid for active and retired military members and veterans.
Ford – $500 Military Appreciation Bonus cash available towards the purchase of any new Ford or Lincoln car for acy active or retired military, veterans, spouses and other household members.
General Motors – save thousands of dollars towards the purchase of any new GM car with the GM Military Discount available to active and retired military personnel, veterans and their spouses