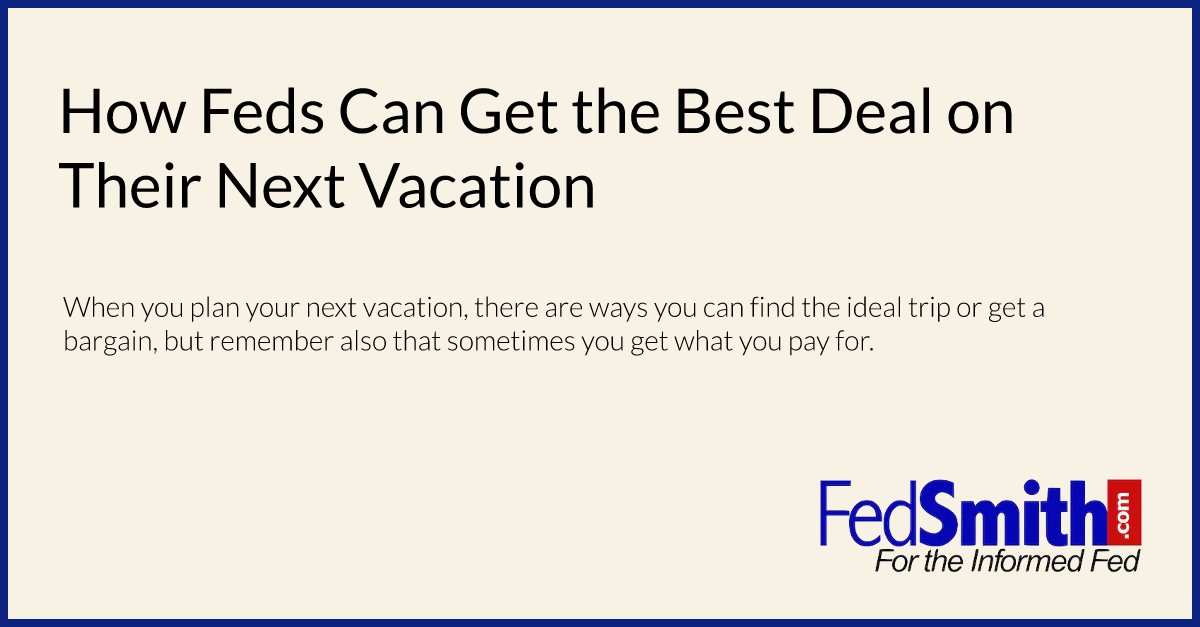 As many Feds are starting to plan their next vacation for the summer (or even for 2020), here are some guidelines to keep in mind so that you can get the best deal, whether you are going to the Caribbean, Alaska, Europe or traveling in the US.
Types of Vacations
Consider going on a cruise
Cruises are a great and cost-efficient way to travel regardless of your age, family situation, and budget. There are dozens of ships sailing to multiple destinations – from a quick getaway to the Bahamas, to a 15-20 day trip around Europe or Asia to a cruise around the world.
There are cruises that start from several hundred dollars per person targeted at budget-conscious travelers to those offering luxury, yacht-type experience with gourmet food and butler service.
Most cruises typically visit multiple destinations on one trip, and there is plenty to do onboard to keep both adults and kids entertained.
There are several companies offering special cruise discounts for Feds (see below) that can save you hundreds of dollars and add exclusive perks like free drinks, specialty dinners or money to spend onboard.
If a cruise in not your cup of tea, consider a guided tour
For many destinations that cannot be reached on a cruise, you will get the best price by booking a guided tour.
Sure, if you are just planning to visit London or Paris, booking a hotel and flight on your own is easy. But if you want to explore multiple cities or travel to more far-off destinations, having someone to put it all together is not only easier, but it can save you hundred of dollars.
Tour operators that do multiple tours every year get special rates on hotels, transportation and entrance tickets to major attractions.
Even if you like to travel independently and hate to be bundled up with a group of strangers, there are many tour options that would provide you with hotels, transportation and a local travel advisor, so you can do your own thing but still have the benefit of someone to hold your hand, when you need it.
Hunting for bargains
You get what you pay for
While there are cruises and hotels for all budgets, you have to be aware that those deeply discounted deals you see out there are not for the newest and nicest ships and properties, and you may be greatly disappointed by your choice when you arrive.
While there are discounts available from time to time for even the newest cruise ships and hotels, those would still be priced quite a bit higher than average. If you see a cruise selling for $399 per person, make sure to do your research or ask your travel agent; chances are this cruise is on one of the oldest ships that do not look like the pictures you see in TV ads.
If you have kids, be particularly aware that many of the older ships do not have the amenities and attractions that appeal to kids, and the rooms tend to be smaller which makes it harder for 3 or 4 people to share one room.
Go in slow season, but do your research
Many people prefer to go outside of the busy peak seasons, both to save money and to avoid the crowds, however, make sure to research the destination in advance to avoid unpleasant surprises.
Going to Bermuda or the Caribbean in September means you are traveling in the middle of hurricane season. While ship captains know how to avoid sailing through a hurricane, it may still mean you get a lot of rain or that your cruise may completely switch its itinerary for safety reasons.
By the same token, that $99 ticket to Iceland in February is a great deal, but it will mean that most roads and attractions may be completely frozen and you will hardly get to enjoy the destination.
Try to go during the shoulder season instead – this means a season that is not very popular with most travelers but will still give you a good price. For Alaska – go in May; for the Caribbean – try January and February; for Europe – April or October.
When you see a good deal – take it!
Cruise lines, airlines and hotels do have some amazing deals from time to time. However, those are usually called "flash sales," and in many instances are available for a few days only. If you see a good price, book it immediately, because the deal will be gone before you know it, and if you wait until next week or next month, you may end up paying quite a bit more.
While this is not true about airlines, cruise lines usually require just a small deposit to book your cabin under the deal price, and even if the deposit is non-refundable, most will allow you to switch it to another sailing with just a small penalty should your travel plans change.
Do not be afraid to book early
Whether you are booking a cruise, hotel or all-inclusive resort, sometimes the best prices can be found when you book a year in advance. That is because companies want to plan and predict their demand early in the travel cycle.
Don't be afraid that by booking early you will miss out on sales further down the road. Unless you book a pre-paid option, you will be allowed to adjust your price if a newer, better offer comes out at a later time (this is especially true for cruises). 
Do not wait until the last minute to book a cruise
Many years ago, cruise lines used to have their lowest prices if you waited until a few weeks before the sailing in order to fill unsold cabins. However, this is no longer the case.
Cruise lines have gotten a lot better at planning in advance, both due to better technology and new government regulations, and now they are able to fill most of their ships completely 2-3 months in advance, so do not listen to your friend's story of how he got a 7-day cruise for $299 at the last moment. Those days are gone, especially since many travel agents hold special "group space" on many popular cruises that typically sells out 6-12 months in advance. Those group rates would save you hundreds of dollars per person vs the regular cruise line rates, so you are much better to look for them and book them in advance rather than hoping for a last-minute price drop that never materializes.
Compare the value of the vacation and not just the price
Sure, it looks like a great deal when you see that $399 cruise or that $699 all-inclusive resort. However, make sure to read carefully what you will be getting and consider your situation.
Do you plan on having several drinks per day? Do you like to have a balcony or at least a window room? Do you plan on taking any additional excursions? Do you like a resort on the beach?
Many times, if you add up the extra costs not included in the low price you saw advertised, you will realize you are much better off paying a higher price to have more features included or a better room or location.
For example, some cruise lines include free drinks or free internet and even pre-paid gratuities in the cost of the cruise, so you will not have any extras to pay once you board.
Or, in the case of all-inclusive resorts, going with the lowest price may mean sacrificing cleanliness, proximity to the beach or quality of food. Being stuck in a moldy room with a food poisoning is nobody's idea of a vacation.
Don't fall for the gimmicks of many online vacation retailers
While it is always a good idea to do a price comparison for a vacation that you like, many large online travel sellers rely on the wow factor to get you to their site, often promising what it looks like a $299 price with thousands of dollars in extras.
Unfortunately, the reality is quite different. Many of those offers are valid only on the most expensive suites, and most people booking this vacation will only get a fraction of the extras advertised (if any at all). Sometimes in the small print it says that you will get a gift card after the end of the cruise instead of before it; sometimes the rate is non-refundable and you may not notice that until after you make the booking.
Working with a travel agent can save you a lot of money and provide you with extras you cannot get on your own, but make sure to choose one that will give you all the info upfront and will not just try to promise unrealistic offers.
Look for a government employee and other special rates
Many major hotels offer government employee rates, even for those traveling on leisure (sadly, they are not available for federal retirees, only for current employees). Same goes for several car rental companies.
If you are booking a cruise, always ask whether there are military, senior (for people 55+) or resident discounts (for residents of certain states). Also, contact a travel agency that specializes in working with government employees (see below). Many of them work with both current and retired federal and state workers and you can usually get the best price and extras from them.
Companies Offering Vacation Discounts For Feds