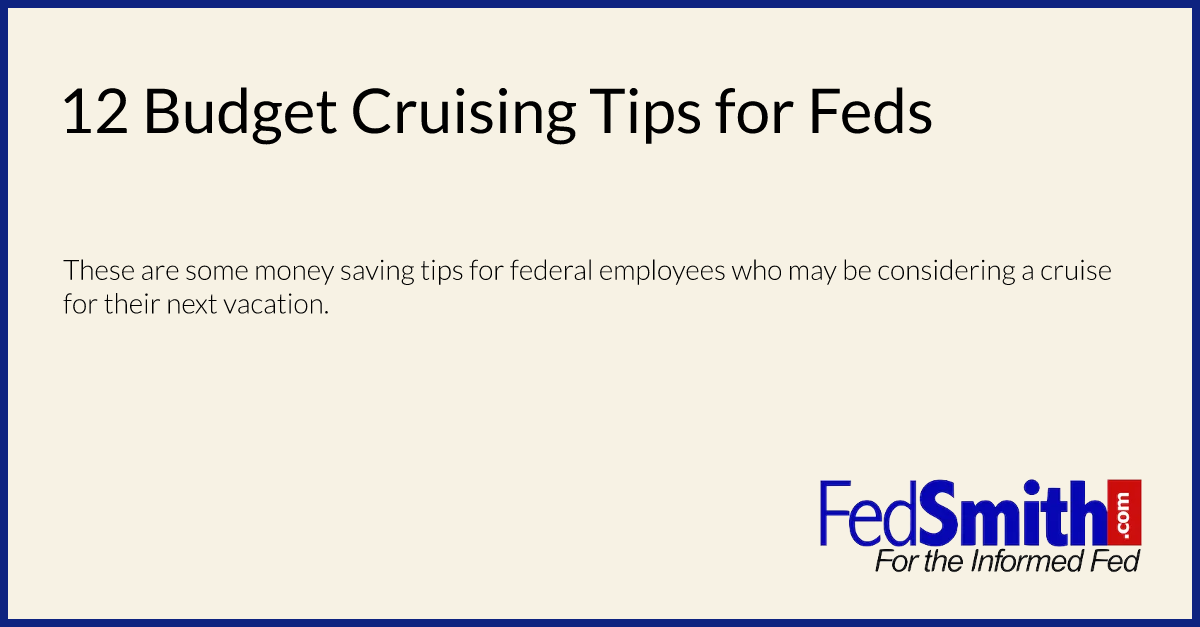 Many Feds are not aware of the various ways they can save money on their next cruise vacation, so check out these tips on how to make the most of your travel budget.
Use a travel agency that works exclusively with government employees
Agencies like Cruise Deals for Feds and GovVacationRewards specialize in negotiating discounts for Feds and can save you hundreds of dollars on your next cruise. Always compare their pricing with other offers you find, because in many cases they have access to exclusive government employee deals not available publicly. Even if you have already booked a cruise directly with the cruise line, it is a good idea to contact one of these agencies because in some cases they can still offer you something extra, like onboard credit or other amenities.
Book during "Wave Season" or wait for a major sale
Each year, "Wave Season" happens between January and March and that is the time when cruise lines come out with their best offers, most added value, upgrades and other perks. They know that when the weather outside is cold, many people start planning their vacations and, statistically, they do most of their bookings during those three months.
However, in recent years, some cruise lines like Royal Caribbean, Celebrity and Viking, have started moving their major annual sales earlier and earlier. So keep an eye out for some of these big sales because that is when you can score offers like "kids sail free", free airfare, free drinks, pre-paid gratuities and much more. But keep in mind these sales often last only a week or so, so be prepared to book if you see a great deal.
Try a shorter cruise, especially if you are a first-timer
If you are a first-time cruiser and want to make sure that cruising is for you without spending a large amount of money, or if your budget would not allow for a 7-day cruise, consider something shorter.
Several cruise lines offer 3-4 day cruises to the Bahamas or 5-day cruises to Bermuda and the Caribbean. Some of those cruises are priced as low as $300 pp and do not be afraid that you will be stuck on an old and outdated boat. These short cruises are actually in high demand so both Royal Caribbean and Celebrity use some of their newer or recently renovated ships to run shorter cruises. 
Look for cruises that include extra perks in the price
Several cruise lines like Celebrity and Norwegian frequently bundle major extras in their prices. By booking a cabin on one of these cruise lines, you may pay a slightly higher price, but you will receive perks such a free drinks packages, free internet, pre-paid gratuities or excursion credits, whose value often surpasses the small difference in price. 
Be flexible with dates
As can be expected, cruise pricing depends on the demand, and prices are highest during popular travel times, such as Christmas, Thanksgiving, summer and spring break and various other holidays. If you can travel during the lower season, you will get much lower pricing and, many times, you can score a balcony room for the price of an inside room during peak times.
For Alaska, try to go in May or late August, for the Caribbean – anytime in January-March or September- early November, for Europe – September and October are the months that will give you the best pricing and offers.
If you do have to travel during a popular time (like your kids' summer vacation), it helps to be open to different dates within that time. Tell your travel agent your desired time frame and let them find the best options for you. Believe it or not, you may save several hundred dollars this way, even during the busiest of times.
Book a year in advance 
Cruise pricing typically looks like a bell curve – lowest prices are found either very early or very close to the sail date. However, waiting too long for a last-minute deal has its downsides – the cruise may sell out, lower priced cabins may no longer be available, airfare to the cruise port may be more expensive. And, if you have kids, cabins that can fit 3 or 4 people are very limited and tend to sell out well in advance. By booking early you do not lose anything – if the price drops after you booked, most cruise lines will allow you to adjust the price to the lower one.
Book a smaller ship
While most cruise commercials feature each line's newest and largest ships, the most value can be found by booking a smaller ship. Many people are attracted by the water slides, racing tracks and sleek design of the mega ships, so as expected they command higher prices, but many of the smaller ships will not only give you a more intimate experience but also much lower prices. And, in many cases, the smaller ships are very well maintained and still provide plenty of entertainment and activities, if that is what you are after.
Organize a group of family or friends
Many cruise lines can set up a special "group price" if you book a large number of cabins. In many cases, the minimum number of cabins required is 8, but some cruise lines may give you a special rate even if you book just 4-5 cabins, so ask you coworkers, friends and family members if they want to join you. Not only will you save money, but you may receive a special extra for your group like onboard credit, bottles of wine, or a dinner in a specialty restaurant.
Don't worry if you do not necessarily want to spend your entire vacation with the group – cruise ships are large and they offer multiple venues, restaurants and bars, so you can still do your own thing while onboard.
Do a payment plan
Don't wait to book your cruise until you have saved up enough money. Unless you are booking a last-minute cruise, most cruises can be reserved just by paying a small downpayment, as low as $50 pp in some cases. This will guarantee your price and all of the extras, as well as the cabin that you have selected. The rest of the payment can be paid in small installments, as long as you finish paying before the final due date (usually three months before the cruise).
Book a Guarantee Cabin
Typically, there are three types of cabin categories on each cruise ship – Inside (no window), Oceanview (small window or pothole) and Balcony. By booking a Guarantee cabin, you are guaranteed to receive a cabin within your desired category, however you cannot choose your exact cabin number. These cabins are often priced much lower than the assigned cabins, so they are a good choice for the budget-conscious. Beware though that you may end up with a cabin with an obstructed view or one in a not very desirable location (like under a public venue).
Check for airfare offered by the cruise line
If you have to fly to the cruise port, check to see whether the cruise line offers any specials on airfare before you book your airline tickets. Some cruise lines occasionally offer free or deeply discounted airfare, while others regularly negotiate with the airlines to offer their guests discounted bulk rates. This is true especially if you are going on a more exotic cruise like Europe, Asia or Hawaii, when regular airfares can cost upwards of $1000 pp.
Choose a non-refundable deposit
Several cruise lines offer a lower price if you book with a non-refundable deposit. While this may sound scary, it is actually not such a bad option.
Should you be unable to take the cruise you booked, the cruise line will transfer most of your deposit amount towards a future sailing (typically within a year of the first). Or, purchase travel insurance so that, if you have to completely cancel your cruise due to an illness or an accident, you will still get your money back.