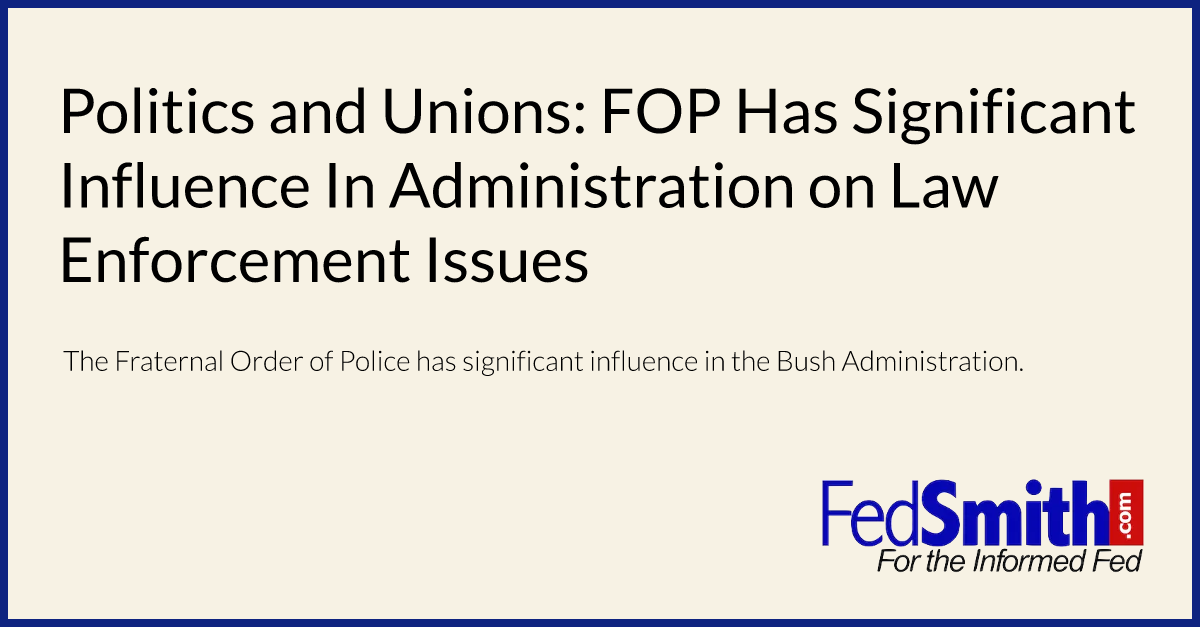 As we noted on this site a few days ago, Federal employee unions overwhelmingly supported Democrats in recent elections, and this high visibility has not helped the unions in gaining support issues important to the unions or to the Federal employees they represent.
But while the largest and most vocal employee unions generally supported Democrats at the national and local levels, there were exceptions. In fact, according to author Gary Fields writing in the Wall Street Journal last week, one relatively small union backed George W. Bush and is now benefiting.
The Fraternal Order of Police (FOP) is the world's largest organization of sworn law-enforcement officers with about 300,000 members. The FOP constitution prohibits it from being affiliated with any other union. It is obviously much less visible and represents far fewer Federal employees than other public sector unions. Now, this union is having a significant impact on the Administration's policy in dealing with certain issues, such as creation of the new Department of Homeland Security.
According to the Journal, the administration has appointed FOP members to five advisory panels and the union president has met with major homeland security advisors including Tom Ridge. Also, the union was instrumental in turning around a campaign promise to study the U.S. justice system in view of the racial-profiling controversy -an important issue to members of the law-enforcement union.
The FOP is also having an impact on the creation of the new Department of Homeland Security. The President of the FOP has been appointed to the 15-member Homeland Security Advisory Council. The union wants to have the Bureau of Alcohol, Tobacco and Firearms moved into the new agency and their influence on this issue is apparently going to be significant.
The union is fighting a provision in the House bill that would split the Customs Service into a law-enforcement arm in the Homeland Security Department and a regulatory arm that would remain at the Treasury. Both the FOP and the administration think this split of Customs is not a wise approach in structuring the organization.