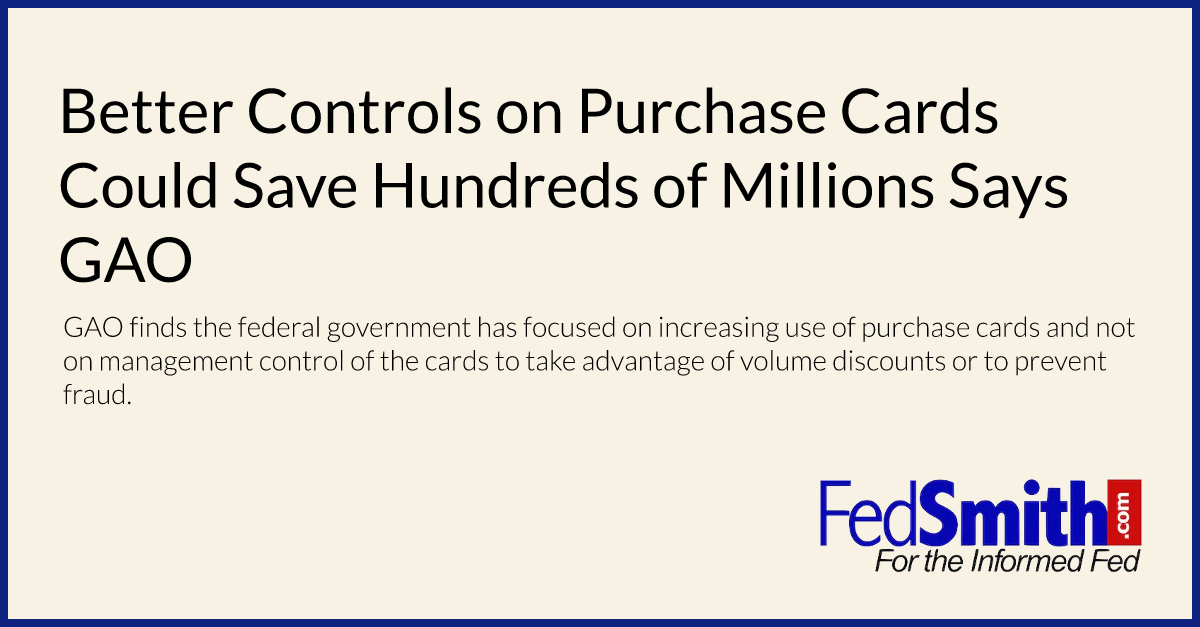 As most readers know, the government uses a purchase card program for buying all kinds of items for conducting government business.
There is no doubt the purchase card program cuts through red tape and bureaucratic procedures. It makes buying items routine and saves the government huge amounts of money by reducing administrative costs for purchasing items.
Agencies are using purchase cards and they are realizing savings from cutting down on transaction costs. Since the program began, small and routine purchases have dramatically increased in agencies. GAO says that from 1994 to 2003, the use of government purchase cards increased from $1 billion to $16 billion. Agencies primarily focused on ways to increase the use of purchase cards.
That approach was apparently too focused though. In some agencies, there was little control or oversight and, as often seems to happen, when there are no penalties for abusing a system, there are going to be people who will abuse it.
Most readers have seen the funny ads on television featuring a person whose credit card was misused by a crook who went on a spending spree to buy all kinds of goods and services from trucks to massages–just because the thief had stolen the card and wasn't spending his own money. The ads are funny but get the viewers attention.
Unfortunately, there are a few in government who have done something similar to the situations portrayed in these ads. The GAO has now come out with a number of reports on use of credit cards. Virtually all agencies that have used government credit cards of one kind or another have found employees using the cards for all kinds of services which have no relationship to government business. The purchase card program is no exception. (See some of the links on the left hand side of this page for a few more examples of past abuses found by GAO with travel cards, for example.)
GAO also found that when employees used the purchase cards to buy items that were not to be used in government business, no action was taken against them. In other words, the card holders quickly figured out that when using a government credit card they didn't have to pay the bill and there were no repercussions for using the card inappropriately.
Just in its current testimony, GAO says it found in its most recent investigation that some of the items bought with government purchase cards included Louis Vuitton designer folios, Dooney and Bourke designer carrying cases for personal digital assistants, wine, cigars, a Bose headset, leather jackets, a mounted deer head and Oakley sun glasses.
GAO said in testifying before Congress (available from the link on the left hand side of this page) that focusing on improvements in program management and oversight could save hundreds of millions of dollars by (1) strengthening controls and monitoring transaction activity to minimize fraudulent, improper, and abusive purchase card transactions and (2) leveraging the government's buying power to achieve discounts with frequently used vendors.
The report found that a number of people using the card didn't care how much items cost when spending government money using the card. The GAO testimony notes that "While substantial attention has been focused on internal controls in recent years, very little management focus and attention has been placed on the aggressive pursuit of savings through use of the purchase card."
In effect, the GAO says government should follow the Wal-Mart example of using its buying power to negotiate discounts on items. As the government is spending over $16 billion in purchase card spending, using this huge buying power could result in hundreds of millions of tax dollars each year.
Much of the problem is just a lack of responsibility on the part of the person using the purchasing card. GAO cites an example of an employee in the Department of Transportation who paid about 20 percent more than the GSA Schedule contract price for office supply items, even though he admitted he knew that the vendor had a GSA schedule contract with the government. An Agriculture cardholder, who paid about 13 percent more for cellular telecommunications service than the GSA contract price, told GAO, in effect, that cost was not her problem as her only role was to pay the monthly bill.
GAO concludes by noting that there isn't enough evidence to determine whether increased management controls are enough to curb the fraudulent purchases. It is clear that government is not paying enough attention to getting quantity discounts and that doing so would save up to 300 million dollars per year.