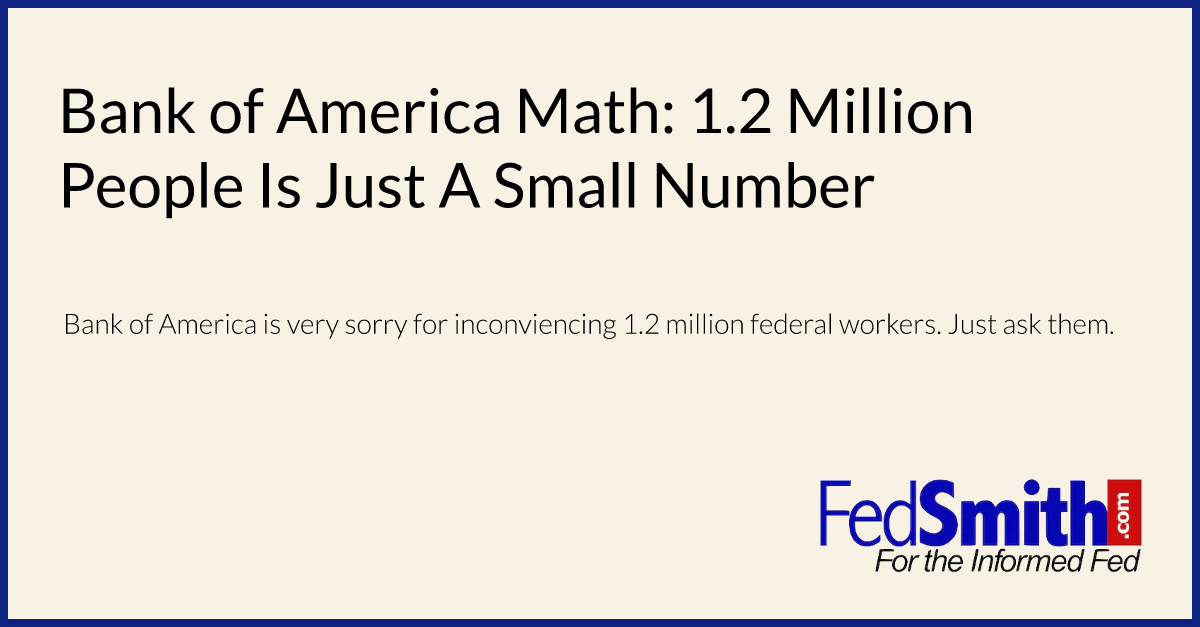 Finally there is some good news for the roughly 1.2 million federal employees impacted by the data tapes that were either lost or stolen or burned or buried by the Bank of America – officials indicated that they feel very sorry for their customers.
So before beginning to worry and fret about possible stolen credit information, remember that Bank of America officials said they are very concerned and upset about losing personal information for so many federal SmartPay travel cardholders.
But in perusing through the Bank of America website, a visitor could get the idea that the minor inconvenience of losing data tapes containing customer and account information, names and Social Security numbers of 1.2 million federal workers was akin to an employee misplacing the corporate coffee pot.
In fact, someone looking for updated information on the Bank of America website would be advised to exercise great patience in trying to even find mention of the incident at all – nothing about it is available on the home page. Or a secondary page for that matter. A user has to navigate several clicks into the site just to learn that Bank of America is giving this the attention it deserves and is not downplaying this accident one bit.
In its only press release buried numerous levels into its website, the very first sentence speaks volumes of the care, concern and accountability Bank of America is taking regarding the loss of customers' personal information.
"Bank of America today confirmed that a small number of computer data tapes were lost during shipment to a backup data center. The missing tapes contained U.S. federal government charge card program customer and account information."
So there it is – the important number is not the number of customers impacted by the problem – 1.2 million, but that the actual number of tapes themselves containing this personal information is a "small number."
Whew! What a relief that must be for federal workers whose good name and credit could be compromised or ruined.
"Sure you 'claim' you didn't buy that new boat, 12 big-screen televisions, a new motorcycle and a trip to Hawaii, but we're looking at a report right here from Bank of America that says only a small number of tapes were even lost, so how are we supposed to believe you were one of the few victimized by this unfortunate incident?"
But Bank of America officials didn't stop there with the sincere apologies and serious frowning faces etched with concern and whatnot. Let's just take a look at a few of the heartfelt condolences offered by BoA spokespersons.
From Ken Lewis – now entering his fifth year as chief executive of Bank of America:

"I felt awful for our customers . . . Even though information was not compromised, that obviously creates anxiety."
See? They do get it. Apparently it is O.K. to feel some "anxiety," but please do remember that your personal information was not compromised (well, not yet, anyway. The possibility exists that the tapes are not accessible to criminals or terrorists either. Some at Bank of America speculate these tapes were just buried in a landfill somewhere. Or stolen off a commercial airline by a baggage handler. No one really has any idea, apparently, so rest easy.).
Still don't believe that Bank of America takes the "incident" serious? Then you weren't paying attention to this spokesperson's comments, who reiterated to you Bank of America's very sincere apology.
"We deeply regret this unfortunate incident," said Barbara Desoer, who is in charge of technology, service and fulfillment for the Charlotte-based bank. "The privacy of customer information receives the highest priority at Bank of America, and we take our responsibilities for safeguarding it very seriously."
So where do we start in analyzing this particular plum? Perhaps a good prosecutor would ask the following question:
"If the privacy of customer information receives the highest priority at Bank of America as you suggest, why or how did you lose this 'small number' of data tapes containing personal and customer account information for 1.2 million federal employees, including U.S. senators?"
And just remember that although Bank of America could possibly notify potential victims of charges made to the account, most agree that the range of problems associated with the inappropriate usage of social security information is well outside Bank of America's ability to monitor. Again, it probably won't happen, so try to get some sleep.
In the bank's defense, they have sent letters and/or emails to those that may have been affected. They've also submitted an 800 number to Bank of America customers who want to check their account information, 1-800-472-1424.
Ironically, in the letter agency officials advised customers of the things that they could do to keep their financial information secure. Presumably one of the tips wasn't to use another vendor that actually doesn't lose their account information.
And how is that working out? Well, here are a couple of comments from FedSmith.com readers:
"I also received a letter. I called the number provided. The first person put me could only confirm that my information had indeed been lost. When I started asking questions, she transferred me to a second person who also could not answer questions but gave me a single B of A number to call for getting a credit check. So much information had to be punched in and pound signed that I never could get it done and gave up. Why can't Bank of America set up a credit watch for all who request it instead of making us do this ourselves at our own expense and trouble?"
And:
"I think Bank of America should be required to provide a monthly credit report to all individuals for the next two years because that is exactly what I am going to have to do now. Check my credit report every month to see if my life has now been ruined by these idiots."
Before panic sets in, remember – Bank of America has "found no evidence to suggest the tapes or their content have been accessed or misused, and the tapes are now presumed lost," spokeswoman Alexandra Trower says.
After all, they are very sorry for the inconvenience.
Sweet Dreams.