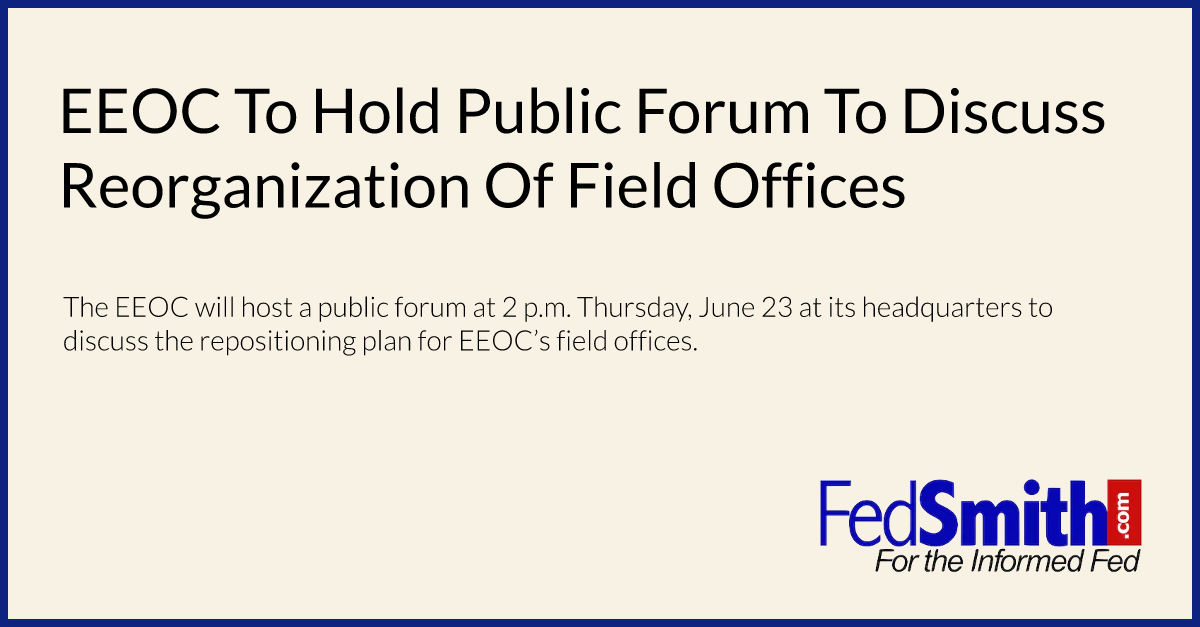 The Equal Employment Opportunity Commission will host a public forum at 2 p.m. Thursday, June 23 at its headquarters to discuss the repositioning plan for EEOC's field offices.
At the forum, EEOC Chair Cari M. Dominguez will lead a panel of senior EEOC managers who will give an overview of the repositioning plan followed by a moderated question and answer session. Information regarding the proposed plan can be found on the EEOC's web site.
The repositioning proposal has been in development for several years and was released five weeks ago. EEOC officials said that in addition to the input that was received prior to the release of the proposal, comments are currently being solicited from both the public and EEOC employees, and briefings have been held with stakeholder groups. This forum is an opportunity for interested parties to obtain clarification on the proposal. The Commission is scheduled to meet on July 8, 2005, to deliberate and vote on the proposal.
When the EEOC announced the plan five weeks ago, Dominguez said the benefits of strengthening the field structure would enhance the agency's enforcement presence and delivery of services; improve the efficiency of its operations; and eliminate or reduce costs. Under the plan, EEOC officials said no jobs would be lost and that all current EEOC offices would remain open.
Specifically, this plan calls for expanding jurisdictional areas of district offices, which will take from 23 to 15 the number of offices headed by district directors and regional attorneys. The Commission is expanding its number of field offices, from one to nine, and will also have 15 area offices and 14 local offices, including two local offices that will be established in Mobile, Alabama, and Las Vegas. The reorg would reduce the number of managers and administrators while increasing front-line staff conducting investigations, mediations and litigation, and provide more outreach educational services to the community.
After initially announcing the reorganization plan in early May, the EEOC had scheduled another meeting to deliberate and vote on the proposal May 16. However, officials then announced that the meeting would be rescheduled later after EEOC Commissioner Stuart Ishimaru joined union protests against the reorganization proposal.
The public forum will be held at EEOC headquarters in Washington D.C. in the Clarence M. Mitchell, Jr., Conference Room (9th floor), 1801 L Street, N.W. Those wishing to attend and participate in the question and answer session should notify the Commission's Executive Secretariat no later than close of business June 21, 2005, by e-mail to stephen.llewellyn@eeoc.gov, by fax at 202-663-4114, or telephone at 202-663-4070, TTY at 202-663-4074. Those who wish to submit questions in advance may do so to the above e-mail address or fax number.