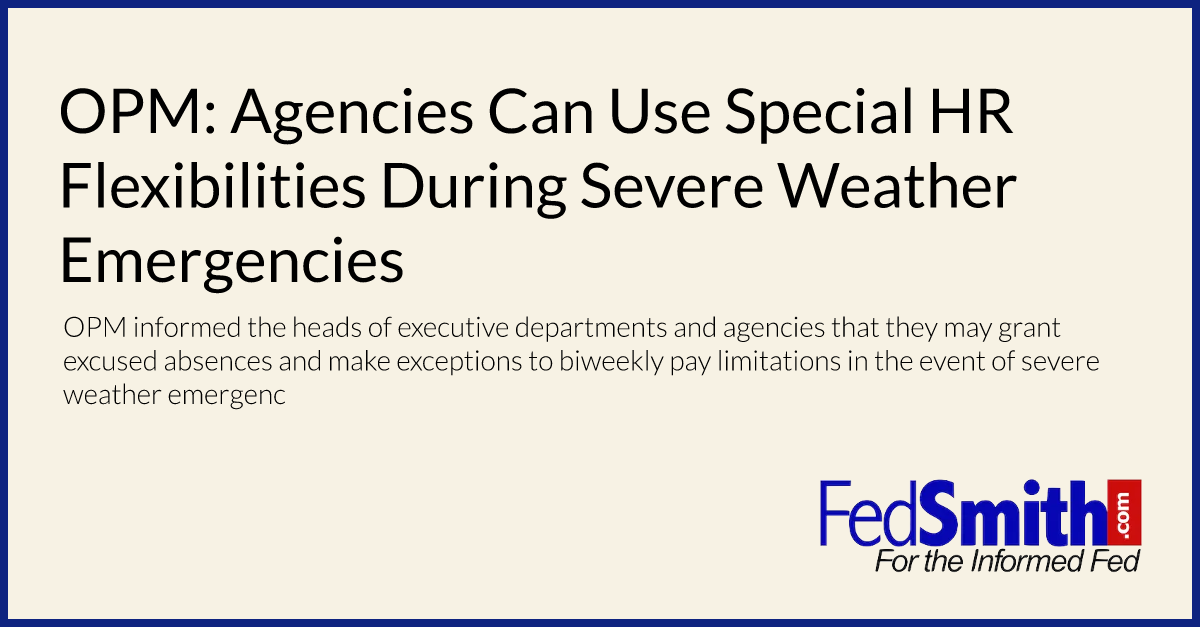 The Office of Personnel Management recently released detailed guidance on human resources flexibilities that agencies can use if severe weather emergencies and natural disasters and their aftermaths impair the ability of federal workers to report for work.
According to OPM, the heads of executive departments and agencies may grant excused absences and make exceptions to biweekly pay limitations.
"Federal employees are always generous and responsive in relief and recovery efforts during emergency situations," commented OPM Director Linda M. Springer. "Agency heads should consider all the human resources flexibilities available to them during such difficult periods."
Excused absences may be offered to employees who are requested—and approved by their employing agencies—to assist in special relief and recovery efforts in affected communities. Absences may also be extended to employees prevented from reporting to work or faced with personal emergencies resulting from disasters.
In addition to leave flexibilities, agencies may apply the annual premium pay limitation instead of the biweekly premium pay limitation to employees who receive premium pay for performing overtime work in connection with emergencies, such as severe weather or natural disasters.
Additional flexibilities include:
– 30-day appointments to fill critical hiring needs
– Direct hire of individuals in the GS-0602 medical officers, GS-0610 and GS-0620 nurses, GS-0647 diagnostic radiologic technicians, and GS-0660 pharmacists categories
– Contracts with private sector temporary employment firms
– Competitive service appointments for 120 days without considering special assistance programs
OPM may authorize other options upon agency request. Agency chief human capital officers and/or human resources directors should contact their assigned OPM human capital officer for details.