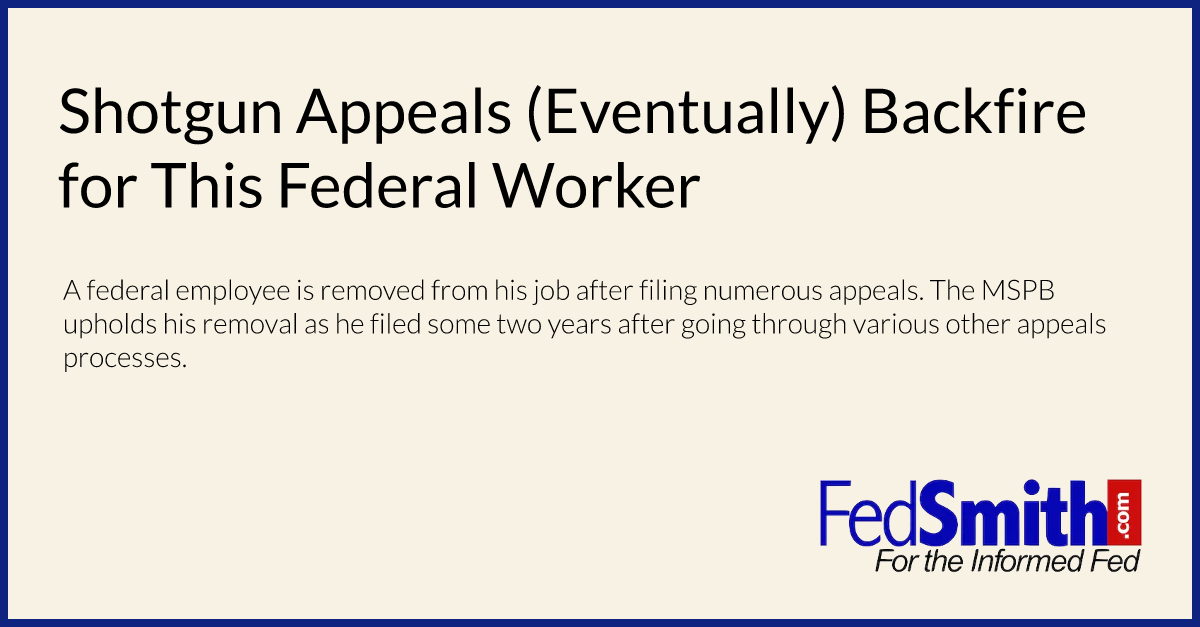 A recent "non-precedential" court decision is nevertheless of interest because it illustrates how employees can mess themselves up by taking a "shotgun" approach to filing challenges to an agency action (or, in this case, an agency inaction.)
In Gribcheck v. Merit Systems Protection Board (Federal Circuit Court of Appeals, No. 05-3061, August 17, 2005), the court was asked to review the MSPB's finding that the employee was untimely and therefore out of luck on his appeal seeking pay for a forced suspension by his agency. In a 2-to-1 decision, the Federal Circuit upheld the MSPB on its untimeliness determination. Short of persuading the full circuit court or the Supreme Court to overturn the panel's decision in what is clearly an uphill court battle, Mr. Gribcheck has pretty much had his day in court.
Jerry Gribcheck was employed by the US Postal Service in Cleveland. Several years ago his agency directed him to submit to a psychiatric fitness-for-duty examination. He was diagnosed as having a paranoid personality disorder "manifested by inappropriate anger, and perceptions of harassment and persecution." (Opinion, p. 2)
Based on these results, the agency told Gribcheck he would not be permitted to return to work until he could submit a statement from a treating psychiatrist that he did not present a hazard to himself or others. As often happens in these kinds of cases, the employee responded with his own psychiatrist's report stating that he was not a threat and was fit for duty. To resolve the matter, the agency ordered up a third fitness-for-duty exam, but Gribcheck refused to cooperate. So, the agency placed him on enforced leave. Almost a year later, Gribcheck finally submitted to the third exam. The resulting report indicated that he "did not appear to pose an immediate threat to his co-workers." (Opinion, p. 3) The good doctor recommended that Gribcheck be placed in a "less stressful" position with different co-workers. The agency came up with some proposed positions and Gribcheck agreed with one of those. But in the disposition agreement the agency wanted him to agree to continued treatment as well as a waiver of appeals. He balked. It took about 2 years of wrangling before he was returned to work.
Just before returning to work, Gribcheck filed an appeal with the MSPB arguing that the agency had improperly placed him on enforced leave for some 3 1/2 years. The AJ reversed the agency's action on the basis that it had failed to provide Gribcheck with advance notice. He did not rule on the issue of timeliness of the appeal, even though it had been raised and briefed. The full Board reversed. It found that when the agency failed to restore Gribcheck to duty on receiving the third psychiatrist's report, this constituted an adverse action. But, the Board then considered Gribcheck's two-plus year delay in filing an appeal and concluded that he did not have good cause for the delay. Apparently, during this period Gribcheck took a "shotgun" approach to challenging the agency. He filed an unfair labor practice charge, pursued grievances, went to the EEOC, and filed a lawsuit in state court, all of which raised basically the same fact situation. Although "well aware" of the appeal procedure "having participated in it repeatedly," he did not file an appeal with the MSPB until apparently all his other challenges did not produce the desired result. (Opinion, p. 5)
Unfortunately for Gribcheck, at least two judges on the circuit court panel assigned to his case agreed with the MSPB.
Judge Newman filed a strong dissent, taking issue with what he branded a "constructive adverse action." He feels strongly that the Postal Service was required to give Gribcheck notice of appeal when it failed to restore him to duty following the third psychiatrist's report: "The panel majority rules that notice was not required, of either the appeal rights or that an adverse action was taken. That is not the law. It is unworkable to develop a new rule of 'constructive adverse action' whereby the employee's statutory time for appeal is expiring although he has no notice that the time is running."