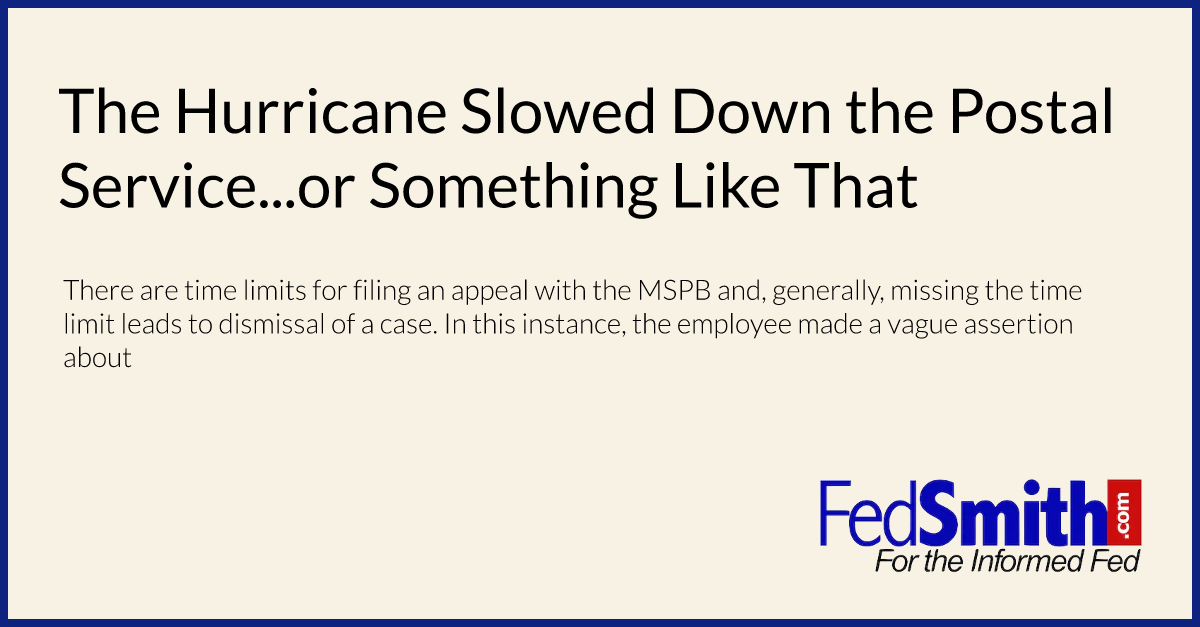 Hurricanes dominated the news for a couple of years. Now we have the apparent "Hurricane Ivan exception" to the time limit for appealing to the full MSPB from the initial decision of its AJ.
The Department of Defense removed Charles Griffin from his position as a Financial Clerk. Mr. Griffin timely appealed this action to the MSPB's Atlanta Regional Office. Following a hearing, the AJ upheld the removal action in a decision dated September 14, 2004. The standard form letter went to Mr. Griffin advising him that if he wanted to seek review by the full Board, his petition must be postmarked on or before October 19, 2004, the date on which the AJ decision would otherwise become the final decision of the Board.
You guessed it–on November 19, 2004, Mr. Griffin filed his petition seeking review by the full Board. The Board responded by politely pointing out that the deadline was some 30 days before he filed, and his petition was going to be dismissed unless he showed "good cause" for his late filing.
This is what Mr. Griffin responded:
"I thought November 19, 2004 was the deadline to have my petition postmarked . . . .
Unfortunately, I failed to realize that because of our recovery from Hurricane Ivan, U.S. Postal Service operations have been greatly altered. I have been informed that most phases of their operation are still in extreme backlog/catch-up phase." (Opinion, p. 2)