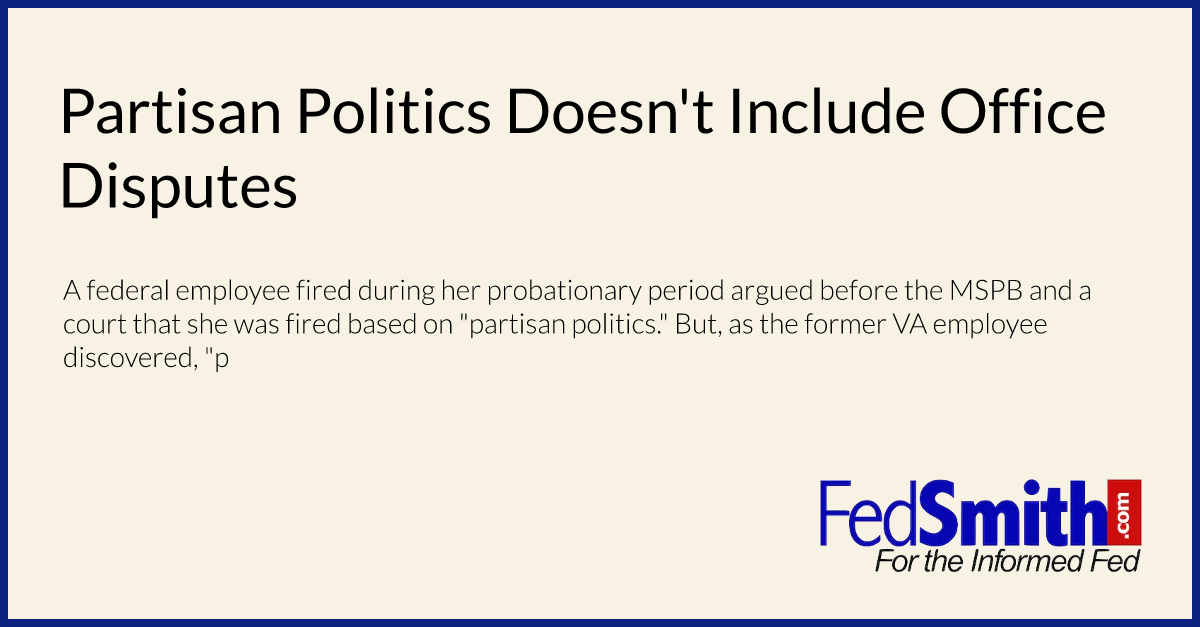 Federal probationary employees may only appeal their dismissals to the Merit Systems Protection Board if the action was based on discrimination for partisan political affiliation or marital status.
A recent case before the Federal Circuit Court of Appeals makes clear that bald allegations are not enough to meet the requirement for an appeal. (McCall-Scovens v. Merit Systems Protection Board, U.S.C.A.F.C. No. 05-3238 (non-precedent), May 30, 2006)
Ms. McCall-Scovens appealed to the MSPB to challenge her probationary termination by the Department of Veterans Affairs. She was discharged from her position as a Medical Support Assistant for deficient performance, inappropriate conduct, and excessive use of unscheduled leave.
In filling out her petition to the MSPB, next to the question whether the agency's action had been discriminatory, she wrote "N/A." When the Administrative Judge explained to her the limited bases for appealing a probationary termination and gave Ms. McCall-Scovens an opportunity to provide additional information, she alleged that she was discriminated against for partisan politics, but she gave no specific facts to support the bald allegation. (Opinion, p. 2)
She was even given one more chance to provide some specific facts to bolster her allegation. She stated the way she was treated by co-workers added up to discrimination based on partisan political reasons. This did not cut it with the Board. As a result, the Board found that it had no jurisdiction over her appeal and bounced her out of the system. (Docket No. PH315H040023-I-1)
Ms. McCall-Scovens took her case to court but struck out there as well. The Federal Circuit agreed with the Board and affirmed the dismissal of her appeal: "While disputes in the workplace environment are frequently characterized as 'office politics,' such disputes do not form the basis for a claim of discrimination based on partisan politics." The court went on to point out that the petition must show "specific facts" that show the discrimination "was based on the probationary employee's affiliation with a political party or candidate." (Opinion, p. 3)