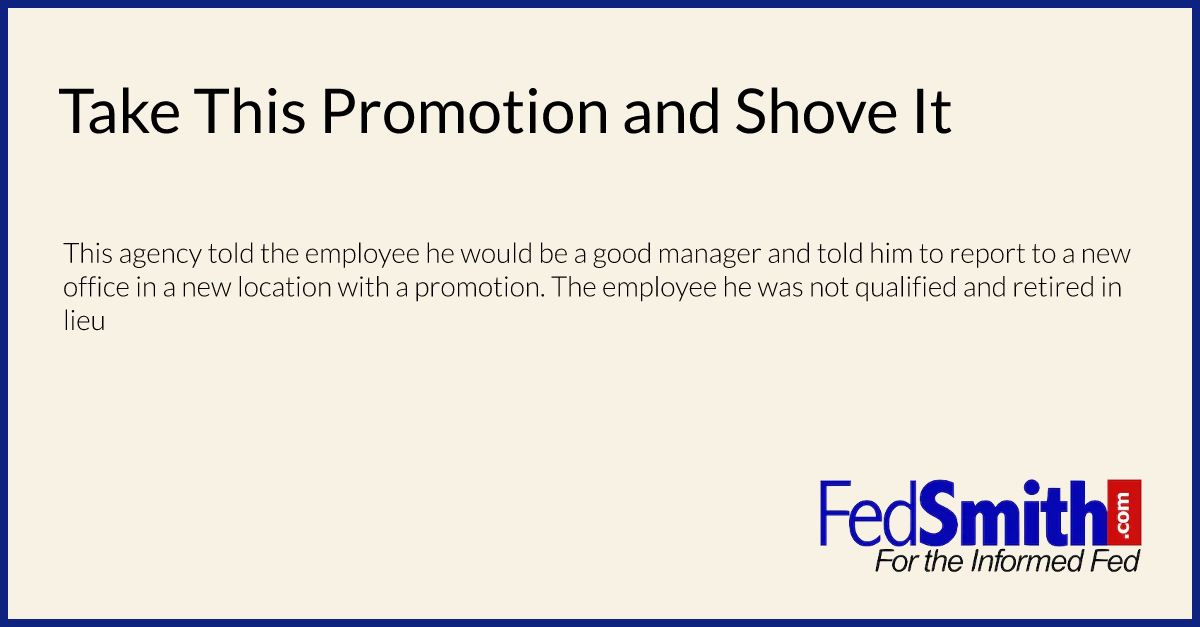 The hard reality involving the government's right to geographically reassign its employees hit home for an SBA attorney in a case recently decided by the federal circuit. (Robinson v. Small Business Administration, U.S.C.A.F.C. No. 06-3065 (non-precedent), 5/4/06).
After many apparently contented years as a GS-13 general attorney in the Los Angeles office of the Small Business Administration, Mr. Robinson was notified of the agency's intent to reassign him to a GS-14 management position in the Fresno office. The notice explained that should he decline the reassignment, the agency would propose his removal. He did and they did. (Opinion, pp. 1-2)
While many in this situation might be wildly excited by the prospect of a promotion and a management position, apparently Mr. Robinson did not appreciate nor desire this turn of events. Mr. Robinson retired in lieu of the involuntary separation, and then appealed the reassignment decision to the Merit Systems Protection Board. (Robinson v. Small Bus. Admin., No. SF-0752-05-0071-I-1 (M.S.P.B. Feb. 10, 2005) )
He argued "that he had neither the desire nor the temperament to be a supervisory attorney." Therefore, SBA was wrong to reassign him to a management position.
The Board sided with the agency, citing the agency's assessment of Robinson's experience and leadership potential, the fact that SBA could not get a volunteer for the position, and the agency's preference to reassign someone from an office that already had at least three attorneys as was the case in the LA district office. (Opinion p. 2)
Attorney Robinson took his case to the federal appeals court, but he fared no better there.
The court cast aside legal issues raised by Robinson. Instead, it said, the dispute boils down to a factual issue, i.e. "whether the SBA can show a legitimate management reason for reassignment." In short, "[W]here a removal action is based on a refusal to accept a directed geographical reassignment, the agency must prove by a preponderance of the evidence that its reassignment decision was bona fide, and based upon legitimate management considerations in the interests of the service."
The agency met that burden here. The agency's actions and the Board's decision were affirmed. (Opinion p. 3)