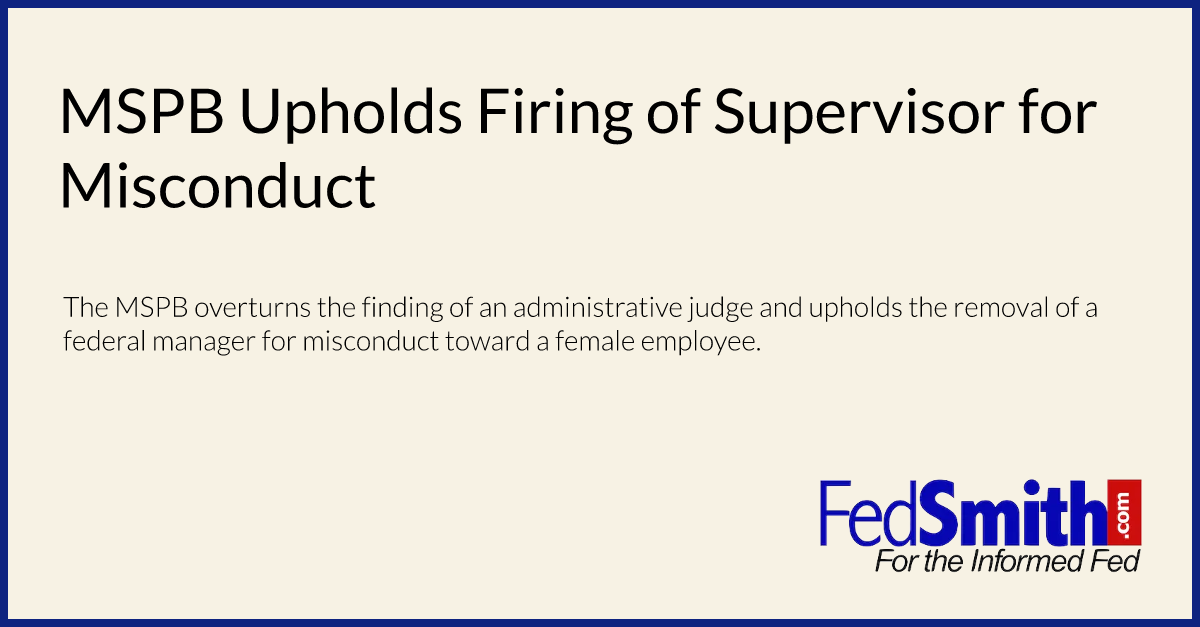 The Merit Systems Protection Board in a 2-1 decision recently upheld the Department of the Interior's removal of Fred Batts, a GS-13 Alternative Dispute Resolution Coordinator. In doing so, the full Board reversed the Administrative Judge who had mitigated the removal to a 30-day suspension. (Batts v. Department of the Interior, DC-0752-04-0233-I-1 (May 8, 2006))
The following facts are summarized from the Board's decision.
Mr. Batts was fired for "misconduct," based on two incidents involving touching a female co-worker in an inappropriate manner while both were at work and on duty. In the first instance, he kissed the co-worker on the cheek, missing her mouth only because she turned her head away. In the second instance Batts pressured the same co-worker for a hug and ended up making her uncomfortable when he pressed his entire body against her.
Batts appealed to the MSPB. The AJ found the charge was proper, the agency proved both specifications, and therefore the charge was proved. However, she concluded that removal was unreasonable and mitigated the penalty to a 30-day suspension. Both the agency and Batts appealed.
The agency challenged the mitigation of the penalty, arguing that the AJ had erred. Batts challenged the decision to sustain the charge, or to not mitigate the penalty further to a 14-day suspension.
The Board majority dismissed Batts' petition. As for the agency's petition, the Board agreed that the AJ erred in mitigating the removal to a 30-day suspension:
"The Board's role is not to displace the judgment of senior agency managers who must have confidence that employees will act appropriately at all times. Here, the unwelcome kissing and hugging of a female coworker is a serious act of misconduct that merits a significant penalty.  …Such conduct inherently impedes the full inclusion of female employees as professional equals in the workplace and is thus rightly of grave concern to a federal agency."  [Citations omitted]
The Board points to the fact that Batts was in a management position: "[h]is conduct was antithetical to the very purpose of his position and that fact supports a significant penalty."
One point of contention was the fact that the agency had considered Batts' role in a lawsuit filed against his former agency, the Department of Agriculture. (Lail v. Department of Agriculture, Civ. No. 5.00CV198-H (W.D.N.C. 2002)) In that earlier suit, Batts was the official who was the alleged wrongdoer in a sexual harassment suit against the agency. The agency ended up stipulating to liability in Lail and settling the case.
The AJ found that relying on Lail to show similar misconduct by Batts was improper since he had never been disciplined by Agriculture for his role in that situation.
The MSPB agrees that "there is support for the AJ's finding that the agency improperly treated the Lail lawsuit as equivalent to prior discipline." However, the Board went on to conclude that removal was warranted against Batts in this new instance because of the seriousness of his offense. The Board felt the prior lawsuit should weigh into this: "[The Lail] litigation should have clearly and profoundly impressed upon [Batts] the seriousness and the potential consequences of conduct of even a questionable sexual nature in the workplace."