Making a Defensible Discipline Decision – What Every Federal Manager Absolutely Needs to Know
Taking action against a federal employee requires considerable paperwork. Here is a review of what has to be covered in the paperwork for one of these actions.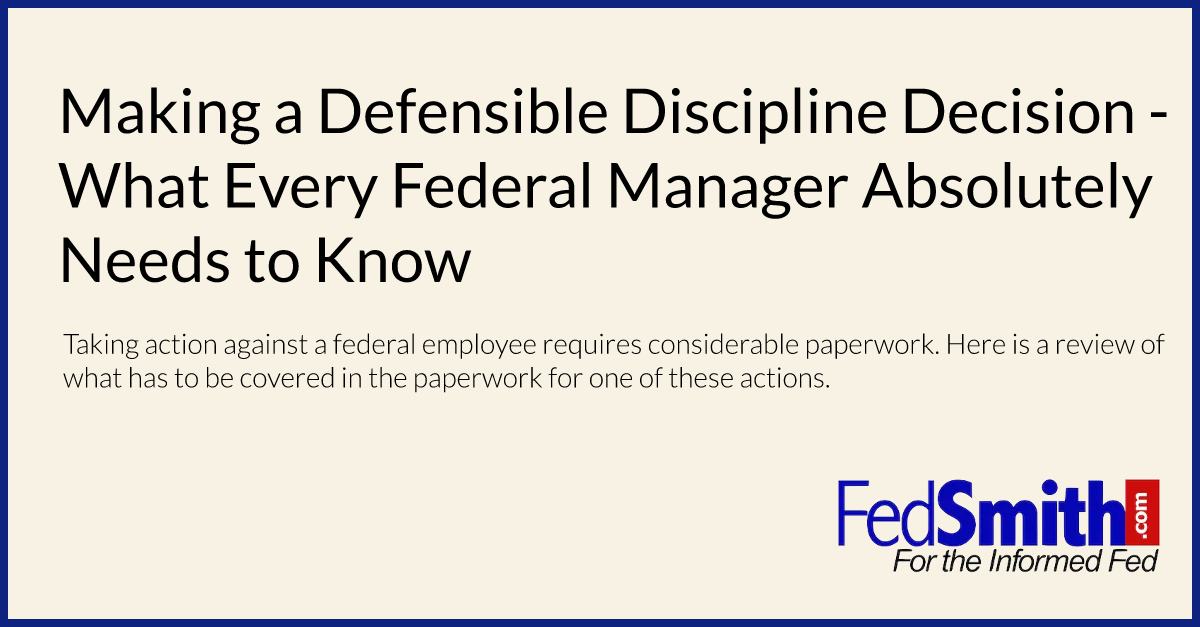 Part II: Dealing With the Paper
(To read part I of this article, click here.)
Let's review, there was a rule and the employee both knew the rule and broke it; you can prove all of this; a fair, complete and timely investigation took place; and an opportunity was afforded to the employee to tell his/her side of the story. So now what?
The paper (reprimand, proposal, or decision) has four necessary parts.
1. Statement of what you're doing.
This is telling the employee what's happening and opens your letter/memo. It will probably look like this:
"This is to reprimand you for…" or "This is to propose your suspension for 3 days for…"
2. Statement of the employee's misconduct.
This is called a charge and is important to get right. It should be very simple and direct. In the leave case in Part 1, it might be "Failure to follow leave instructions". After you state the charge, you get to say how you got there. These are facts and are called specifications.
For example:
On Friday, May 5, 2006, you did not report to work nor did you call in. When you returned to work on Monday May 8, 2006, you said that you didn't feel well and that you decided to stay in bed all day. You further stated that you fell asleep and forgot to call in. On March 2, 2006, you were provided with a memorandum from your supervisor, Ms. Andrea Timely, Subject: Leave Restriction Notice. (attached) That memorandum advised you tat any absence must be called in no later than 1 hour after the beginning of your work day and that you were to call MS. Timely directly. By your own admission you did not do so.