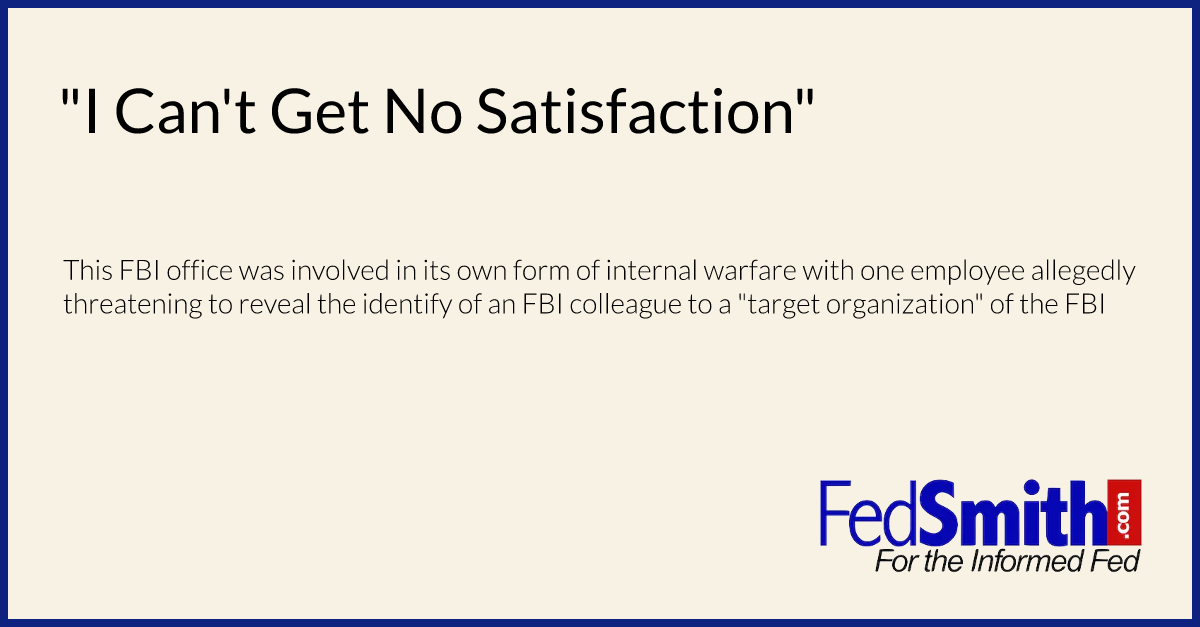 In an unusual twist on a federal employee removal case, this former employee sued the government under the Federal Tort Claims Act (FTCA). She argued that the FBI committed various acts of negligence when it investigated her complaints of security breaches and misconduct on the part of a co-worker. However, the district court granted the government's motion to dismiss her claims largely because she failed to exhaust the required administrative remedy—she did not file an administrative tort claim with the agency. (Edmonds v. United States of America, USDCDC, CA No. 05-540 (RMC), 6/27/06)
The District Court's decision relates the following facts, but cautions in doing so that they are taken from the Plaintiff's complaint as is, simply for purposes of deciding whether to dismiss the complaint. In other words, there has been no fact finding and the court has not reached a conclusion as to what actually happened.
Ms. Edmonds is a U.S. citizen of Turkish descent who is fluent in Turkish and Farsi. She was employed by the FBI as a linguist. Her position involved work with the FBI's counter-terrorism and counter-intelligence investigations.
In work place intrigue worthy of a good beach read, Ms. Edmonds blew the whistle to management on what she viewed as suspicious activities of a co-worker involving a "target organization." (The court decision understandably does not identify the mysterious organization in question.)
Edmonds claims the co-worker then retaliated by threatening "to disclose Ms. Edmonds's identity to the target organization, thereby jeopardizing the safety of Ms. Edmonds and her extended family in Turkey." (Opinion, pp. 2-3) Edmonds also wrote a document on her computer at home detailing what she perceived as security problems in the FBI language department. The FBI investigated, determined that this memo contained classified information, and seized Edmonds' home computer. Edmonds and her co-worker were interviewed and subjected to polygraph exams. Both denied disclosing classified information and both were deemed to be truthful. About this time, the Office of Inspector General of the Department of Justice stepped into the fray. The OIG conducted its own internal investigation and found the FBI investigation to be "superficial, flawed, and mishandled." (Opinion p. 3)
Meanwhile, Edmonds told her sister living in Turkey about the threats from the co-worker to reveal Edmonds' identity to the "target organization." The sister apparently feared for her safety and, with Edmonds' help, fled Turkey and ended up in the United States. (Id.)
The FBI terminated Edmonds, citing breach of security rules and disruptiveness which impacted her job performance. She claims the termination was retaliation for whistleblowing. She also complains that FBI management officials made "rude and disparaging comments to her….escorted her from the building and did not permit her to retrieve personal items." (Opinion p. 4)
Edmonds filed numerous various lawsuits stemming from her removal, but they are not involved in the current case. (If a reader wants to dig deeper into these various cases, see note 3, p. 5 of Opinion.) The current case involves Edmonds' claim of negligence against the government with regard to its investigation of her whistleblower complaint, investigation of the co-worker's suitability for a clearance, public disclosure of Edmonds' identity, endangerment, conversion of personal property, invasion of privacy, infliction of emotional distress, and interference with prospective economic opportunity. (Opinion p. 6)
The court held that Edmonds failed to file the required administrative tort claim on the negligent investigation charge, and therefore her complaint on this claim was dismissed for lack of jurisdiction. (Opinion, p. 10). As for the other claims, all but one—conversion of personal property—was dismissed as defamation claims which are barred under the FTCA.
The remaining claim involving the FBI's "conversion" of her personal property when it refused to let her retrieve personal items from her desk when she was terminated, also fails and is dismissed because there is no such claim recognized under applicable laws of the place where the alleged tort occurred (in this case the District of Columbia). (Opinion p. 14) The court threw one bone to Edmonds by permitting her time to file an amended complaint to restate this final claim as an "intentional" as opposed to negligent conversion. (Id.)
In short, the tort claim route did not yield satisfaction for Ms. Edmonds in her disputes with the FBI.