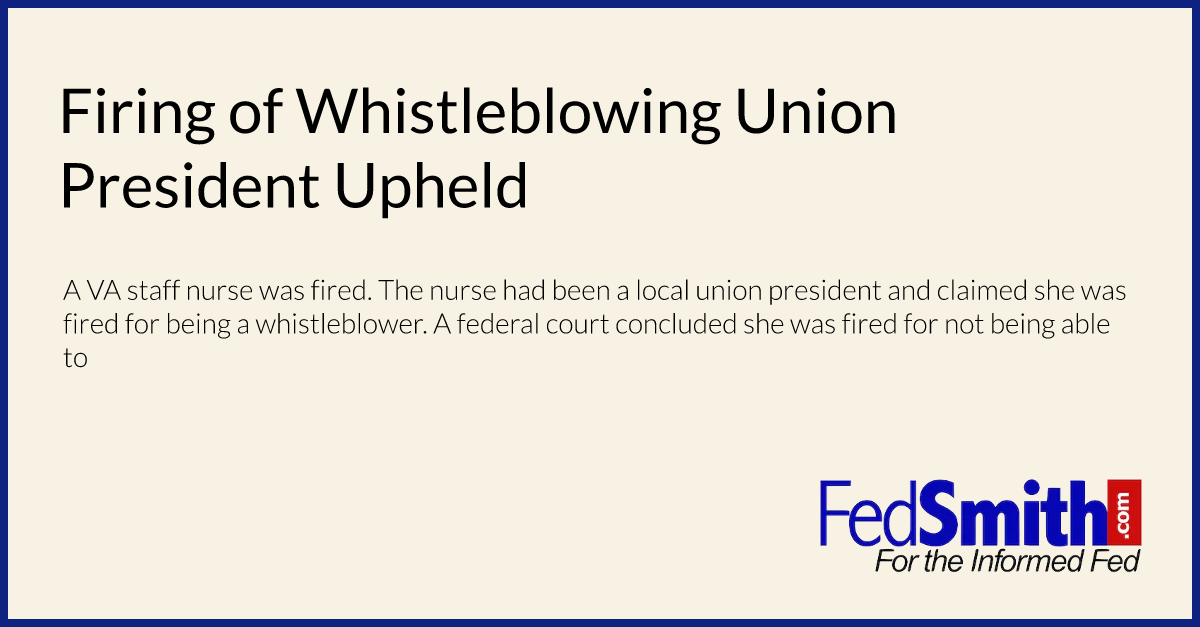 A staff nurse with the VA in Montrose, New York, who was removed from her nursing position for inability to perform all of the essential functions of the job, argued unsuccessfully that the VA's action amounted to retaliation for protected whistleblowing for statements she made to a newspaper while she had been serving as president of the American Federation of Government Employees local union. (Dennis v. Department of Veterans Affairs, C.A.F.C. No. 06-3161 (non precedent), 9/7/06) The facts related below are taken from the court's opinion.
Dennis' alleged protected whistleblowing happened when she was serving as the full-time, on-the-clock president of the AFGE local. A local newspaper quoted her as "stating that a patient who had been discharged from the Montrose hospital and was subsequently struck and killed by a train had annotations in his chart stating that he should not be released and that, in her opinion, releasing the patient 'was like signing his death warrant.'" (Opinion p. 2 quoting from  Dennis v. Department of Veterans Affairs, NY-1221-05-0114-W-1, slip op. at 4 (M.S.P.B. Aug. 1, 2005).
When she lost her bid for re-election as the local president, Dennis returned to her staff nurse position at the hospital. Shortly thereafter, she submitted a series of notes from a doctor indicating that there were restrictions on her ability to perform her nursing duties, and eventually indicating that she was totally disabled. Her case went before the local agency's Reasonable Accommodation Committee that concluded that Dennis "could not perform the essential functions of her position with or without accommodation." Eventually, the VA removed her on the basis that she could not perform the essential functions of her position. (Opinion pp. 2-3)
Dennis took her whistleblowing retaliation complaint to the Office of Special Counsel. She appealed to the Merit Systems Protection Board when the OSC failed to act on her complaint within 120 days.
The Administrative Judge held that, while Dennis had made non-frivolous allegations of protected disclosures, there was "clear and convincing evidence in the record that Dennis's separation was related to her physical limitations, and had nothing to do with her protected disclosures." (Opinion p. 4)
Holding that the Board's decision was supported by substantial evidence and in accordance with law, the court affirmed the decision denying Dennis relief.