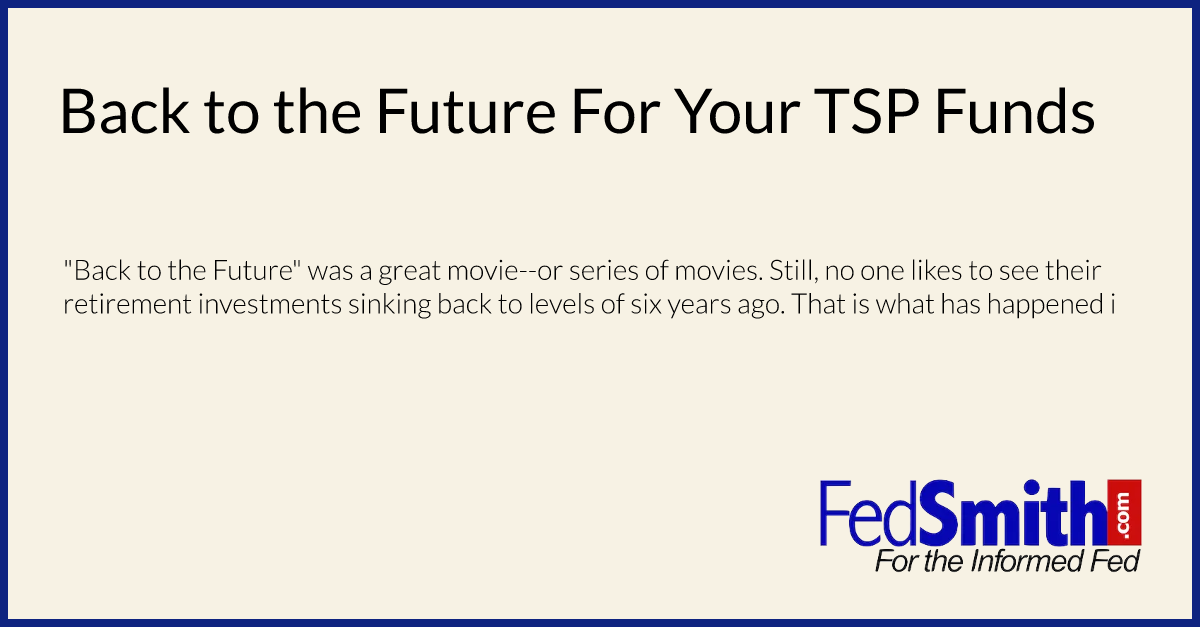 Back to the Future was a great movie—or series of movies. But, while we may look back with nostalgia to our culture or events from earlier in our lives, we don't want to see our stock portfolios dropping back to their former value.
But that is what has happened. Stocks have plunged in the past two days. More importantly, they have been plunging for months now. The S&P 500 index is back to the level it closed at on October 9, 2002. (The TSP C fund is based on this index.)
How low does that take this index? It is lower than it was in the last bear market in 2002. To put this in perspective, the S&P 500 has given up all the gains of the 2002-2007 bull market and a big part of the gains of the late 1990s.
If that isn't enough to make you feel bad about your retirement savings, consider this: If yesterday was the end of the year, the S&P 500 would be down 48.8% for the year. This would be the worst annual percentage drop in the 80-year history of this index. The S&P has fallen more in the current bear market than it did in the awful bear market from 2000-2002, when it fell 49%.
The Dow Jones Industrial Average dropped 10.6 percent in the past two days. This is its worst two-day percentage loss since October 1987.
According to the Wall Street Journal, the Dow is off 47% from last year's record highs. This is the largest decline in this index since the bear market of 1937-1938. At that time, it fell 49%. It is down 43% for the year so far. If it doesn't improve, that would make this the second-worst yearly pullback since it was started in 1896.
What is happening to the stock market? Here is a quick summary:
Panic is setting in. Some investors are selling their stocks and will not get back into the market, or will only do so after missing the inevitable rebound, whenever that occurs.
Investors are uncertain that the government will be able to stem the losses in the stock market through the government bailout plan.
Banks loan money to hedge funds so they can leverage up their portfolios and they are now calling in those loans. This forces further selling.
Investors who have used leverage through margin loans are having those loans called. This creates selling pressure and large sales of stock.
Many investors are selling stocks to lock in tax losses before the end of the year.
Some investors still find room for optimism. In every bear market, there is a sell-off at some point. That point is usually when those who have given up on investing have sold their stocks and don't plan to buy them again–at least until they go back up.  When that happens, stocks are usually at a very low point and the market will begin to go back up. It may take years for it to reach its former heights but, in hindsight, we can look back and see where the bear market ended.
This bear market has been brutal. The daily rates for TSP funds only go back to June 2003–about eight months after the last bear market ended. As a result, these charts do not show the full extent of the falling value of your TSP stock funds but they will give a perspective on the damage from this bear market. 
Your reaction to this devastation of stock prices probably depends on your current career status, your age and your personality. Those who are retired or who are about to retire, and who may have had most of their assets in stocks, are probably depressed, much poorer than they were last year at this time, and, perhaps, considering going back to work.
Those who have a few years until retirement may have learned the value of a diversified portfolio with higher percentages in the G and F funds the closer they are to retirement. No doubt, many of these investors have sold many of their shares in the stock funds.
Employees who are early in their career should view the current devastation as a buying opportunity. Stocks were much riskier when the leading indicator of the stock market was at 14,000. Now that it is below 8000, there is less risk. The market is certainly much closer to the bottom of the bear market even though we don't know if the bottom has been reached yet.
To some investors, this logic is not intuitive. We feel better when our investment portfolios are higher and we get depressed when we have less money. But, if you are saving money for your retirement, it is better to buy the stock funds when the prices are lower than when they are higher. When you retire, you are likely to have more money from having purchased the TSP stock funds when they were at low levels.
Will the stock market be lower or higher by the end of the year? There is a good chance it will head back up in the next couple of days after the large drop this week but, if that happens, it is a temporary respite?
No one knows with any certainty. But take our short poll located on the right hand side of this page and weigh in with your opinion.