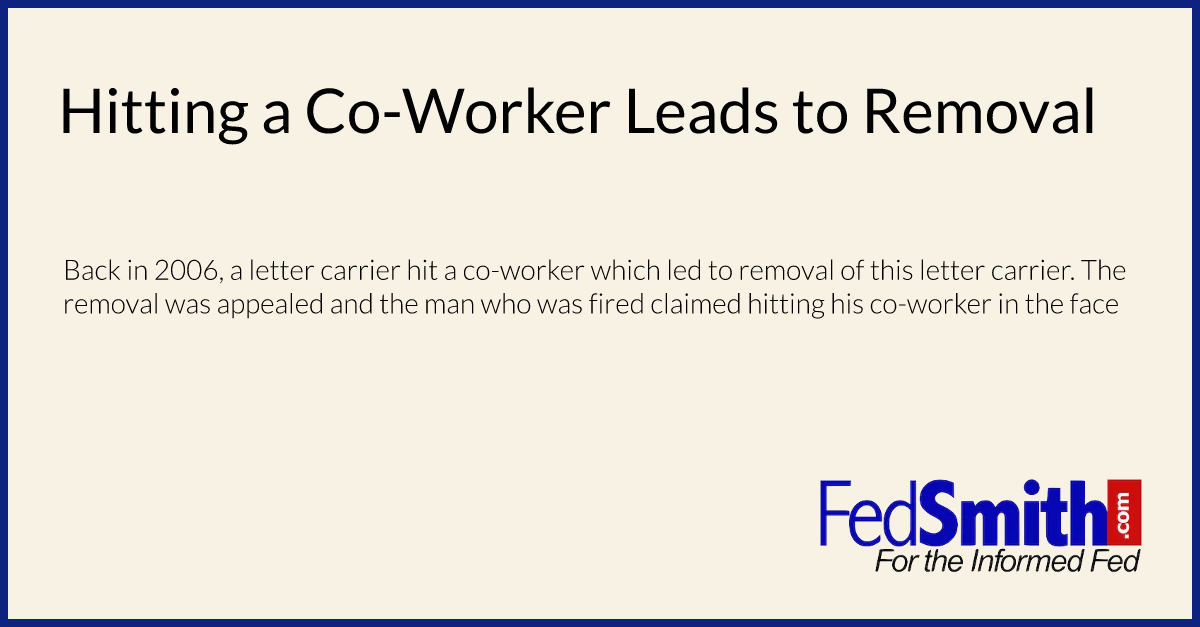 A Pittsburgh, Pennsylvania letter carrier, fired by the agency for assaulting a co-worker, could not convince the appeals court to overturn his removal. (Ballouris v. United States Postal Service, C.A.F.C. No. 2008-3147 (nonprecedential), 2/19/09) The facts are as summarized in the court's decision.
Ballouris and his co-worker got into a shouting match when Ballouris showed up late to deliver mail to a relay box which delayed the co-worker. While the two gave differing accounts of the ensuing altercation, the fact that Ballouris was late was not disputed. Nor was the fact that Ballouris struck his co-worker in the face, although he claims it was an accident. (Opinion p. 2)
The US Postal Service investigated and concluded Ballouris was at fault for hitting a co-worker. The agency's final decision to remove him was based on "Unacceptable Conduct/Assault" which it concluded was supported by the evidence. (p. 2)
On appeal to the Merit Systems Protection Board, Ballouris convinced the administrative judge that the penalty was too steep. The AJ ordered it reduced to a 60-day suspension. However, the full Board disagreed and, giving deference to the agency's penalty determination, sustained Ballouris' removal. (pp. 2-3)
Ballouris took his case to the Federal Circuit Court of Appeals. However, the court also gave deference to the agency's penalty decision. As the court stated, "Regardless of his intent, Mr. Ballouris struck Mr. Sullivan on a public street and was removed because USPS determined that it 'cannot maintain safe operations or operate efficiently with employees who commit acts of violence against co-workers.'" (p. 3)
As this case demonstrates, being provoked is typically not going to work as a defense for resorting to a physical reaction that amounts to assault on a co-worker.