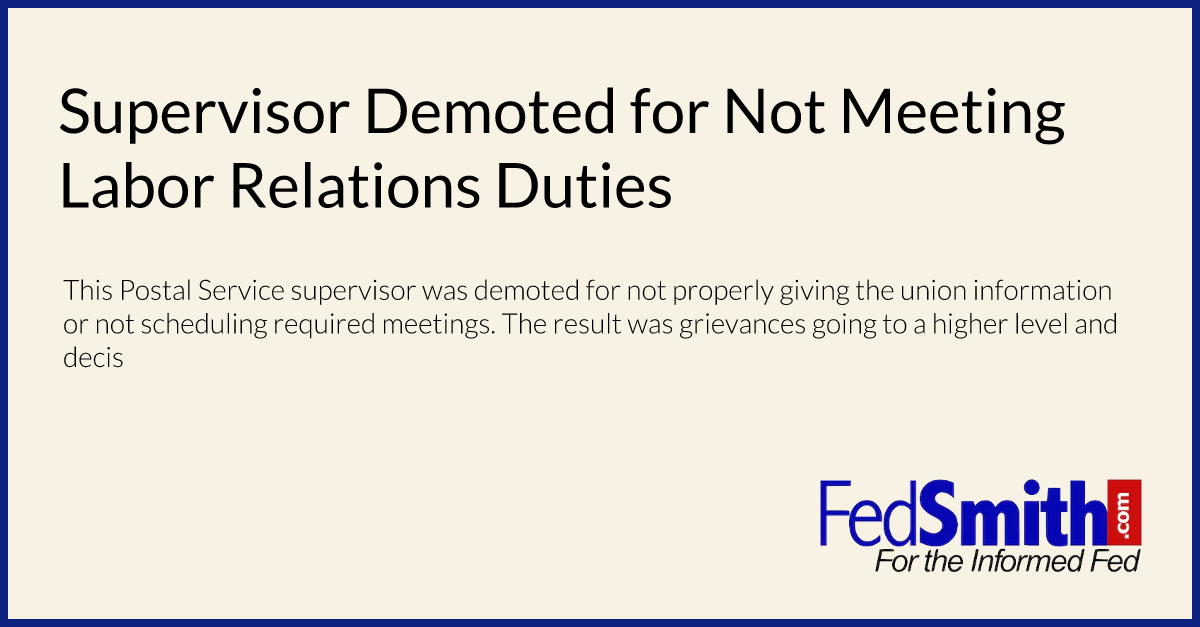 This case involves a Postal Service Manager who was demoted to a supervisory position because she did not effectively perform her labor relations duties. (Vaughn v. United States Postal Service, C.A.F.C. No. 2009-3008 (nonprecedential), 3/13/09) The facts below are taken from the court's decision.
Vaughn was the EAS-20 Manager, Customer Services at the Glenridge Post Office in Atlanta, Georgia. The letter of proposed demotion charged that Vaughn on several occasions had failed to give the union steward information or schedule formal level A grievance meetings as required in the agency's collective bargaining agreement.
Her failure led to the grievances going to a higher level B without appropriate documentation by management and without responses, leading eventually to final decisions and awards over $28,000 in the grievants' favor. The Step B decisions specifically called out Vaughn's failure to provide the needed information and admonished her to provide such information in the future. Vaughn also received several warning letters from her boss that spelled out the deficiencies and ordered her to fix the problems. (Opinion p. 2)
The agency deciding official sustained Vaughn's demotion for "failing to perform her duties in a satisfactory manner." She was reassigned to an EAS-17 Supervisor position at the Martech Station in Atlanta. (p. 2)
Vaughn's appeal to the Merit Systems Protection Board met with mixed results. The Administrative Judge held that the agency had not sustained its burden of proving the charge of ineffective performance, holding that the agency's evidence was "hearsay, conclusory in nature, and insufficient…" (p. 2)
Unfortunately for Vaughn, when the agency petitioned the full MSPB to challenge the AJ's findings, the Board reversed its AJ and sustained Vaughn's demotion. (p. 3)
Vaughn took her case to federal court. She argued that the evidence was insufficient to support the charge. The court disagreed. She also argued that the Board should have taken into account that understaffing at her post office excused her actions, to which the court replied, "We disagree." (p. 3) As the court points out, the Board did in fact consider this argument and concluded that the "alleged understaffing at the Glenridge Post Office" did not warrant mitigation of the penalty. (p. 3). As the court explains, "Because the Board properly considered this mitigating factor and found that it did not mandate a lesser penalty, we find no abuse of discretion in the Board's decision." (pp. 2-3)
This case shows once again that the appeals court will not lightly overturn the Board's findings on penalty. Vaughn's demotion stands.