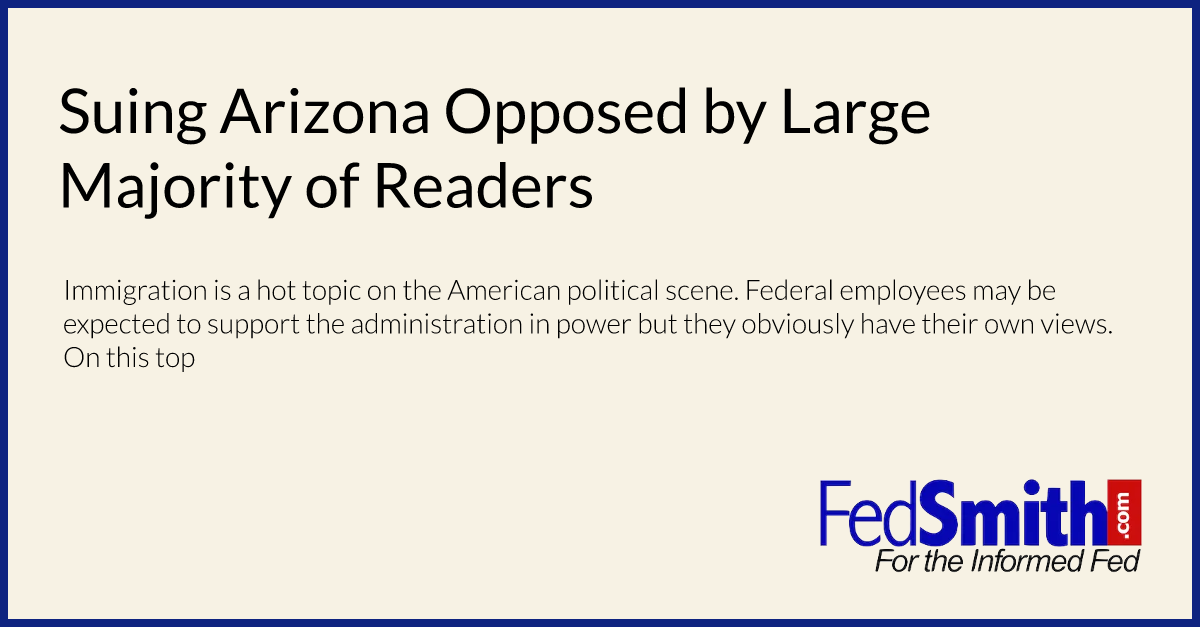 Immigration has been in the headlines for some time and is not likely to go away anytime soon.
In the wake of action by the Department of Justice to sue the State of Arizona, we asked readers this question: 
Do you agree with the administration's decision to sue over Arizona's immigration law?
Here are the results:
yes: 11.5%
no: 87.3%
undecided: 1.2% 
The survey results are more strongly opposed to the administration's actions than the results of a similar poll of likely voters on the same issue that was recently released. In that poll, voters by a two-to-one margin were in opposition to the action by the Justice Department to challenge the legality of Arizona's new immigration law in federal court. Sixty-one percent (61%) favored passage of a law like Arizona's in their own state,
About 1000 readers also sent in their written comments on the issue. As indicated by the survey results, most of those providing a comment were opposed to the administration's decision. It is rare to find a topic that finds as much commonality among our readers as this one question does.
While there are movements to boycott Arizona and some writers have described it as a "pariah state," more people are embarrassed by our politicians than by the new Arizona law according to one recent poll. 
The most common statements made by readers were that the federal government is not enforcing our borders and that is why Arizona decided to take action on its own. In fact, we had to search through hundreds of comments to find any that supported the decision. A number of people also made observations about the political implications or reasons behind the government's decision to take legal action. The most common observation was that the decision was designed to entice more Hispanic voters to vote for Democrats in coming elections.
Here is a sampling of the comments sent in by readers. 
Political correctness is killing this county. It is about time we
concern ourselves with the American Citizens and stop worrying about
offending everyone else. If they want to come to this country they
should follow our laws and come in legally. 
Being from Arizona I see the problems they face. The increase in drug
and human smuggling, kidnapping, murders. Since the feds won't enforce
the immigration law the states need to do something. The law is a
desperate attempt by a state to ask our country for help – instead the
feds value the voice of another country that refuses to clean its own
house!
The decision to sue Arizona is politically motivated and has nothing to
do with the rule of law.
Since the government is not even trying to secure our borders, thank
heavens for Jan Brewer and her supporters. Who is Obama supporting with
this?
AZ is doing something that the Federal Gov should have already had in
place! Illegals should not be getting free anything on our tax dollars.
And if this weeds them out, so be it.
Arizona is just protecting itself from criminal elements, since the
Federal government will not secure the boarder.
Should have done this 25 years ago and the rest of the country would be a
better place to live.
Arizona passed their law because the Federal Government won't enforce
theirs. Racial profiling is a political ruse to overturn this law.
The American people do not owe a TIP to illegal immigrates just because
they have jobs in the USA. A TIP meaning free medical, no taxes and free
housing in farm labor housing subsidy provided by US Govt. Take care of
our children born here.
The Arizona Law should wake up the "Administraion" and enforce the laws
already in place to define the borders of our Great Nation!!!
Our leadership is doing exactly what they know to do. As a former
community activitist, our President is using the same tactics that he
used to get city governments to respond to him and those he was
relpresenting. Threats of boycotts, picketing city offices, and SUING
THEM!!! That's all that they know! They don't know how to govern, just
take care of their cronies.
It's a political move to get the Latino vote. In reality, the Feds
could use all the help they can get to secure the southern border.
The State has a right to protect their people. The Fed won't do it, so
there is no alternative.
How can a state law be illegal when it is identical to the national
law?
Absolutely ignorant. The Feds won't protect the citizens, and they
don't want the state to protect them either. Truly, I am amazed by this
administration every day, not in a good way.
I'm Hispanic, my family, and I do not want us to be profiled or
challenged on our citizenship. But, my own community is affected by
illegal immigrants' crime by who skip the country and return at will. I
am frustrated that the federal government has let the problem get to
this point. Inaction has caused divided communities for many Americans.
It's just like what's happening in the Gulf……..States are having to
take their own action because the Federal Govt takes way to long to take
action on what states are saying their priorities. As a tax paying
citizen, I am glad to see that AZ is taking action and I'm not a racist
and I'm tired of others calling this a race issue. 
States' Rights are a integral part of the Constitution and Arizona has a
right to protect itself, especially since the law mirrors the Federal
law already in place that we do not enforce.
So, the administration (the Big O) is suing a State for enforcing the
Federal law that the Feds AREN'T enforcing. The law is being enacted in
order to protect the citizens of the State…who have been left
unprotected by the Federal government's refusal to fulfill THEIR
responsibility to secure our country's borders and keep our citizens
safe. Get it through your heads, this is not about social programs,
it's not about profiling, it's about SAFETY, including the safety of
DOCUMENTED, LEGAL residents who are working and living in Arizona.
Why are we wasting money to take one of our own states to court when
Arizona took a stand. This is a real issue to all 50 states, the
southern border states have been affected first; however, the
immigration issue will spread North. Then, are we going to take each
state to court when they try to protect itself. This administration is
out of touch with the people they serve. Do they understand that they
serve us, the American people that pay their salaries with our taxes.
Arizona is just upholding a law that is already on the federal books.
The Obama Administration is totally imploding!
Again, this Admin is on the wrong side of another issue.
This will absolutely have an impact on how I vote in the next elections.
I supported Obama in 2008 but I can't support the Democrats if they go
after Arizona for enforcing laws that should be enforced everywhere
already.
tax payers money being spend to garner the hispanic vote!
I am a first generation immigrant and no where do I hear "Press 3 for
German". My parents did it the right way. If someone wants to come to
this country, do it legally. My parents did.
This Administration is totally messed up. Hurry up November 2010
elections and then 2012.
AZ is only enforcing a Fed law that the Feds aren't enforcing. The Fed
lawsuit is shameful & politically motivated!
And, for those who are wondering about the comments in favor of the administration's action, here are several comments in favor of the action by the Department of Justice :
Actually I would rather the law go into effect and have sport teams,
conventions and tourist boycott the state so Arizona politicians can be
forced to remove the law themselves after they see how the public truly
feels about this obviously ridiculous law. 
I understand their problem, but immigration belongs to federal courts,
and there has to be a better way.
It is racial based regardless of what Arizona will tell you.
Our thanks to the approximately 2200 readers who took the time to vote in this survey and a special thanks to those who sent in their written comments.