When you learned to drive, you were taught to be on the lookout for others on the road including cars, bicyclists, small children and pets. What does driving have to do with your federal benefits? The same principles you learned as a new driver can help you navigate your federal career.
Sure, there are certain things you have no control over regarding your benefits, but you do have the ability to play defense (drive defensively) and use your benefits to your advantage. With a nod to racecar driving (not recommended on federal highways), here are some defensive tips you can consider depending on where you are in your federal career.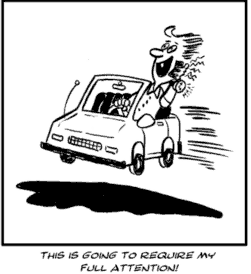 Just getting started in your federal career?  There's an entire list of things that your experienced colleagues wish they'd known when they came into federal service.
Save as much sick leave as you can, as soon as possible.  Without short-term disability insurance, your sick leave is your safety net if you ever develop a disability.
Save early – save often. Like gravity, there is just no denying the power of compound interest.
When you reach the mid-point of your career – somewhere between 15 and 20 years of service – there are some new focal points to consider. In all likelihood, unless unforeseen circumstances get in the way, you'll spend the rest of your career with the federal government.  Do a check-up now while there's still enough time to make a course correction.
Plan to have your mortgage paid off at retirement.  You'll require less income in retirement, and it is easier to make extra payments while you are still working.
If you'll have children going to college, consider how it might derail your retirement. Will you have to decrease your retirement contributions in order to pay tuition?
If you're within a year or two of retirement, the finish line is in sight. They've waved the white flag indicating the last lap, and now all you have to do is make sure you don't make an irreversible mistake as you end your career.
Determine your retirement date based on when you're eligible, the best day of the month, the end of a pay period and other factors.  While this won't make or break your retirement, you may as well make the most of your benefits.
Maximize your sick leave and annual leave. The great debate (well – it may not be great) is whether to use up your annual leave before you retire and head into retirement tanned and well rested or save every hour to rollover and be paid out for in a lump sum. There's no right or wrong answer here; just something to consider and make a conscious choice about.
The last few months prior to retirement can be nerve wracking. With work to complete, projects to transfer, and farewell parties to attend, there are still a few things to accomplish in order to make crossing the finish line a rewarding experience.
Make sure your retirement paperwork is completed 60 days prior to your planned retirement date. This gives your human resources department the opportunity to look the paperwork over and make sure it's in good order before it goes to OPM for processing.
As federal benefits come more under attack, consider joining an organization like the National Active and Retired Federal Employees Association (NARFE). Being retired doesn't guarantee that your benefits won't change, and NARFE is the only non-union organization in the country that defends your benefits.
Just like learning to drive, gaining an understanding of your federal benefits is manageable once you know the rules of the road.