When most Americans conjure up an image of federal employees, they probably think of Postal Service employees, Social Security employees or, perhaps, employees working in the Department of Defense.
While those may be among the most common vocations, federal employees often pop up in rural areas as well with jobs that we often don't think of as being a mission within the purview of the federal government as they are less common and less visible.
Here is one example.
The Oconaluftee Visitor Center is a small slice of the federal government located in rural North Carolina. It is near Cherokee, near an indian reservation, at the south entrance to the Great Smoky Mountains National Park.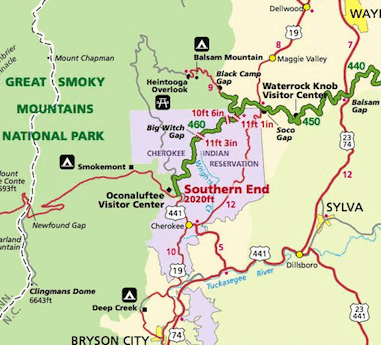 The visitors center has exhibits and information about the park. Next to the center is the Mountain Farm Museum, designed to capture the look and feel of an 1880s Southern Appalachian farm. A small farmhouse displays the essentials of a late 19th-century pioneer home and located nearby are a barn, apple house, springhouse, smokehouse and working blacksmith shop.
In short, a visitor here steps back in time to see what America was like in this rural part of the country about 150 years ago.
When entering the visitors center, I asked the young man, William Butler, who was in plain sight of all visitors as they entered if he was a federal employee. He told me he was. As a way to be friendly, I told him this was a good day for him. The stock market was up substantially that day and his Thrift Savings Plan should reflect the change when he checked his TSP.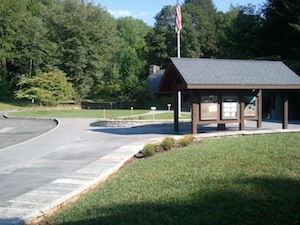 He said he was only a part-time employee working there for the summer so he was not enrolled in the plan but would like to know more about it.
According to the TSP, a federal employee is eligible to participate in the plan whether working full or part-time but, as best I can recall, when I was his age putting aside money for a future retirement was not an issue as having enough money to buy dinner or clothes took precedence and being eligible to participate in any retirement plan was not an issue of immediate concern.
The park stays open for most of the year depending on weather conditions and offers more than a visual demonstration of how a typical Southern American farm in the region would have appeared in the late 19th century. In the summer, rangers and volunteers demonstrate traditional crafts and folkways.
In addition to an interest in history, I have a sweet tooth. Before leaving, I recalled seeing a display of "Foods of the Smokies" on sale with natural pear and blueberry preserves. With vivid images of sight and taste of these preserves from growing up and consuming large quantities of homemade preserves on a family farm, I returned and picked up two of the jars of fruit preserves.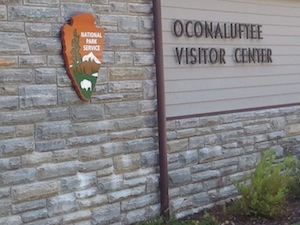 Unfortunately, the image of federal employees is sometimes created by negative events.  "Going Postal" has become a common slang term in American English to describe uncontrolled anger, often to the point of shooting other people and derived, again unfortunately, from events that occurred in Postal Service facilities in which "United States Postal Service (USPS) workers shot and killed managers, fellow workers, and members of the police or general public in acts of mass murder." For those who do not have routine contact with federal employees, negative incidents form a stereotype of a workforce that is  not accurate.
Much more typical was our experience at this visitors center. Upon returning, a woman in a Park Service uniform was there helping visitors and talking to the part-time employee. She appeared knowledgeable, authoritative, and open to questions. The appearance was correct on all counts.
Florie Takaki is a Park Ranger and a fountain of knowledge for anyone wanting to learn more about the park. She was polite, patient, and enthusiastic about her job and the mission of the National Park Service.
"We have approximately 900 miles of water trails, over 800 miles of trails. We have ten established camp sites, two visitor centers and several historic districts. The foliage in the Smoky starts to turn in early August. The most spectacular of demonstration of leaf colour is typically from the second week of October through about the second week of November. When you come to visit, one of the things we tell people is, 'You really want to take with you your memories. You don't want to take with you the plants, or the flowers or even the leaves.' "
One obvious question: how does a person become an employee working in a location that has to be considered highly desirable for anyone who wants to escape the hassle and irritation of living in a large city—such as the large regional centers or Washington, DC where many federal employees work?
Getting the privilege of finding such a job may not be easy.
In Ms. Takaki's case, she worked in Philadelphia in the 1980's. When starting out, she made about $40 per month above the minimum wage which did not leave much for the things we take for granted, such as food and clothing.
Her advice to those who may want to work for the Park Service? It is an agency in which it is hard to become a full-time employee as the jobs offered are frequently highly desirable or at least in nice locations doing interesting work.
There are currently five summer employees at her current locations and only two will end up as full-time employees although all of them would be excellent employees. Some will end up working in other related agencies as the Forest Service or the Bureau of Land Management.
Her advice for finding a job with the National Park Service? It is hard to land a permanent job in the agency at the most popular locations. If you really want to work there, find a job opening at one of the less popular locations where not as many people want to work such as the Florida Everglades National Park in the summer where, presumably, it is hot, humid and not as crowded. If you are successful at getting into the agency there, you will learn more about it and also learn more about openings that may be coming up in different locations.
And, as with any company, once you know more about the organization, meet people working there, and find how to make yourself a valuable addition, you may find opportunities opening up.