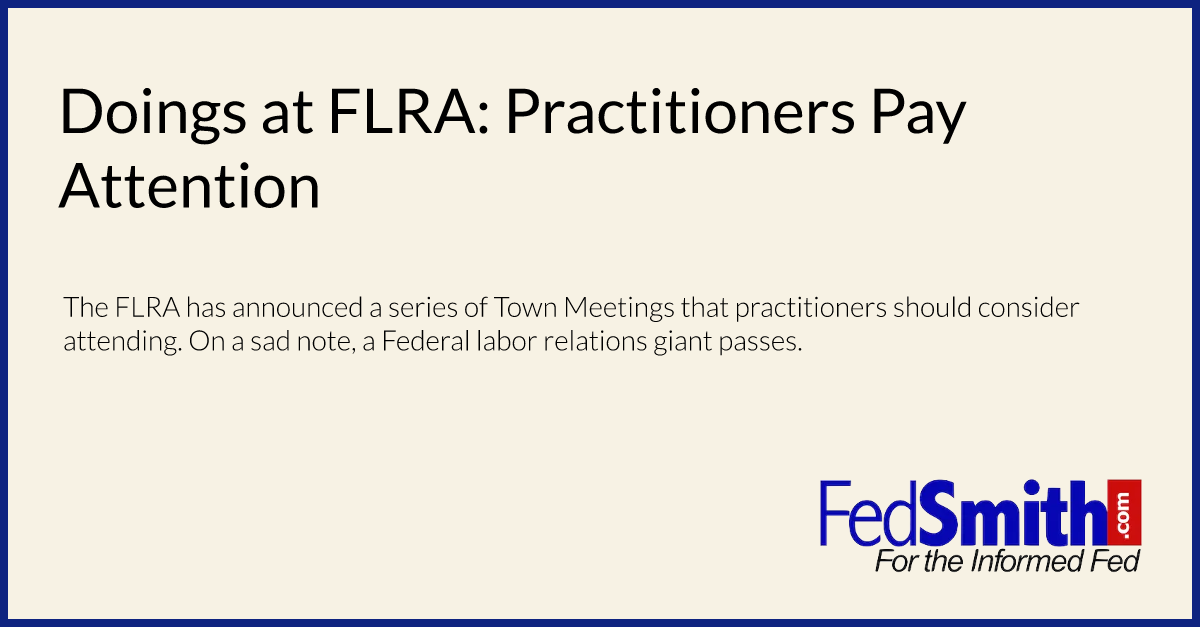 The Federal Labor Relations Authority (FLRA) has announced a series of town meetings.  According to the news release, these meetings will sell FLRA's web based training. They will involve the General Counsel , Deputy General Counsel and Regional Director and offer an opportunity for questions.  The Federal Mediation and Conciliation Service will be in attendance as well.
That's not a surprise as FMCS has a long history of involvement in the Federal sector.  Rumor has it, though, that FMCS may not be thrilled with FLRA's CADR and Regional Dispute Resolution Specialists.  There are ten regional folks and who knows how many in DC's CADR. Those resources in ADR are resources FMCS doesn't get.  If I were FMCS, I'm not sure I'd want folks who prosecute Agencies one day claiming to be neutral ADR specialists the next. Does it give neutrals a bad name? Whaddyathink?
FLRA also announced in a separate release that it had developed web-based training addressing its views of the meaning of the statute, 5 USC 7106(b)(1) bargaining and the Obama Executive Order.  The training is available to Feds and non-Feds.
On a sad note, Conrad Pearson, one of Federal Labor relations' plankholders passed away quietly on Thursday May 24.
Conrad who was 81 at his passing had, during his long career, led the labor relations program for the Navy and for the Marine Corps non-appropriated funds activities. Anyone who knew him remembers his wit, wisdom and great patience with fledgling LR people like me and many, many others.  He began his Federal career in labor relations when it was governed by the Kennedy Executive Order. Conrad, in addition to many other accomplishments, was a Navy reserve captain. His wife Kathy was with him and said he was alert and aware at the end despite a years' long fight with respiratory illness. He will be interred in Arlington National Cemetery. Details will be published in the Washington Post. He will be greatly missed by the many who knew and loved him.