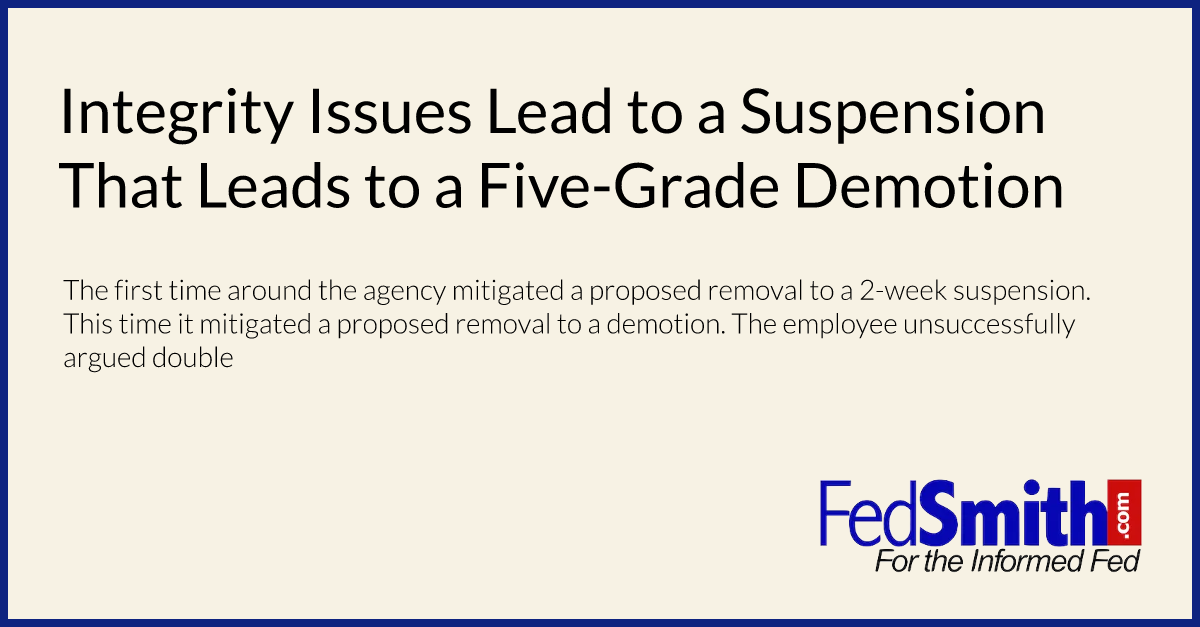 Mr. Nguyen used to be a GS-12 Deportation Officer with DHS until he recently was demoted to a GS-7 Detention and Removal Assistant. In a recent decision the appeals court has upheld this demotion. Nguyen v. Department of Homeland Security (CAFC No. 2013-3024, 12/9/13)
Among other duties as a Deportation Officer in the San Francisco Detention and Removal Operations Field Office, Nguyen often had to prepare arrest and deportation warrants, and testifies as an agency witness before the grand jury and in criminal prosecutions.  The first notice of proposed removal came back in 2008 when he admitted to agency investigators that he had made false statements in the course of a police investigation. The particular investigation involved suspicious purchase of a refrigerator owned by Nguyen. There were two stories—one that it just showed up at his house with someone else's name on it; the other that Nguyen told a store manager that he paid someone to buy the appliance using his employee discount which Nguyen was not entitled to use. Nguyen ultimately admitted to agency investigators that the second set of facts was correct and that he had made false statements to the police. Eventually the agency mitigated this to a two-week suspension after three of the five charges were sustained. (Opinion pp. 2-4)
Apparently not too keen on putting someone with this disciplinary record on the stand as an agency witness, the U.S. Attorney's Office for the Northern District of California refused to use Nguyen as a witness when it found out about the discipline. Both Nguyen and the U.S. Attorney's Office notified DHS that Nguyen could no longer testify or swear out complaints. (p. 5)
The agency pulled Nguyen's firearms carry permit and again proposed his removal for "Inability to Perform Full Range of Duties." The charge was sustained, but again the agency mitigated the penalty from removal. Instead, Mr. Nguyen was demoted, presumably to a position that did not require him to serve as a witness. The deciding official rejected Nguyen's argument that this amounted to double punishment for the same misconduct, stating that the sole basis for the decision was the U.S. Attorney's letter and its impact on his ability to do his job. (p. 6)
The Merit Systems Protection Board sustained the demotion.
The appeals court has affirmed.
The opinion has considerable discussion of the Giglio decision of the U.S. Supreme Court requiring that criminal defendants be informed of evidence affecting a government witness's credibility. (405 U.S. at 154) Since the U.S. Attorney's Office found Nguyen to be Giglio impaired, it refused to let him serve as a government witness. The agency had no authority to challenge this decision or force a different one and therefore "had no obligation to pass judgment on the underlying merits of the USAO's finding. Rather, it was entitled to take action based on the undisputed effects of that finding…" (pp. 8-9) Because the position description for a Deportation Officer requires that the employee testify for the agency, the USAO's decision prevents Nguyen from doing required duties. The reason for the earlier demotion was giving false statements to the police; the reason for this demotion is the USAO's determination. This is not double punishment, says the MSPB and now the appeals court. (pp. 9-10)
The bottom line is that Mr. Nguyen remains demoted to the GS-7 position, and has twice dodged removal actions.