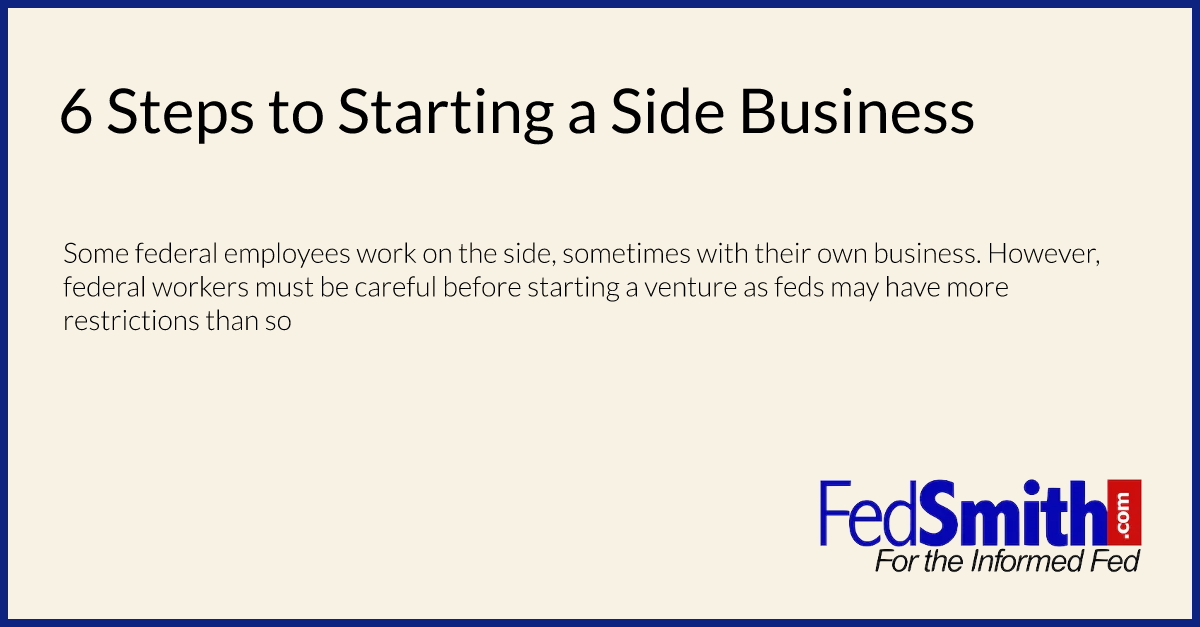 A growing number of Americans are starting their own small businesses while working their full-time jobs. The Bureau of Labor Statistics estimates over 7 million workers hold more than one job. Even though working on a side business has become more common place, employer's policies on external work aren't always easily discernable. Rules for government employees can be particularly rigorous.
For federal employees, a side business can provide much-needed additional revenue as well as a healthy retirement plan. It can offer a creative outlet in addition to potential financial security. For a federal government employee to pursue an additional business endeavor, they must adhere to the proper procedures and get approval from their agency.
Starting your own business involves planning, making crucial financial decisions, and carrying out a series of legal activities. For those serious about a business endeavor, careful planning is crucial. Here are some important steps to take on your way to entrepreneurship.
Step 1: Check with your agency's ethics officials
Circumventing conflicts of interest, abiding by all laws and agency policies, and adhering to ethical guidelines are vital, especially given the additional scrutiny of public sector employees. According to the Office of Government Ethics, a federal employee cannot take on any additional work that conflicts with or relates to their official duties.
Many agencies require an employee to get explicit approval before starting any kind of side business. Considering the legalities involved, it might be prudent to get written approval from a supervisor, regardless of your status.
Step 2: Build a business plan
Once you've been approved by your agency, move on to the most important part of starting your new endeavor. You already have the idea and the passion, now nail down the details. Asking yourself these essential questions will help you establish your plan:
What are you providing, a product or service? Marketing a product is different from marketing a service; research best marketing practices for your project.
Who is you target market? Marketing should be geared to a specific group.
What are your goals? Goals for a business that lets you unleash your creativity will be different than those that will build your retirement.
What are your estimated costs and will financing be needed? This number will vary depending on many factors, especially whether your company will be brick and mortar or online.
Step 3: Assess your finances
Most people are familiar with the saying: "you've got to spend money to make money." This adage holds true for starting any business. Building a company has its price, so figure out what starting your small business will cost you. The following are funding options you might use to begin your business:
Personal funding. Many entrepreneurs cover the startup costs for their company out of their own pocket.
Commercial loan. A bank loan is a good place to start when additional financing is needed. Although if there is a history of personal credit issues, these kinds of loans can be difficult to secure.
Small business loan. If you can't secure a commercial loan, consider applying for a small business loan.
One of the newest ways to get financial assistance without going through a bank is to take your idea and your needs straight to the public. Many companies, and even movie producers, have been financed through individual donations made to crowdfunding sites like Kickstarter. Federal government employees also need to be cautious when considering this method of funding. Approval from your agency may be required.
Step 4: Define the legal structure of your business
Before you can register your business, determine what kind of entity it will be. The form of ownership you choose will legally affect everything from how you file your taxes to your personal liability. To decide which is best for you, know your options:
Filing as a sole proprietorship means you own the entirety of the business by yourself. You will be responsible for all debt and obligations.
A Partnership, as implied by its name, is when two or more people are liable as business owners.
One of the most common structures for small businesses is the limited liability company (LLC). This delivers the legal defenses of a corporation while allowing for the tax benefits of a partnership.
To separate your personal liability from that of your business, consider filing under a corporation.
Step 5: Register with the state, government, and IRS
You must register with the government to become an officially recognized business. Depending on which legal structure you decide on, you'll need to file documentation under that entity's requirements. If you're registering your business as a corporation, you'll need an articles of incorporation document for your state. Otherwise, only register your businesses name.
After you've registered your business, obtain an Employer Identification Number (EIN) from the Internal Revenue Service. This is not required if you're a sole proprietorship with no employees, but consider applying anyway. It may save yourself the trouble later on if your business expands. You'll also need to check with your state for their specific tax and licensing obligations.
Step 6: Set up shop
Most new side businesses are operated out of the home or are solely online. Just like a brick and mortar store, online businesses need to set up a store front, albeit a virtual one. Here are some simple steps to set up an online shop:
Get a web hosting service. There are free hosting services out there, but if you're looking long term, consider paying for a full service site.
Create an online store. There are online web builders that allow you to create your own site, or you can hire a web developer to design your site for you.
Get eCommerce software or a web service. This allows customers to view your products, enter their information, and make safe purchases. The software or web service you choose is extremely important as it will determine how easy it will be for your customers to make purchases and how secure their information will be.
Brand yourself and advertise. A great idea won't be any good if no one knows about it. Using your company website and creating social media profiles are practically a necessity for small businesses in this tech savvy day and age. Sending out a press release can help a lot also.
Reap the Rewards
Even after tackling all of the hurdles and requirements, running a side business on top of working a full-time federal government job can be extremely challenging, though it will likely be equal parts challenging and rewarding. Not only will you be doing something you're passionate about, you'll have an additional source of income.
While you may not get rich working on your new business, you will be contributing to your funds and will be building a company you can devote more time to once you're retired from your current full-time position.
An added bonus of a side business is that it provides tax advantages. As a business owner, you are entitled to classify and deduct certain business expenses such as: part of your rent or mortgage, property taxes, business phone service, utility bills, mileage or car payment, your internet bill, and more.
Many people who start side work use the added funds to contribute to disposable income, savings, and even retirement. Starting a side business also provides a safety net for your future. No one knows what tomorrow will bring, but if you're prepared for the worst, you can enjoy the best times with less stress and worry.