How many investors in the federal government's Thrift Savings Plan have accumulated more than one million dollars?
There has been a large increase in the number of TSP millionaires since 2012, although the number is down in the past year.
Between January 2012 and February 2015, the number of millionaires in the TSP went up, along with the stock market, from 208 to 4,167. But, in the past year, the number of millionaires in our midst has dropped to 3,272, a 21.5% decline.
The chart below shows the progression of TSP millionaires since 2012: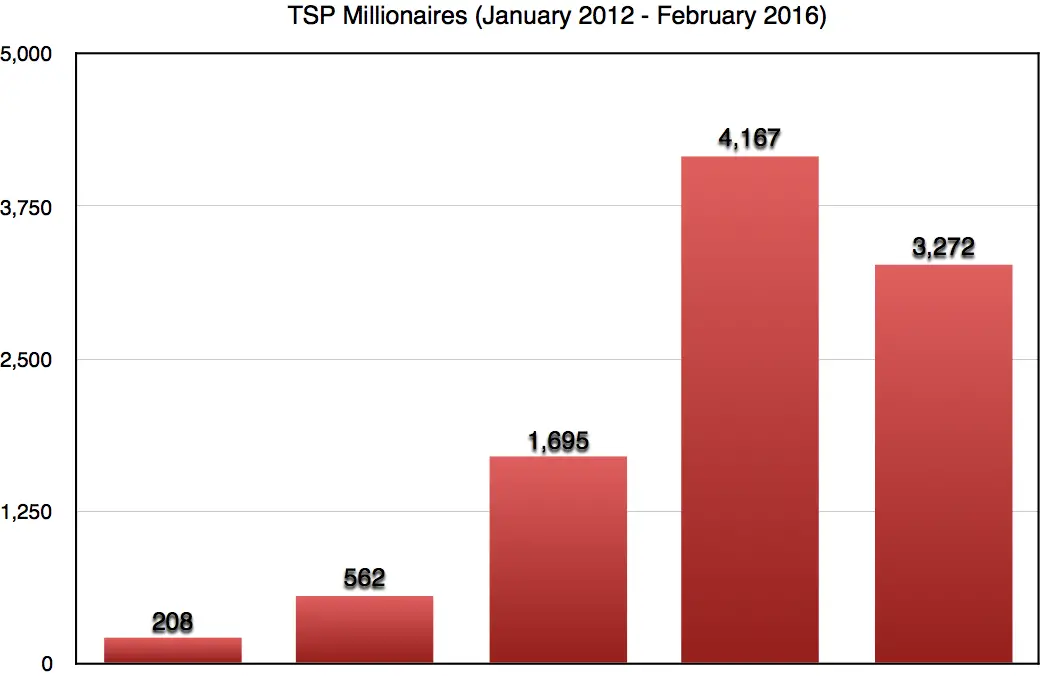 Also, for a historical trend of the number of millionaires in the TSP, be sure to see these articles:
How has this number changed with the TSP's C fund bringing home a return of 1.46% in 2015 and all of the TSP underlying stock funds dropping in the past two months?
As of January 28, 2016, the number of TSP millionaires has dropped down to 3,272 according to Kim Weaver, Director, Office of External Affairs for the Federal Retirement Thrift Investment Board (FRTIB).
Here is a breakdown of TSP investors as of January 28th:
| Balance | Number of Participants | Average Years of Participation |
| --- | --- | --- |
| <$50,000 | 2,810,398 | 9.3 |
| $50,000-$249,000 | 1,435,373 | 19.1 |
| $250,000-$499,000 | 371,209 | 24.0 |
| $500,000-$749,000 | 92,092 | 27.0 |
| $750,000-$999,000 | 18,846 | 28.7 |
| >$1,000,000 | 3,272 | 28.5 |
| | 4,731,190 | 13.9 |
For those who may be wondering, the largest TSP balance is $4,654,426. The person with the highest TSP balance is also down in the past year. Back in February 2015, the highest TSP balance was $4,803,304.23.
The anecdotal stories from readers who have reached the $1,000,000 mark in the TSP are similar. They have usually diversified their investments between the TSP stock funds, sacrificed spending in other areas to have money to contribute as much as they can into the TSP funds over a period of years, and kept investing in both up and down markets.
It is not surprising that, according to their narratives submitted to us, none of them have invested solely in the G fund during their years of investing even though it is the most widely used TSP fund and also the safest fund in that it "never loses money." Of course, it also does not go up anywhere near as much as the stock funds during a bull market such as the one we have experienced since 2008.