The Government Accountability Office (GAO) recently released the results of their study of OPM and agency use of the many hiring authorities available to agencies. The report, titled OPM Needs to Improve Management and Oversight of Hiring Authorities, includes interesting findings and some very useful recommendations.
GAO found that 20 of 105 hiring authorities accounted for 91% of new hires. By far the most interesting and disturbing finding is this – "While OPM—the agency responsible for overseeing the delegated hiring authority and managing federal civilian personnel data—tracks data on agency time-to-hire, manager and applicant survey results, and compliance audits to assess the hiring process, this information is not used by OPM or agencies to analyze the effectiveness of hiring authorities."
The hiring process is the focus of many (or most) complaints about federal human resources programs. As I have said before, people do not care about anything HR has to say if they cannot run a good hiring process. Managers, agency leaders and employees, and applicants complain about the hiring process constantly, and with good reason. The hiring process is terrible. It is slow, encourages applicants to lie, and seems to meet the needs of virtually no one.
GAO points out that OPM said "…they view the use of hiring authorities as case-specific and in some cases tied to agency-specific goals, which makes it difficult to compare them to one another and develop meaningful conclusions about how they are used."
OPM makes a good point. In 2014, the period covered by GAO's report, agencies used 105 different hiring authorities, with the traditional competitive examining process accounting for only  23% of new hires.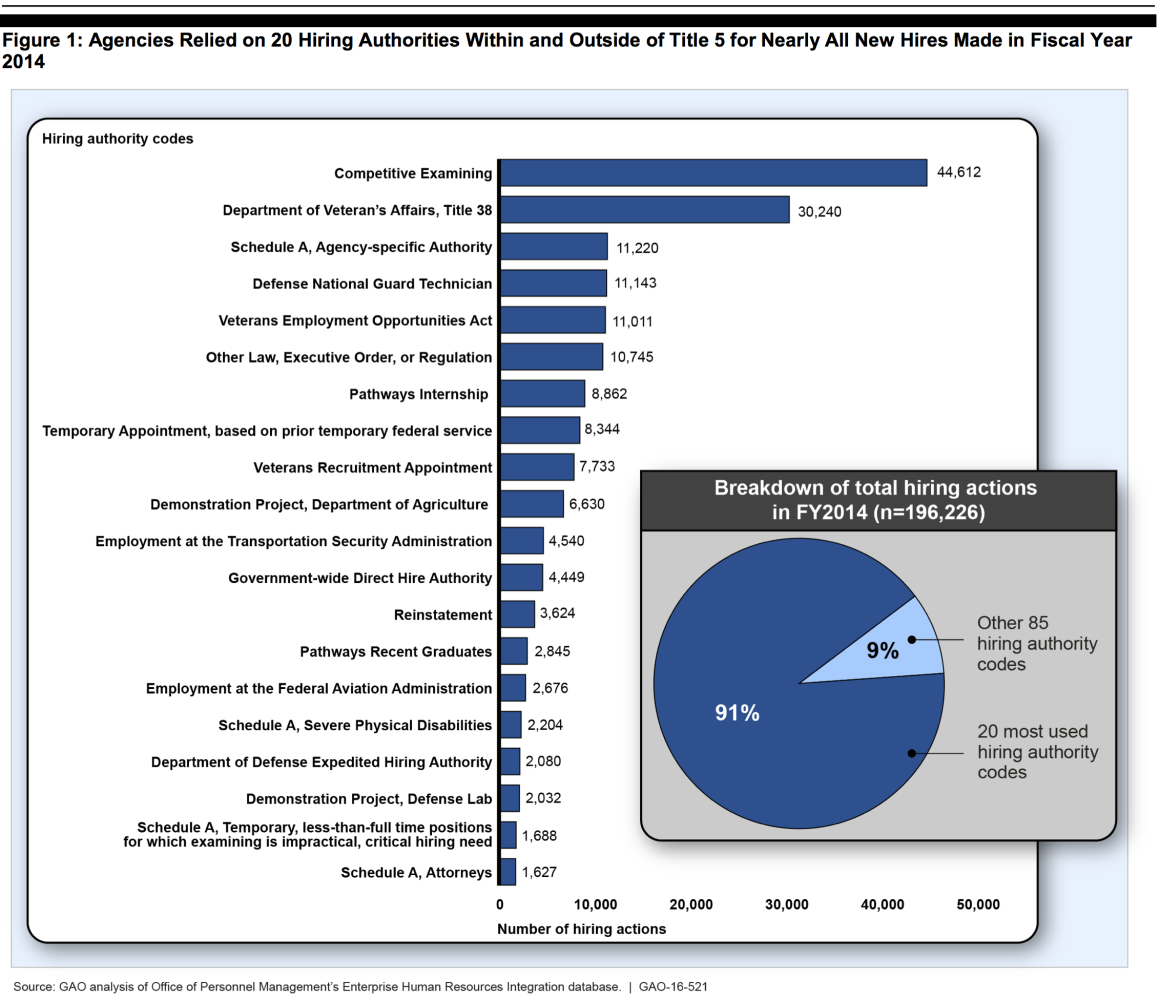 Three categories of hiring authorities comprise 133,917, or 68.2% of the 196,226 new hires made in fiscal 2014 – competitive hiring (44,612), agency-specific authorities ((70,561) and veteran hiring (18,744).
In reporting that just 20 of the 105 hiring authorities accounted for 91% of total new hires, GAO said:
…we have found that agency officials may not be aware of which hiring authorities are available or when best to use them. For example, in 2011 we reported that agencies could not provide data on whether the different hiring authorities they used allowed them to hire more or better qualified cybersecurity professionals, or whether the hiring authority chosen allowed them to bring the applicants on board more quickly.
That finding highlights one of the problems with federal HR today. OPM should not have to spoon-feed information to agencies about hiring authorities. They should not have to conduct analysis of agency hiring program effectiveness, except to make recommendations or decisions regarding which authorities should be retained, which should be abolished, and any new authorities that might be necessary.
My conversations with former OPM officials on this subject have been mind-boggling. They report that agencies often come to OPM asking for hiring authorities they already have (or had and lost because they did not use them), or asking for direct hire authority when they are not using the flexibilities they already have on the books.
We clearly need civil service reform, particularly with respect to hiring, but it will do no good if agencies are unaware of the authorities they have and how to use them. That is why GAO's recommendation that OPM and agencies analyze the hiring authorities they use to assess their effectiveness is so critical.
I would go a step further and suggest that agencies are the ones most responsible for evaluating the effectiveness of their hiring programs. While we can debate whether OPM's assertion that apples-to-apples comparisons of government-wide data are difficult, the same does not apply to individual departments and agencies. They can do direct comparisons of their hiring authorities, the quality of hires they get, the time it takes to fill jobs, and the performance of the people they select. They do not need a new law to do it, nor do they need permission from anyone. They can start today. And they should.