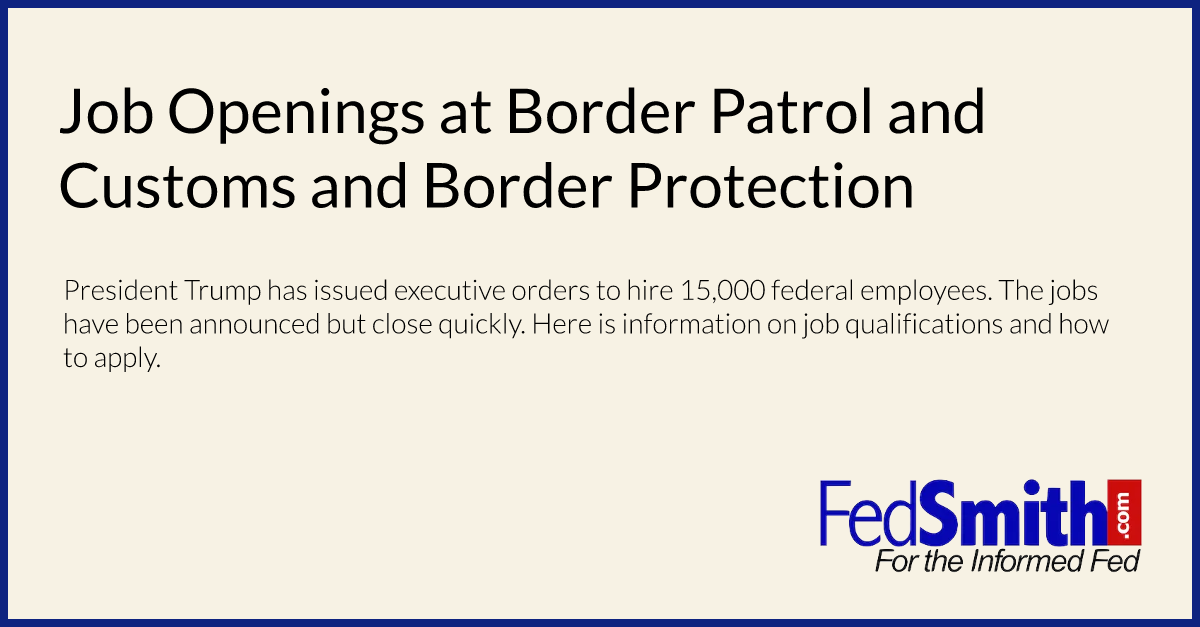 Many Americans have read about the federal government's hiring freeze. There are exceptions to the freeze though. The federal government is moving out to fill positions reflecting the new priorities of the Trump administration.
Federal Jobs Starting at $40,511 Per Year
One big exception reflects the new priorities of the federal government. President Trump has signed two executive orders that call for hiring 15,000 new federal employees. These federal employees will be working to secure America's borders and working in the Department of Homeland Security (DHS). Hiring these new federal employees is an exception to the hiring freeze.
One of the executive orders, Enhancing Public Safety in the Interior of the United States, was issued on January 25. Its stated purpose is to "ensure the public safety of the American people in communities across the United States as well as to ensure that our Nation's immigration laws are faithfully executed."
A separate executive order, issued the same day as the first one, Border Security and Immigration Enforcement Improvements, included language calling for hiring another 5,000 Border Patrol agents.
Some college students have heard about the federal hiring of these new federal employees and there is an interest in these jobs. The government is holding information seminars on these jobs in colleges.
As one report noted:
At a career fair for criminal justice students at Temple University in Philadelphia on Wednesday, traffic was heavy at the table of Homeland Security Investigations, a division of Immigration and Customs Enforcement. The division is tasked with pursuing cases involving international gangs, smuggling and human trafficking.
Federal agencies have their own distinct missions and cultures. The Department of Homeland Security is the overall agency that includes the Border Patrol and Customs and Border Protection organizations. Presumably, students or others with an interest and/or experience in law enforcement would find some of these jobs interesting and challenging.
The Department of Homeland Security (DHS) is a law enforcement agency and its culture, the mission and the job requirements are likely to be much different than in other agencies.
Applying for a Job With the Border Patrol
USAJobs.gov is a good place to start looking for one of these jobs.
The vacancy announcement for a Border Patrol position is open until April 7, 2017. The salary range is from $40,511.00 to $53,319.00 per year.  The Border Patrol Agent (BPA) position starts at a salary of $40,511 (GL-5 grade level), and offers promotion potential in 4 years to the GS-12 grade level with a salary of $72,168 (upon successful performance). The jobs are located in Arizona, South Texas, West Texas and New Mexico.
To find out the qualifications one must have to qualify, check out the vacancy announcement. It is also a good idea to read agency instructions on applying for a job in DHS.
It is a very good idea to read over all of the requirements and procedures when applying for a job with the federal government. Applications that do not meet the procedural requirements may not receive consideration by the agency.
Applying to be a Customs and Border Protection Officer
There is also a vacancy announcement out to hire Customs and Border Protection Officers. This announcement closes on March 31, 2017. The announcement lists the qualifications a person must have for meeting these job requirements.
If you are hired and select one of the following duty locations, you may be eligible to receive an additional 25% of your salary each year for the first 3 years of employment on top of overtime pay. This incentive only applies to new federal employees and is dependent upon the availability of funds.
Douglas, Lukeville, Nogales and San Luis, AZ;
Calexico and San Ysidro, CA;
Coburn Gore and Jackman, ME;
Raymond, MT;
Pembina (10% only) and Portal, ND; and
Laredo and Presidio, TX
The Customs and Border Protection Officer (CBPO) position starts at a salary of $32,844 (GS-5 grade level). The job has promotion potential in 4 years to the GS-12 grade level with a salary of $72,168 (upon successful performance).
Benefits of a Federal Employee
There is a section in each vacancy announcement listing some of the benefits of being a federal employee. The Department of Homeland Security website also lists benefits that go along with being a federal employee.
Current Federal Employees
Current federal employees can also apply for these jobs. However, serving a new probationary period will be required, and an existing federal employee may have his salary reduced to a GS5/Step 10. See the vacancy announcements for more information.