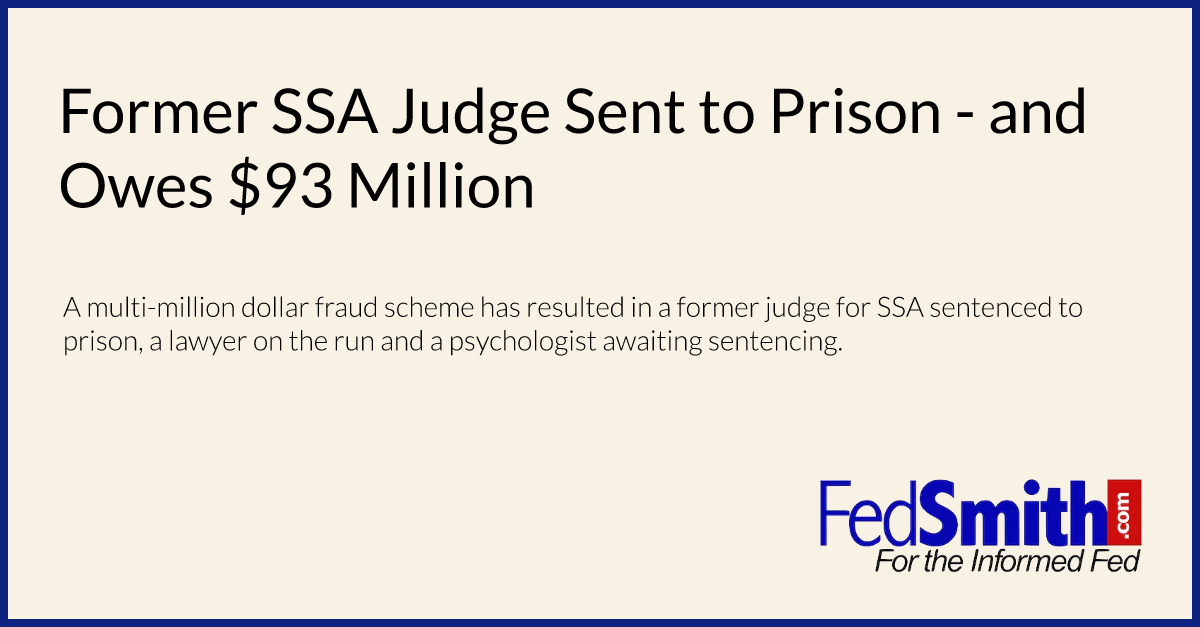 A massive fraud against the Social Security Administration resulted in the thieves enriching themselves for a number of years at the expense of the federal government. The story is filled with colorful characters. The scheme could easily fill several segments of "Law and Order" and should make a good feature film in a future release.
While the scam ran for a long time, it may be that the good guys will ultimately come out on top. That is not clear yet and the lawyer at the center of the fraud, Eric Christopher Conn, is on the run—somewhere in the world and presumably using some of the money he obtained from the government as a way to finance life on the lam.
Some people who were clients of the lawyer at the center of the scam and who benefited from the plot also received benefits from federal government they should not have received.
As a result of the actions by the principals in the case and their co-conspirators, the SSA was apparently obligated to pay more than $550 million in lifetime benefits to claimants based upon the fraud that occurred. No doubt, whether the benefits will be paid because of the fraud that occurred in the appeals process remains to be seen.
Some of Conn's former clients are attempting to have their Social Security benefits restored.  About 700 people have had benefits restored. About 800 have had their benefits cut off.
SSA Judge Sentenced and Ordered to Pay Restitution
On August 25th, a former social security administrative law judge (ALJ) was sentenced to four years in prison. The sentence is a result of his role in fraudulently obtaining more than $550 million in federal disability payments from the Social Security Administration (SSA) for thousands of claimants.
David Black Daugherty, 81, of Myrtle Beach, S.C., was sentenced by District Judge Danny C. Reeves of the Eastern District of Kentucky. The judge also ordered Daugherty to pay restitution of over $93 million to the SSA and HHS. Daugherty pleaded guilty in May 2017 to two counts of receiving illegal gratuities.
According to admissions made as part of his guilty plea, beginning in 2004, Daugherty, as an ALJ assigned to the SSA's Huntington, West Virginia office, sought out disability cases in which Kentucky attorney Eric Christopher Conn ("Mr. Social Security") represented clients. Daugherty reassigned these cases to himself to decide.
Daugherty then contacted Conn. He reportedly identified the cases he intended to decide the following month and solicited Conn to provide medical documentation supporting either physical or mental disability determinations. Daugherty awarded disability benefits to individuals represented by Conn – in some instances, without a hearing. The attorney always came out on the winning end. Conn paid the former ALJ an average of about $8,000 per month. Daugherty reportedly received more than $609,000 for deciding several thousand cases.
$8,000 a month in cash (presumably tax-free income) is a more lucrative income than most federal employees receive. Of course, the prison sentence for the 81 year old former judge and the restitution order will not be envied by federal retirees who followed a more honorable path toward federal retirement.
Lawyer in Scheme Jumps Bail and Sentenced to Prison in Abstentia
Eric C. Conn, a lawyer in eastern Kentucky and known locally as "Mr. Social Security," previously signed a guilty plea acknowledging the scam. He recruited and filed at least 1,748 fraudulent applications, complete with fake IQ tests or medical exams. He had a team of doctors and psychologists sign off on them, then had the Social Security judge rubber-stamp the applications. The ad above is one of his ads touting his ability to win cases for clients on Social Security issues.
Conn has since disappeared. He pleaded guilty to his role in a plan to defraud the government in March 2017. He remained free on bail. He cut off his ankle bracelet on the side of an interstate while he was free on bail. His location is now unknown.
He was sentenced in absentia to 12 years in prison in July 2017. He has also been ordered to pay nearly $170 million in restitution. As his whereabouts are now unknown since he disappeared after cutting off his ankle bracelet earlier this year, he presumably will not be spending time in prison or paying back the money unless or until he is captured.
In July 2017, the FBI reported the government has narrowed a net around Conn by seizing his bank accounts and targeting associates who may be trying to help him.
Psychologist Scheduled to be Sentenced in September
On June 12, the clinical psychologist in this affair, Alfred Bradley Adkins, was convicted after a jury trial of one count of conspiracy to commit mail fraud and wire fraud, one count of mail fraud, one count of wire fraud and one count of making false statements. Adkins is scheduled to be sentenced on September 22 for his role in the scam against the federal government.
Social Security Whistleblowers Are Scared
In 2011, Jennifer Griffith and Sarah Carver filed a whistleblower lawsuit against the attorney in the scam, Eric Conn, former Social Security Administrative Judge David Daugherty and psychologist Dr. Alfred Adkins. Their goal was to highlight the scheme in which federal authorities say the three men were involved for a number of years.
Conn reportedly had Carver followed by associates in an effort to intimidate her. He apparently tried to discredit her as a witness as part of his defense against the government's charges.
The two Social Security Administration whistleblowers who helped expose the massive scam are afraid. With the attorney still on the run, it is not hard to understand why they are concerned for their safety.
"We both have serious concerns," said Jennifer Griffith, a former master docket clerk at the Social Security office in Huntington, West Virginia. "I don't know if he would come after us, but he was stupid enough to do it once. He was stupid enough to follow Sarah."
"I do think there should be more people because there were more people within the agency that were allowed to either retire early or were promoted," Sarah Carver has told reporters. "Several of the managers that were in management throughout this time that this was all going on, several were still there or have received major promotions. It's the lack of accountability that I feel is an issue."
In July 2017, Carver told the Washington Times "To this date Social Security has not recognized us as whistleblowers," she said. "Them recognizing us as whistleblowers means they have to acknowledge they knew about this as early as 2005 and chose to ignore it."
As a result of the scheme, Conn, Daugherty, and their co-conspirators obligated the SSA to pay more than $550 million in lifetime benefits to claimants based upon cases Daugherty approved for which he received payment from Conn.
The SSA-OIG, FBI, IRS-CI and HHS-OIG investigated the case. Trial Attorney Dustin M. Davis of the Criminal Division's Fraud Section and Trial Attorney Elizabeth G. Wright of the Criminal Division's Money Laundering and Asset Recovery Section are prosecuting the case, with previous co-counsel including Assistant U.S. Attorney Trey Alford of the Western District of Missouri and Investigative Counsel Kristen M. Warden of the Justice Department's Office of the Inspector General.