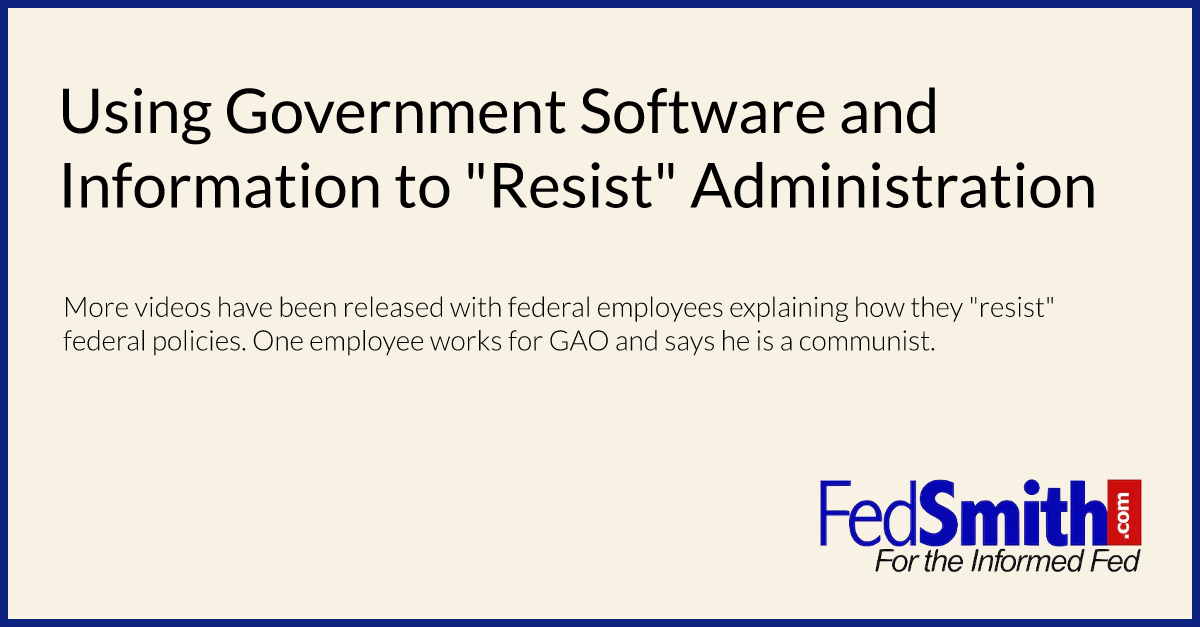 More videos have been released in which federal employees (and a former federal employee) use contacts and confidential government information as a "resistance" movement to deter federal government policies. As a result of the videos, the Department of State, Government Accountability Office and Department of Justice are now initiating investigations.
Allison Hrabar is a paralegal at the Department of Justice in Washington, DC. She is a paralegal specialist. Her salary in fiscal year 2017 was $46,440 according to information at FedsDataCenter.com.
Her life may be changing as a result of the new videos.
She is the second federal employee to be featured in an undercover video commenting that, as a federal employee, her job is secure and she cannot be fired. Her comment on the video is: "What's kind of lucky is at the DOJ, we can't really get fired." As with the federal employee in the first video, her actions and statements in the video may be putting that theory to a serious test.
As many readers commented on an earlier article regarding a federal employee at the Department of State, a federal employee can be fired. Because the Department of Justice is now investigating the actions of Hrabar as a result of her comments on the video, her belief that "we can't really get fired" will be put to a serious test.
Pursuing Agenda for Democratic Socialists of America
The latest video features Hrabar reportedly using the federal government's software and computers to pursue an agenda for the Democratic Socialists of America (DSA). The video also features Jessica Schubel. Schubel was the former Chief of Staff for the Centers for Medicare and Medicaid Services under the Obama administration.
Schubel was paid $132,352 in fiscal year 2016 according to FedsDataCenter.com and employed by the Health Services Administration.
Schubel, who no longer works for the federal government, states "…there's like a little resistance movement" inside of the federal government. She also says on the video that her friends at the Department of Health and Human Services "…give [her] information" before it is officially released. She describes it as "kind of like the Nixon, 'deep throat' type of thing."
Receiving confidential government information her associates secretly sent allowed Schubel to prepare responses to government initiatives that have not been announced.
"Resist from the Inside" (Using Government Software)
In the latest video from Project Veritas, Schubel and Hrabar make admissions about using their positions and contacts inside the federal government to resist or slow the Trump administration's policies and to advance the interests of DSA. Hrabar says federal employees are using their power to resist President Trump by stating: "…there's a lot of talk about how we can like, resist from inside," at the Department of Justice.
Hrabar has previously been in the news. She was seen chasing Homeland Security Secretary Kirstjen Nielson from a DC-area restaurant. The Office of Special Counsel, responsible for investigating political activity of federal employees who may have violated the Hatch Act,  previously investigated her actions involving that incident. In that case, the complaint was dismissed. The Office of Special Counsel concluded that "Advocating for or against policy matters, without more, does not constitute political activity."
The video shows a meeting with Cliff Green, another DSA member, stating Hrabar uses a software program, Lexis Nexis, to find home addresses for DSA protests. Green says:
So Allison is a paralegal, so she, her living is researching people, so she's very good at researching people. So, they just find the companies, and then the people that run those companies, and then they find their home address. She uses Lexis Nexis and a couple other software things.
In April of this year, Hrabar led a protest at the home of a lobbyist, Jeremy Wiley. Hrabar explains how she was able to find Wiley's address. She also notes she cannot "officially" use the government database for this reason.
Hrabar: "And so we ran the license plate, and it was a car registered to Jeremy Wiley, so you have his car parked outside a house that he does own. As of very recently, and someone saw him through the window, which is also…

Interviewer: "Also, we're able to run license plates through?"

Hrabar: "You can—We cannot do it officially."
The Department of Justice issued this statement after the release of the video:
These allegations are deeply concerning. Department policy prohibits misuse of government resources to advance personal interests. We are looking into this immediately and have referred this matter to the Inspector General as well.
GAO Auditor Weighs in About His Work with DOJ Employee
An auditor for the Government Accountability Office (GAO), Natarajan Subramanian, is also a member of the Democratic Socialists of America. He explains in the video that Hrabar uses her work computer to access Lexis Nexis.
I mean, she has used it, she uses it probably on her work computer. …that's the kind of thing that you would get fired for…people do not have the silver bullet, the smoking gun or whatever. Um, if they were able to get proof of that, you know? So, we're all walking that line.
In a separate undercover video, Subramanian also stated "No one knows I spent six hours yesterday doing social media for DSA."
He also made the statement regarding his philosophy that "We have a bunch of just like communists, like no prefix, and that's basically me."
GAO is aware of the videos that have been released. It has issued this statement:
We are aware of the video and investigating the serious issues it raises, and we have also communicated with the GAO Inspector General.
Subsequently to the initial writing of this article, GAO has said that Subramanian has been "removed from any ongoing GAO work and cut off from access to GAO equipment." The investigation, the agency said, would include a review of "his work product."