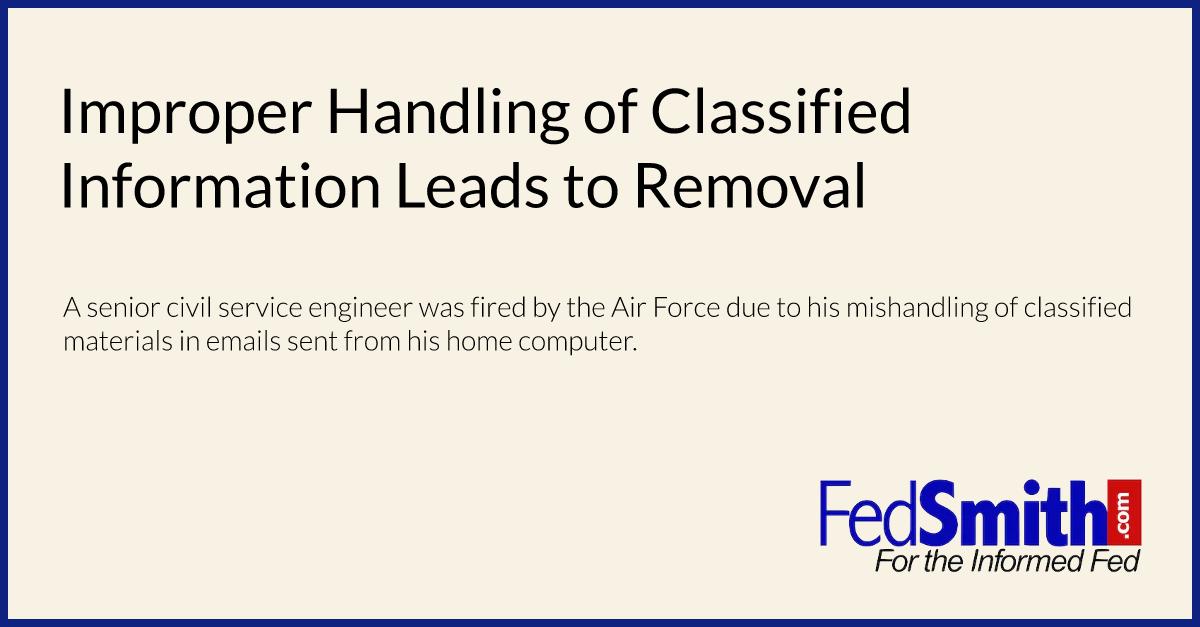 In Freeman v Department of the Air Force (CAFC No. 2019-1509 (nonprecedential) 6/12/19), the appeals court declined to overturn the removal of a Senior General Engineer at the Air Force Research Laboratory. Here are pertinent facts as reported by the court's decision.
Mr. Freeman worked at the AF laboratory for some 13 years when he ran afoul of the agency's strict procedures for safeguarding and limiting access to classified information. Despite receiving specialized training on handling the classified information, and signing a document proving he received the training, Freeman "at least negligently sent two emails with classified information from his personal computer using a commercial, unclassified network provider to unauthorized recipients." (Opinion p. 2) The recipients of these emails included media, other government agencies, public officials and military brass not cleared to receive the classified information. (p. 2)
Freeman argued to the Merit Systems Protection Board (MSPB) and then the appeals court that he was a whistleblower and therefore his disclosures were protected. The appeals court dismissed this contention, ruling the Whistleblower Protection laws do not support it. Such protection does not extend to disclosing classified information unless limited to the agency inspector general or the Special Counsel. Freeman did not contest the fact that he sent the classified information to outside parties not authorized to receive it, the information was indeed classified, and therefore he is not entitled to protection for the disclosures. (p. 3)
As for his argument that the information had not been properly classified by the Air Force, the court agreed with the MSPB that the Board has no authority to judge the propriety of national security determinations.
The agency also cited a charge of absence without approved leave (AWOL) in deciding to remove Freeman. Both the MSPB and the court sustained this charge that resulted when he refused to return to work after an earlier but unrelated 10-day disciplinary suspension that resulted when Freeman got into a loud and disruptive argument with coworkers. His contention that he was justified in not returning to work because he feared for his safety was not proved to MSPB's satisfaction, and the court agreed with the Board's handling of this charge.
In short, two ill-advised emails sent with a home computer and containing defense classified information led to ending a 13-year government career.