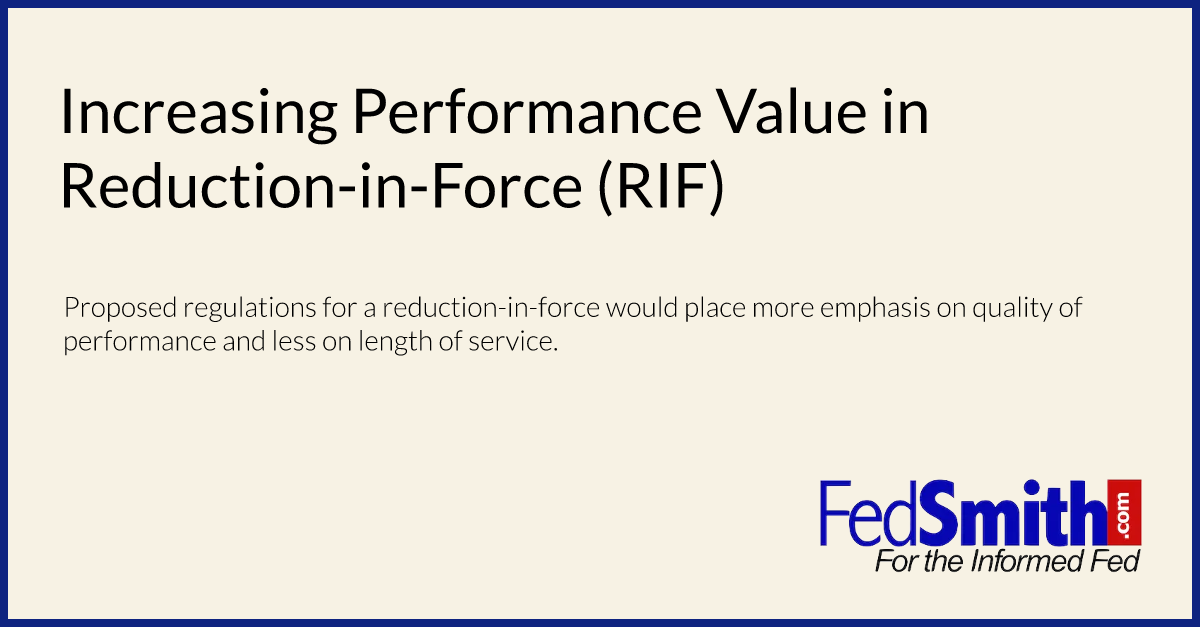 The Office of Personnel Management (OPM) is proposing significant changes to reduction-in-force (RIF) regulations for the federal workforce.
RIF regulations are used by federal agencies in deciding which federal employees stay and which ones are forced to leave when there are significant changes in an organization.
RIF's are not often used in federal agencies if they can be avoided. The process is disruptive, complicated and difficult to implement.
Nevertheless, RIF's are used at different times when they cannot be avoided. The process is very important to employees who are impacted as the process effectively determines who keeps a job and who loses a job. It is also important to an agency in keeping a quality work force to accomplish the mission of the organization.
Purpose of Proposed Regulations
The OPM proposals are one result of an Executive Order issued by President Trump in 2018. Executive Order (E.O.) 13839 is entitled "Promoting Accountability and Streamlining Removal Procedures Consistent with Merit Systems and Principles". The proposed regulations would update current RIF procedures to comply with the Executive Order and to make the regulations "more efficient and effective".
The proposed rule was published in the Federal Register on December 17th. There is a 30-day comment period. Comments that are submitted must be received on or before January 19, 2021 as outlined in the Federal Register notice.
Altering the Order of Retention in a RIF
The proposed regulations alter existing regulations regarding RIF procedures by modifying the order of retention, increasing the value of performance, and reducing the value of an employee's length of service. This ranking procedure determines which employees will be retained—and which ones will not be retained—when an agency implements a RIF.
Current RIF regulations place an employee's performance as the last factor to consider when listing which employees will remain and which ones will go. The initial factors to consider in a RIF under current regulations are the "tenure of employment" followed by veterans preference and length of an employee's federal service.
Tenure of Service
"Tenure of Service" is not a term frequently used and understood and one that understandably may be confused with "length of service". The two terms have a different interpretation, however.
Tenure of service refers to the type of appointment held by a federal employee. The first group in a RIF has a better chance of keeping a federal job as it includes career employees who are not in a probationary period of their employment.
Group II in the tenure of service categories includes career-conditional employees and those who are still in a probationary period.
Currently, the quality of an employee's service with the government does not come into play until the very end of the ranking process. In other words, under the current RIF process, an employee's performance is used to "supplement an employee's length of service for purposes of determining an employee's standing on a retention register."
Length of Service Becomes a "Tie-Breaker"
Here is how an employee's quality of performance would become more important in a RIF.
Under the proposed regulations, employees to be impacted by a RIF would initially be sorted by their "tenure of service". They would then be sorted by performance levels within that subgroup. Employees would then be sorted by their veteran's status.
The length of an employee's service would be used when two or more employees have the same summary level total value for the employees' three most recent ratings of record. In other words, an employee's length of service would be used as a "tie-breaker" in the ranking process.