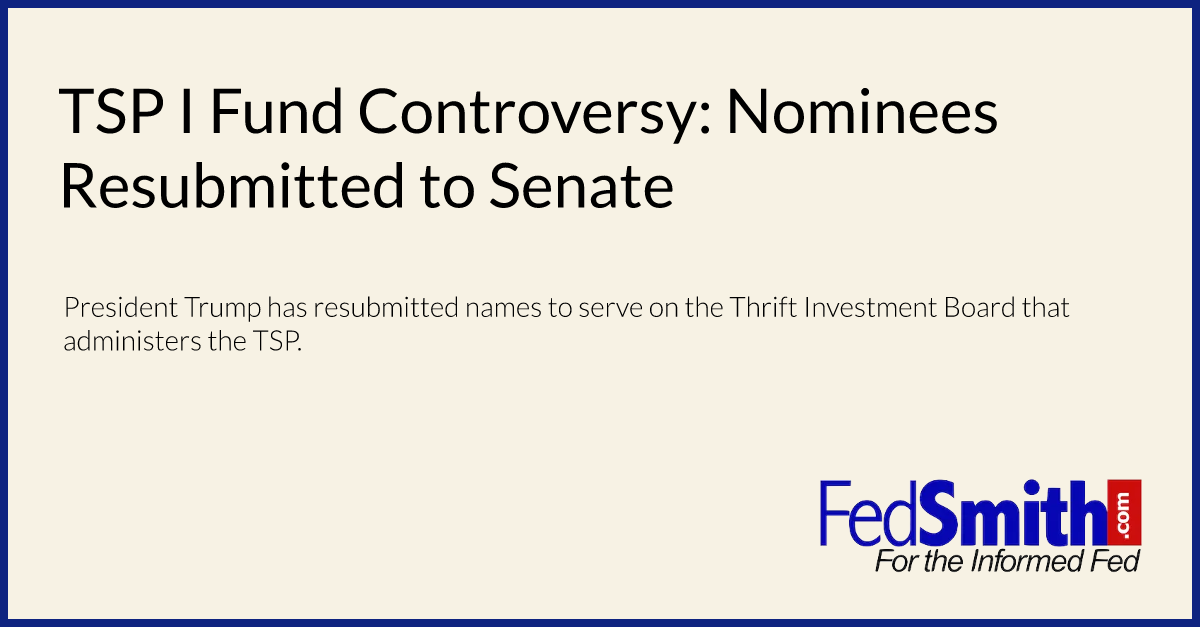 President Donald Trump has reintroduced the nominations of three Federal Retirement Thrift Investment Board members. The nominations were among a number of nominations to positions submitted by President Trump on Sunday.
Frank Dunlevy, John M. Barger and Christopher Bancroft Burnham were nominated by President Trump last May to serve on the Federal Retirement Thrift Investment Board (FRTIB).
The Senate Homeland Security and Governmental Affairs Committee approved the three nominees in September. The Senate never took action to confirm the appointments before the expiration of that Congress.
The I Fund and Chinese Investments
The nominations were originally submitted to the Senate for confirmation after a decision by the Federal Retirement Thrift Investment Board (FRTIB) to invest more of the I Fund in Chinese companies. The I Fund is a core fund in the Thrift Savings Plan and invests in foreign corporations.
The decision to invest more investment money from federal employees and military personnel in Chinese companies created an issue. With America and the rest of the world going through the COVID-19 pandemic that originated in China, spending about $50 billion in TSP investments in China was controversial.
Some former military commanders objected to the FRTIB's decision in part as some of the TSP money would be invested in Chinese companies including "weapons manufacturers, U.S.-sanctioned entities and other malevolent enterprises of the Chinese Communist Party."
Background of Nominees
The three men were nominated to fill seats held by board members whose terms have expired. The FRTIB now has four members. Chairman Michael Kennedy resigned last June after the nomination of Mr. Dunlevy. Dunlevy is president of investment funds and counselor to the CEO of the U.S. International Development Finance Corporation (DFC). He previously had similar duties at the Overseas Private Investment Corporation (OPIC) before its transformation to DFC.
John Barger, managing director of NorthernCross Partners, an investment advisory firm, would replace David A. Jones, the FRTIB's acting chairman. That term expires in October 2022.
Christopher Bancroft Burnham is the former treasurer for the State of Connecticut and held senior positions in the State Department and the United Nations. He was a co-founder and currently chairman and chief executive officer of Cambridge Global Capital, LLC, headquartered in Washington, D.C. If confirmed, he would replace Ronald McCray for a term ending in September 2024.
Will Nominees Be Confirmed?
The Senate meets later this week. The purpose of the session is to certify the Electoral College vote from the presidential election in November. It is unlikely the Senate will consider the nominations before the presidential inauguration on January 20th.
This means President Biden could withdraw the nominations and submit his own nominees to fill the positions on the FRTIB.