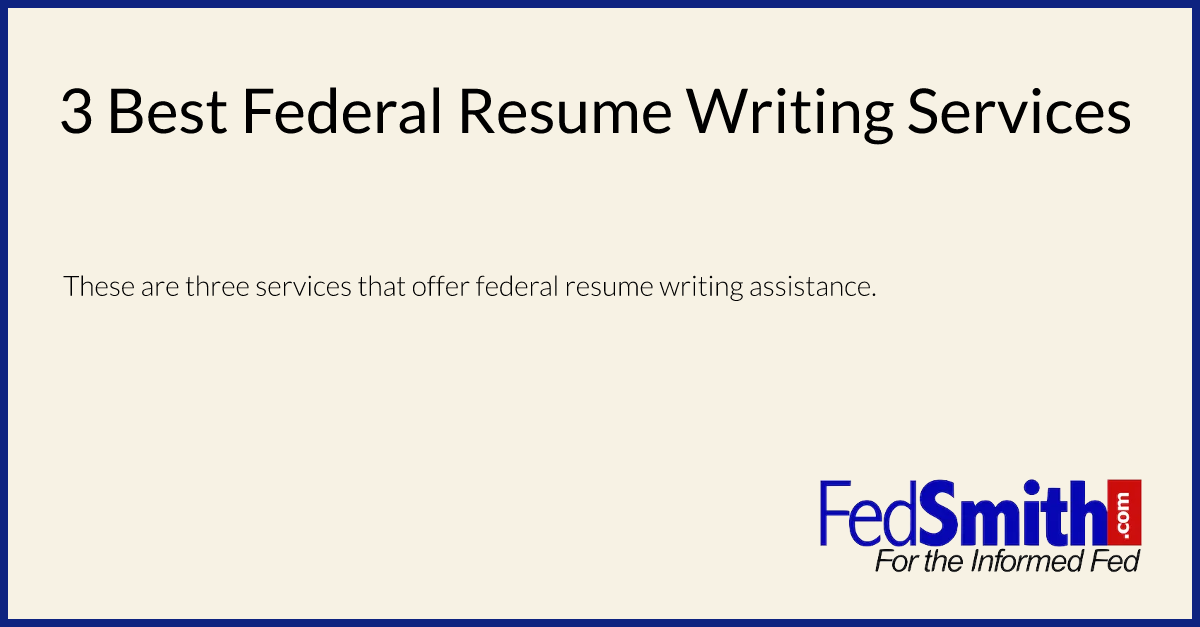 Submitting a great resume is critical for being considered for a job, so you want to make sure yours is the best and stands out among other applicants'. While resumes are requested for the majority of jobs, federal resumes are a bit different than those recruiters in the corporate sector are used to. If you're looking to create a new federal resume or spruce up your existing one, the following three services are the best ones to get the job done. 
I determined this list of the best federal resume writers based on Google reviews, Trustpilot reviews, and most importantly, my own relationship with them. I've worked with each of them for over ten years and I know that they produce high quality products for the most demanding professionals.
CareerProPlus
CareerProPlus is just one part of CareerPro Global Inc., which provides a broader spectrum of career assistance including onsite and web-based trainings. CareerProPlus can help anyone at any level in his or her career create solid resumes for any field ranging from writing to engineering and beyond. 
This service boasts a 99.6% customer satisfaction rate and has helped over 65,000 employees with their resumes since the group's foundation in the mid-1980's. The writers are highly trained and skilled, and there are writers who have expertise in all different fields of work. Some of them specialize in entry-level federal resumes, whereas there is a special "SES" (Senior Executive Service) team for those applying for an executive management position within the government. 
Many of the company's clients are generated from referrals, meaning existing customers have been quite satisfied with their experience. Each resume is also processed through a Quality Management System and offers a "Five Point Guarantee" for each resume completed. The company offers sample resumes on its website so you can get an idea of what your resume may look like.  
Among others, CareerProPlus has obtained Certified Professional Resume Writer, Master Federal Resume Writer, and Master Military Resume Writer – Trainer certifications. The service guarantees customer satisfaction and may just be the right resource you need for your resume.
The service also offers traditional corporate resume writing, should you need both for any reason. Need a resume and need to update your LinkedIn profile as well? CareerProPlus has you covered, as a subset of the firm's writers are experts in LinkedIn profile creation and updating. 
Expect the cost of a CareerProPlus resume to be well over $1000. But if you consider this expense to be an investment in your earning power, which it is, it seems much more justifiable. Everyone's specific situation will be different depending on what is needed, so prospective customers must reach out for a quote for pricing and turnaround time. Even if you choose to write your own federal resume, CareerProPlus's website has some great tips and guidance on everything from what to include to the complicated format – all for free. 
Great Resumes Fast
Great Resumes Fast was founded by Jessica H. Hernandez, who previously worked as a recruiter. Her idea for the service came when she looked at the resume of an applicant she immediately knew was perfect for the job and was "shocked" at how inadequate it was. The team is made up of around a dozen writers, meaning you get personalized attention from whoever is assigned to work on your federal resume. Of course, the company links applicants with writers knowledgeable in the relevant fields.  
Personalized Resume Rewrite
Great Resumes Fast offers three different services to customers. These include the Personalized Resume Rewrite, which costs between $895 and $1,195. Included in this option is an interview lasting between 60 and 90 minutes in which the writer will discuss an applicant's work and education history as well as future goals and job-specific information that will be useful in writing a successful federal resume. 
Finished resumes are provided in three different formats: Microsoft Word, PDF, and ATS-optimized. This is extremely useful, as different application portals have different formatting requirements and having these three formats eliminates the need to tweak resumes to conform to the required format. Federal resumes are provided within three to five days, and customers are allowed unlimited communications with their writers as well as two rounds of resume revisions, if desired. 
360-Degree Personal Brand Makeover
The second tier of resume writing offered by Great Resumes Fast is the 360-Degree Personal Brand Makeover option. This costs between $1,495 and $1,895 and includes everything the Personalized Resume Rewrite option does. However, also included are a new or refreshed LinkedIn profile and a cover letter, which can also be challenging to write. This tier also offers a so-called "Hidden Job Market Job Search Guide," which allows access to "90% of positions never posted online." This is reportedly a $39 dollar value. 
C-Level Job Search Alignment 
Looking for a C-Suite level job within the federal government (SES position)? Great Resumes Fast also offers its third tier, the C-Level Job Search Alignment option, which is perfect for that. Including everything in the 360-Degree Personal Brand Makeover package, for between $2,199 and $2,999, users also get a personalized thank you letter to send hiring managers, a professional biography, a value proposition letter, and an example elevator pitch and template. 
Ultimately, Great Resumes Fast provides users with quick and personalized resume-writing assistance that can get you the federal job you are seeking. To get started, get your personalized plan for a resume that stands out. And if you mention referral code "JobGoRound", you'll get a 5% discount.
TopResume
TopResume is another website you may want to explore when looking to make a new federal resume or update your current federal resume. The company's website states that 38% of its users have a higher likelihood of making contact with recruiters and have a 40% higher chance of getting the jobs they apply for.
TopResume has writers from over 65 industries, which include "certified career coaches, recruiters, and experienced hiring professionals." Users get matched with a writer who specializes in the field applicants are in, and they then discuss what their goals for their federal resumes are. 
Similar to Great Resumes Fast, TopResume offers three pricing tiers. The first is the Starter – Professional Growth package, which costs $149 and offers professional federal resumes that are formatted and keyword-optimized in order for them to make it through the federal government's applicant tracking system, which may otherwise eliminate resumes from the applicant pool so they are never seen by hiring managers. 
The Premium – Career Evolution package costs $219 and offers everything the Starter package does but also includes a cover letter as well as a guarantee that users will land an interview within 60 days. The Ultimate – Executive Priority package, which is priced at $349, includes everything in the Premium package but also provides a writer from the "top 10%" of the company's writers as well as a "LinkedIn makeover." 
Conclusion 
If you're looking to use one of the best resume writing services for your next federal job, any of the three companies listed above may help you get more interviews so you can land a great career. All three have great reputations and provide continuous communications and fast turnaround times. Hiring a professional resume writer is not cheap, but most people consider theexpense well worth since you'll be likely to get a better job faster than you could if you write your resume yourself.