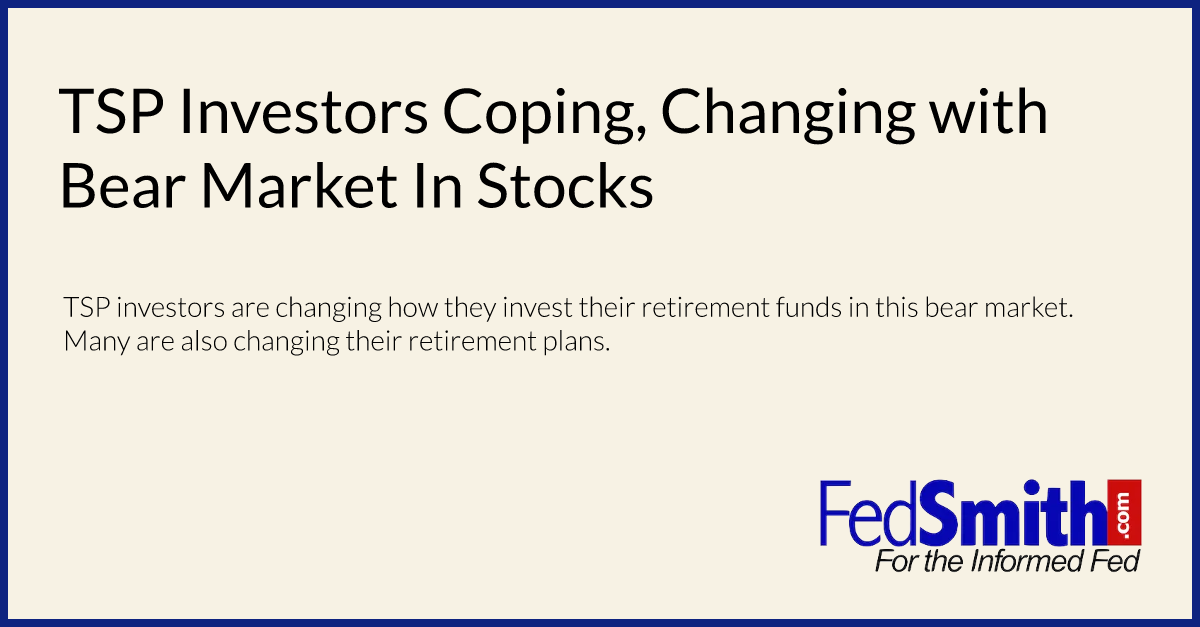 In a recent poll taken by readers of FedSmith.com regarding the TSP's C Fund, most readers responding said that they do have money in the C Fund (88%).
We wanted to gauge the impact that the decline in the value of stocks has had on TSP investors. Not surprisingly, the bear market has impacted investors and influenced their investment decisions. Many investors are relatively new to the stock market; many have not been through a bear market before when their money was at stake and the decrease in stock value has influenced some readers to work longer.
29% of those responding said that they have changed retirement plans and about 18% indicated they will be working much longer than they had planned. Another 12% said they would have to work another year or two longer than planned.
On a more positive note (perhaps those in the CSRS retirement fund), about 56% have not changed their plans.
And what changes are TSP investors planning to make in their investment philosophy? About 42% are decreasing the amount they have in stocks or eliminating any investment in the stock market. Some 16% are planning to increase the amount invested in the stock market.
While this is not a scientific survey, it does indicate that TSP investors are typical of many stock market investors. With the large decline in the stock market indices in the continuing bear market, investors are changing retirement plans and many investors have decided to reduce or eliminate their stock market holdings.
There could be good reasons for this such as an impending retirement or other expense that will require use of the funds in a short time. Leaving money in stocks when you know you will need in shortly is obviously risky and could result in losing much of your investment.
While no one can predict the future of the market, in past bear markets the best time to invest is when the market is down. Moreover, stocks have generally been the best long-term investment vehicle.
For example, the 1930s were worst decade of the past century for investing in stocks. But after losing an average 32% from 1930 to 1932, the market soared an average 34% over the next four years, including a 68% rise in 1933. In other words, investors that now pull their money out of stocks may have stayed in long enough to sell at one of the low points of the market and will miss out on any large increases that may occur over the next few years. On the other hand, there are no shortage of analysts predicting that the bear market will continue in the short term even without another terrorist attack that may disrupt the market even more than the September 11 attack.
Managing your money is a personal choice and much more difficult than it was for Federal employees who worked under the Civil Service Retirement System. If investing in stocks makes you stay awake at night, you should talk to your financial advisor and decide how to adequately fund your retirement in a way that makes you feel comfortable.