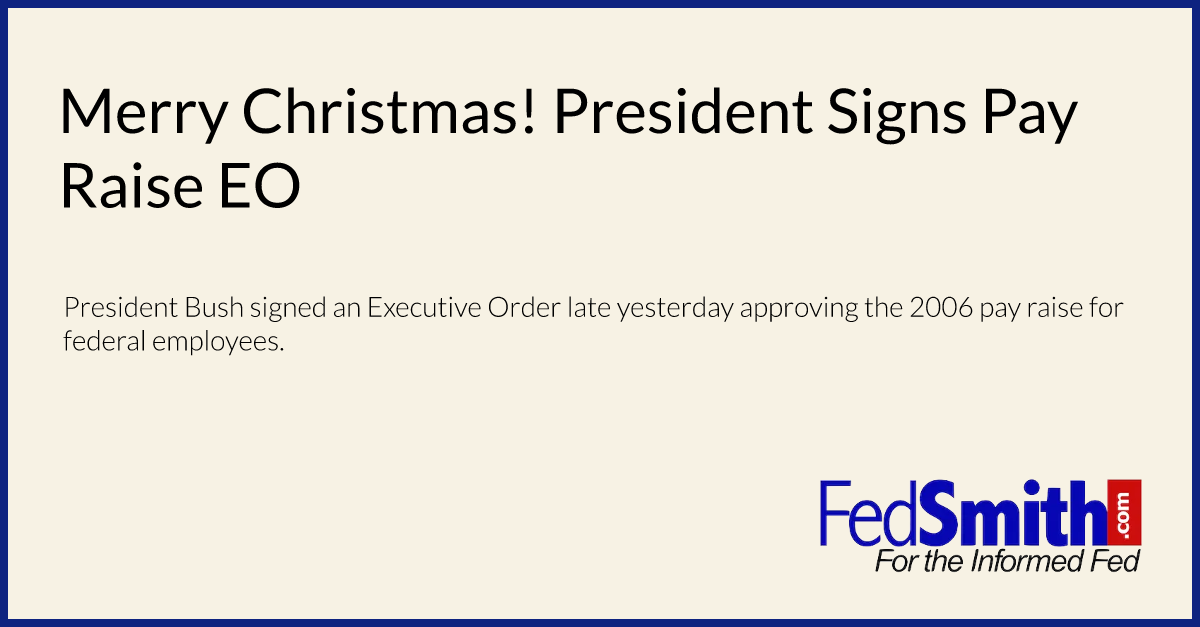 Here is an early Christmas present for current federal employees: President Bush has signed an Executive Order approving your pay raise beginning in January 2006.
For most, this means that the new pay rate will be effective "on the first day of the first applicable pay period beginning on or after January 1, 2006." The average pay raise for federal employees will be 3.1%.
But, as with many government laws and regulations, the outcome is not that simple.
The basic pay raise is 2.1%. There is a locality pay adjustment added to that for many federal employees with the percentage varying by location. For example, employees in the Baltimore, Maryland area will get an extra 1.52 percent increase on top of the 2.1%. Federal employees in the Washington, DC area will get a total raise of 3.44% when locality pay is added.
As has been the case in the past few years, the amount of the raise to be given to federal employees became a political football between the President, Congress and various lobbying organizations. The President initially proposed a raise of 2.3% for civilians and 3.1% for military personnel. The military received the 3.1% and, ultimately, civilian employees were given the same average pay increase. (See 2.3% in 2006?)
Federal retirees fared better this year because of the way their cost of living increase is calculated. Many federal retirees will receive a 4.1% increase–a turnaround from previous years when active federal employees received a larger increase.
The Executive Order also nailed down raises for other federal officials. Bush's move also cemented pay raises for Vice President Dick Cheney, members of the House and Senate, the justices of the Supreme Court and federal judges. All are getting about 1.9 percent more in 2006. (Some readers contended in comments that Congress had given its members a much larger percentage raise than federal employees; it's not true as you can see from these percentages.)
So, while you are enjoying your Christmas meal and basking in the joy of celebrating the holiday season, you can also be consoled with the fact you wiill have a little more money to pay off your credit card charges in January when the bills come in.
Merry Christmas to all of our readers. Thanks for visiting our site throughout the year.