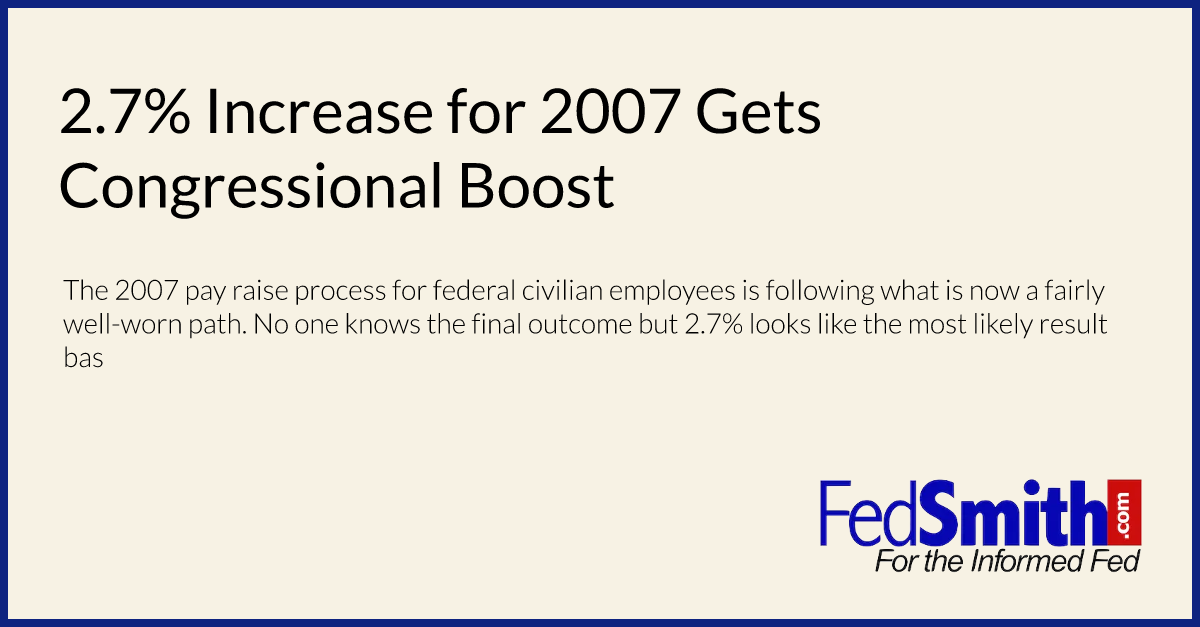 The House of Representatives has approved a $512.9 billion military bill for the Department of Defense. The bill sets Defense Department policies and plans spending for the military for the new fiscal year that begins on October 1, 2006. Money to fund the bill will come in separate legislation later this year.
This bill may also have an impact on the pay raise for civil service employees for 2007. Here's why.
Part of the new bill for the military includes a pay raise of 2.7% for military personnel. That does not ensure the 2.7% will pass into law but it increases the likelihood the 2.7% will be the final pay adjustment.
The Administration opposes the 2.7% for military personnel and contends that the proposed 2.2% pay raise, in conjunction with other increases in military benefits, are sufficient. President Bush has also proposed a 2.2% pay increase for federal civilian personnel.
None of this is too surprising. It does mean there is a greater likelihood that the 2.7% pay increase for military personnel will become a reality.
The action by the House gives the other perennial players in this yearly game a chance to issue a press release that argues for more money for those that pay dues or can vote for them in the next election. Organizations such as the National Treasury Employees Union promptly issued a press release supporting the 2.7% for military personnel and also arguing that, in fairness, the same higher pay raise should be given to federal civilian employees.
Maryland Congressman Steny Hoyer also knows that getting re-elected is easier by giving more money for those who can vote for him and he has also issued a press release in support of the higher raise for 2007.
Others with a vested interest in securing support of the federal workforce will certainly follow suit and make the argument, as they have successfully done in the recent past, that "pay parity" for military and civilians is the best policy for the country. (See Patriotism, Pay and Parity)
In short, the scenario is playing out as it has in the past several years. (See "Dancing and Playing to the Crowd. Predictions for Your 2007 Pay Raise") No one really knows that the pay raise will be for 2007. But, for those who want to follow this meandering path, 2.7% looks like a good bet.