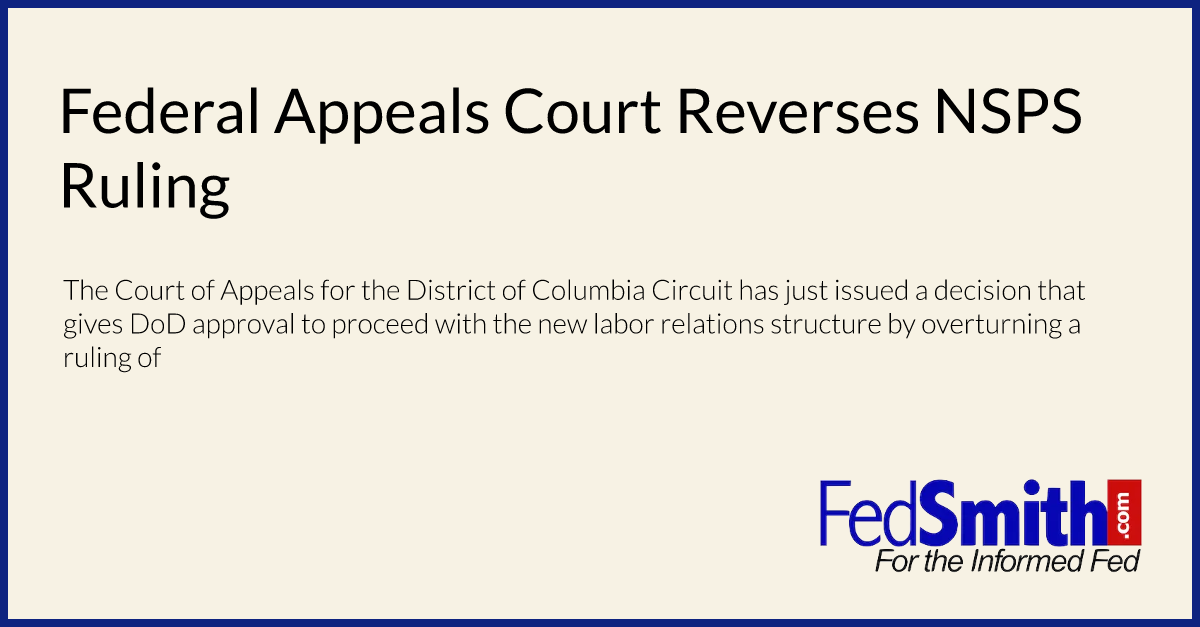 Hold on to your hats. Big changes in the federal government's personnel system may yet be heading your way despite initial setbacks in the courts and attempts by some in Congress to reverse earlier legislation. The Court of Appeals for the District of Columbia has issued a new ruling that overturns the initial ruling of the circuit court. (Appeal from the United States District Court for the District of Columbia, (No. 05cv02183)
The roller coaster ride for a major change in labor relations in the Department of Defense is still rolling along. In a 27 page decision (not including the dissenting view), a federal circuit court of appeals has essentially upheld the ability of the Department of Defense to proceed with the National Security Personnel System. AMERICAN FEDERATION OF GOVERNMENT EMPLOYEES, AFL-CIO, et al., ROBERT M.GATES, SECRETARY OF DEFENSE, et al., C.A.D.C., No. 06-5113, May 18, 2007.
Here is the gist of the court's decision in this case:
"The primary legal question we must decide is whether the National Defense Authorization Act for Fiscal Year 2004 authorizes DoD to curtail collective bargaining rights that DoD's civilian employees otherwise possess under the Civil Service Reform Act of 1978. We hold that the National Defense Authorization Act grants DoD temporary authority to curtail collective bargaining for DoD's civilian employees. By its terms, the Act authorizes DoD to curtail collective bargaining through November 2009. But after November 2009, with certain specified exceptions, DoD again must ensure collective bargaining consistent with the Civil Service Reform Act of 1978. We reverse the District Court's judgment, and we uphold the DoD regulations at issue in this appeal."
The court pointed out that the Defense regulations issued under this special authority changed collective bargaining in several important ways:
Topics can be taken off of the table for future bargaining purposes,
in limited circumstances DoD can delete provisions of an existing collective bargaining agreement,
the scope of management rights is broader,
bargaining over implementing management rights and "appropriate arrangements" for employees affected by the exercise of management rights is more limited,
and bargaining over pay and benefits for non-appropriated fund instrumentalities is iimited.
Central to the court's ruling were subsection (m) of section 9902, which permits the Secretary of Defense to establish a labor relations system for the Department and provides that such a system "shall be binding on all bargaining units within the Department…[and] shall supersede all other collective bargaining agreements."
In summary, the court finds that DoD has expansive authority to curtail collective bargaining through November 2009. "Subsection (m)'s authority to curtail collective bargaining is entirely consistent with – not in conflict with –subsections (b)(3), (b)(4), and (d)(2) of Section 9902, given the express qualifications in those subsections. After November 2009, however, the authority in subsection (m) runs out, and collective bargaining under Chapter 71 again will structure the Department's labor relations (apart from targeted statutory exceptions….)"