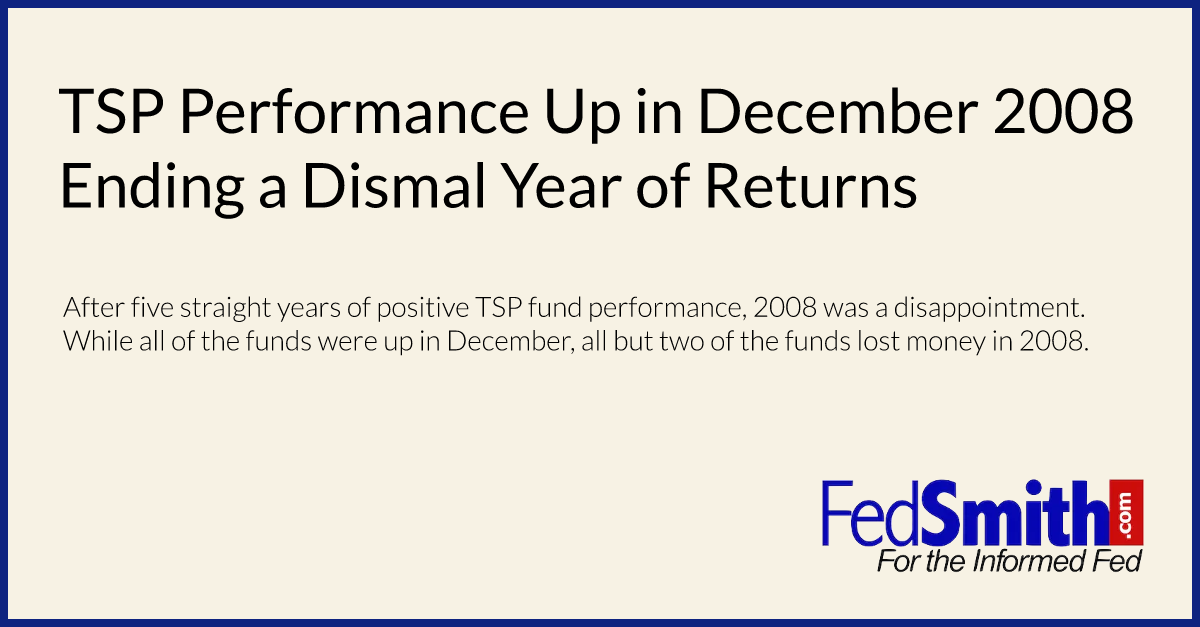 When you glance at the Thrift Savings Plan (TSP) performance for December 2008, it may make you feel better because, with the exception of the F fund, all of the TSP funds are up for the month.
The reality is that the Dow Jones Industrial Average was down 33.8% in 2008. That is the worst year of returns since 1931. The S&P 500 (the index used for the TSP's C fund) ended down 38.5% for 2008. The result is the worst year the C fund has experienced since the Thrift Savings Plan was initiated.
For those readers looking for better news, December was an "up" month for all of the TSP funds. The I fund actually had a good month, moving up 7.66% in December although still down 42.43% for the year. That was the worst performance for any of the TSP funds. In an awful year of returns for investors, the F fund was the brightest spot: it finished up 5.45% for the year–ahead of the G fund which returned 3.75% for the past twelve months.
After five straight years of positive returns for all of the TSP funds, 2008 was certainly a disappointment.
The results were somewhat better for the lifecycle funds as the funds are all balanced between the stock funds and the more conservative G and F funds.
The December returns did soften the blow somewhat. As noted above, all of the TSP funds had a positive return for the last month of the year.
The lifecycle funds followed a similar scenario as all of the L funds also had positive returns in December.
The question everyone wants to know, of course, is how will the TSP fare in 2009? No one knows the answer. The efforts by governments around the world may result in a rapid rise in stock prices but there is also the potential for disruption of markets because of governments pumping money into the financial system and more government intervention in business decisions that are made by companies that are getting government money.
For those who are looking for positive signs, here is one: When the first day of trading in a new year is positive, the subsequent returns for the year are generally positive as well. The first trading day in 2009 provided a positive return of 3 percent for the Dow Jones Industrial Average which will provide hope for some investors.
The start of a new year is also a good time to rebalance your portfolio if you have not done so. For those TSP investors who try to maintain a percentage balance between stocks and bonds, your stock investments are down and the bond investments now occupy a higher percentage of your portfolio because of the rapid drop in stock prices.
And, for the most positive note, your TSP funds are up in December after negative returns of five straight months in at least one TSP fund (the I fund).